Introduction
In this article, we will learn how to add user email aliases in bulk with Foresight. Google Workspace users often need to handle several roles simultaneously. For example, a user might need to handle customers' enquiries and maintain account department reports. So, the user should have two different email addresses for two different departments. Email alias solves this issue easily. Simply, it means multiple email addresses. Thus, the IT admins create multiple emails or email aliases for a single user.
Understanding email aliases
An email alias is an extra or secondary email address for an email account. Google Workspace Admins can add the email alias to the primary email address of a user. When you receive any email to this secondary email address or email alias, it will automatically be routed to your primary email address. So, you must log in to your primary email account to read a message from your email alias. Hence, you can use these email aliases to enhance the privacy of your primary email address.
Ways to add multiple email aliases for a single user
With this feature, you can add multiple email aliases through the following ways –
You can use multiple rows to add the email aliases for a single user. For example, if you want to add two email aliases for a user, you need to insert two rows for that user within the table. You should add the same primary email within the two rows and two different aliases within them. This is the easiest way to add multiple aliases for a user.
Using single rows with line breaks
Foresight 4.10.0 supports accepting a variable named LIST_OF_EMAIL that automatically includes email aliases in a single row with line breaks. You can use this variable through the 'Email aliases' field of the 'Add user email alias' action.
Bulk adding user email aliases for Google Workspace user accounts with Foresight
As a user-friendly automation platform, Foresight helps the Google Admin and users to efficiently handle their day-to-day business use cases. Its simple automation principle eliminates the need for manual, repetitive tasks and helps to complete your work within the deadline. Now, let's discuss this use case. Google Admin Console does not provide any feature for adding multiple email aliases for a user. But Foresight provides this feature for the admins and helps them efficiently complete this task. It automates the whole procedure and helps the admins to save their valuable time without adding the email aliases one after another manually.
Video Demo
Instructions
Rule Creation
After signing in to your Foresight account click the New Rule(+) button.
Select the Manual trigger.
Then, select the List users action.
After that, select the Email and Email Aliases columns.
Give a Rule Name [Rule(A)- Add user email aliases) and click Create.
Now, trigger the rule. From the notifications and the Logs page you will find about the successful rule creation. Then, you need to download the CSV file from the here link of the Rule History.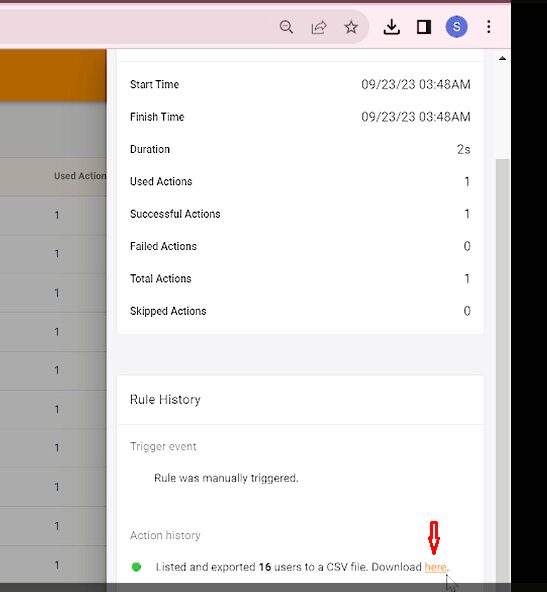 7. After that open the CSV file and add multiple email aliases for the users. Here, we have added the aliases using 'Enter' within the cell method.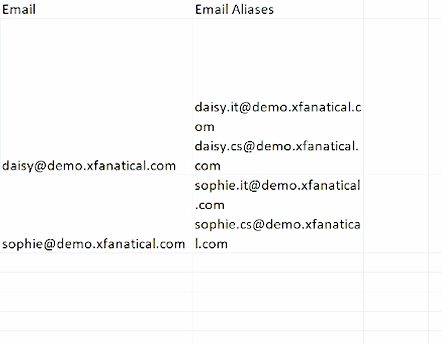 8. Now, you need to upload the CSV file. So, click the (+) icon.
9. Select the Data uploaded trigger and upload your CSV file. Click Next.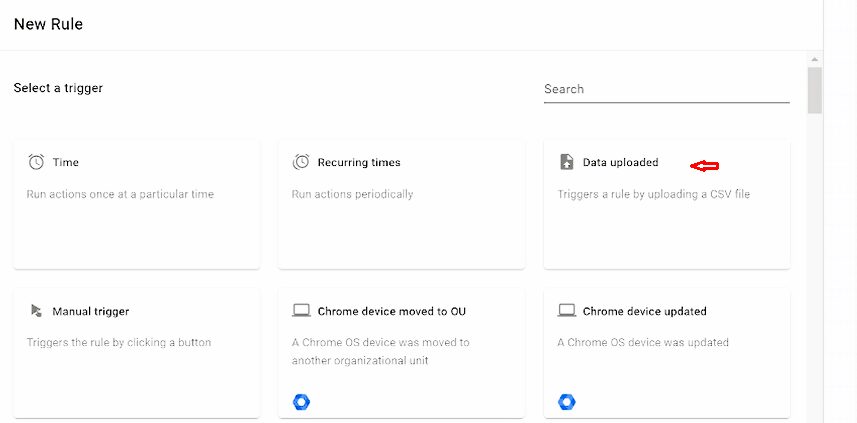 10. Select the Add user email aliases action.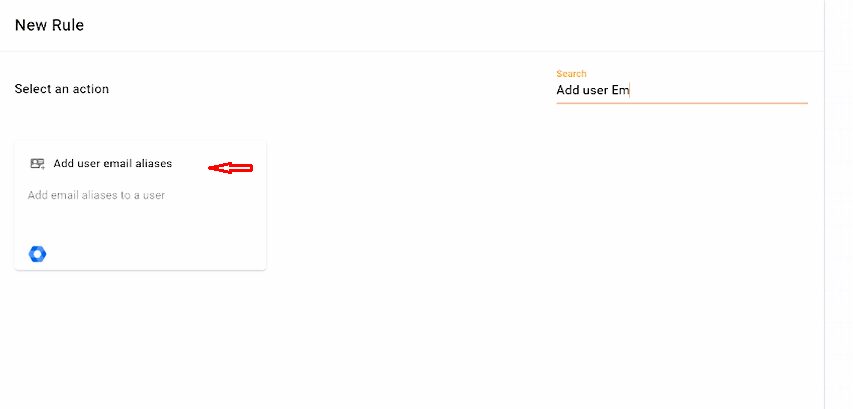 11. Then, select the Email in the Primary email and Email Aliases in the Email aliases field. Click Review.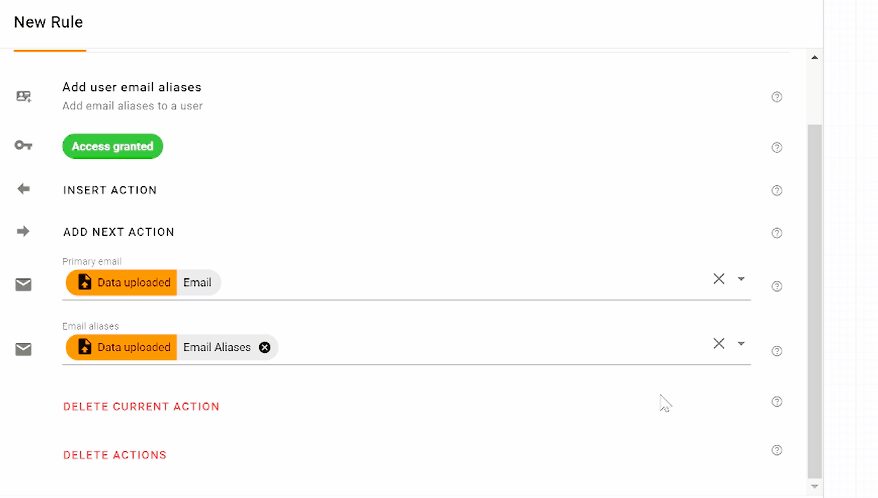 12. Give a Rule Name [Rule(B) - Bulk add user email aliases]. Click Create.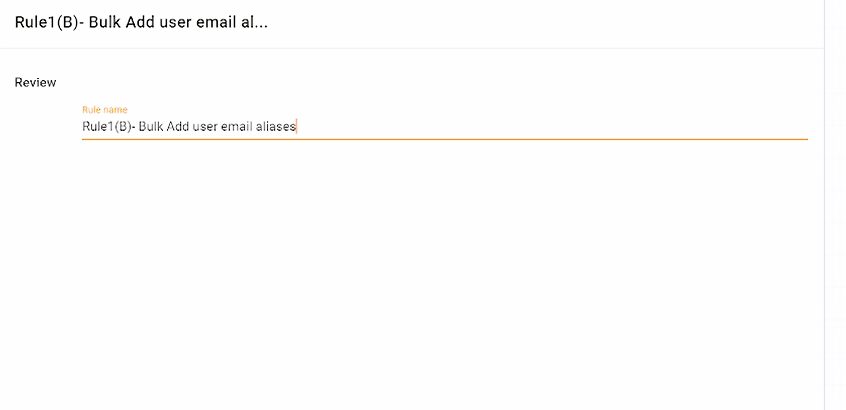 13. Before executing the rule check the status from the Admin Console. You will find that there is no email alias added to the users.
Rule Triggering
So, trigger the rule by uploading the same CSV file. You will find the successful rule execution status from the Logs page.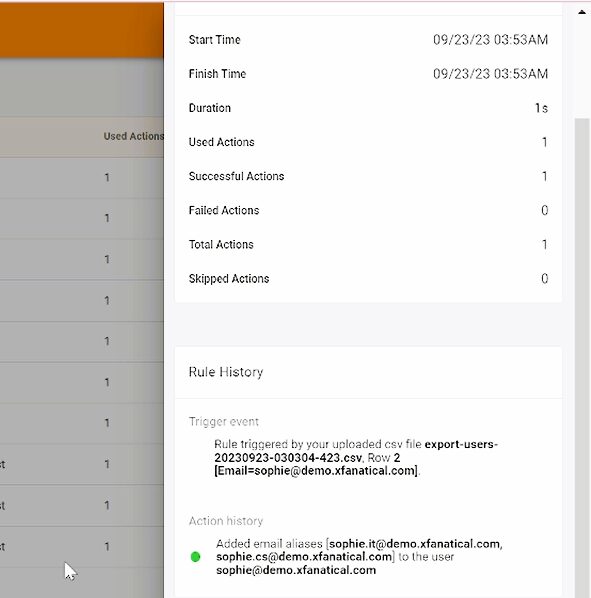 Verifying the Result
Now you can see the result from the Admin Console. You will find the email aliases have been added for the users.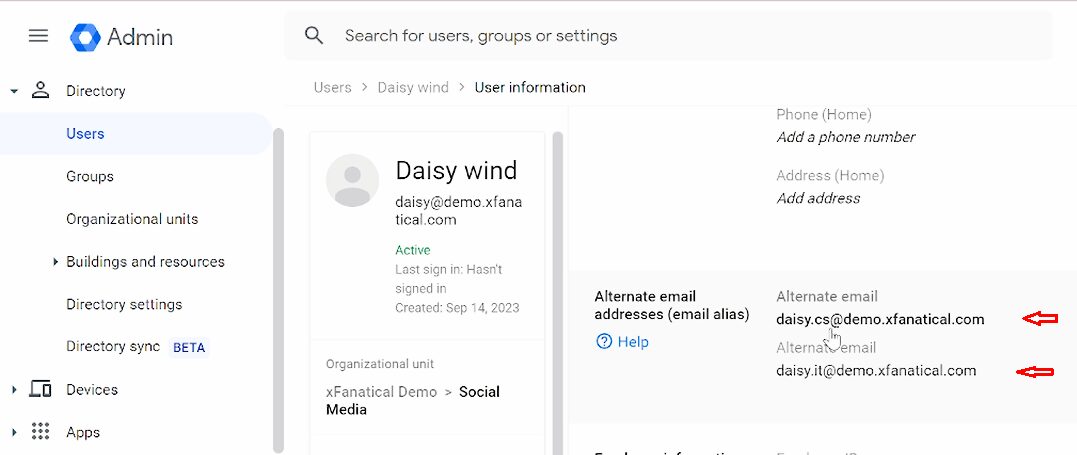 Conclusion
Email aliases come in handy on multiple occasions, but when an admin has to add those at one go, it can be challenging. But with solutions like Foresight, that is not the case anymore. Google admin does have this option, but Foresight gives a more user-friendly interface for IT admins. You can add multiple email aliases without disrupting the workflow. So, learn this use case of Foresight and know more about it. Its automation rule provides all you need for your business- time management, cost management, improved efficiency, and productivity. Now, try a 14-day free trial with it. Now read other topics related to this one - Add or delete an alternate email address, etc.