In this blog post, we will learn how to bulk-add email aliases to Google groups and what are their benefits. 
An email alias is a great feature, especially in Google Workspace. First, let's take an example in a user scenario. Suppose a user working in the customer services department has to deal with two types of queries, the first one regarding General information, and the second regarding product information. Now getting the queries in different inboxes is very difficult to handle, as he has to check each inbox separately, The solution is to have an alias. So, he will create two aliases, [email protected], and [email protected]. All emails received at these addresses will go to the same inbox. But he can differentiate them easily, moreover, he can create filters and get them in different folders in the same inbox. Now, the same applies to Google Groups.
How to add group email aliases via Google Admin Console
Sign in to the Google Admin Console with your administrator account.
Go to Menu>Directory>Groups from the Admin console.
Click on the group name, then click on the group information section.
After that, point to the Aliases section and click Edit.
Next, you have to add an alias. There are two steps for this-
Enter a new email address in the Group Alias Email field. Then select a domain from the list, if your organization has more than one domain.
Click on Add Alias.
Now you have completed the process. It may take 24 hours to get the group email alias activated.
Note: You can add a maximum of 30 email aliases for a Google group. Sometimes, IT managers need bulk to add email aliases in Google Groups, and Google Admin Console allows doing this only with APIs. That means coding is necessary for this purpose. But it's not likely to hire a full-time software developer for every business. Also, coding requires lots of time. Hence, there should an easy  way to bulk-add aliases to Google groups
Bulk add email aliases to Google Groups with Foresight
Foresight is an excellent tool for Google Workspace users and IT Admin. Foresight is a tool that resolves these problems quickly. By using this tool, you can do this task efficiently without any coding. Also, it saves time and increases productivity.
Demo Video
From this demo video, you can learn how to bulk-add group email aliases with the help of Foresight.
Rule Creation
First, you prepare a list of Google groups whose email aliases you want to add. That will be a Google Sheet. Here, we have designed a list of 25 groups only. It has only two columns- Email and Aliases. Please note that we have only taken 25 groups for the demo. But in real cases, we can handle hundreds or thousands of groups simultaneously.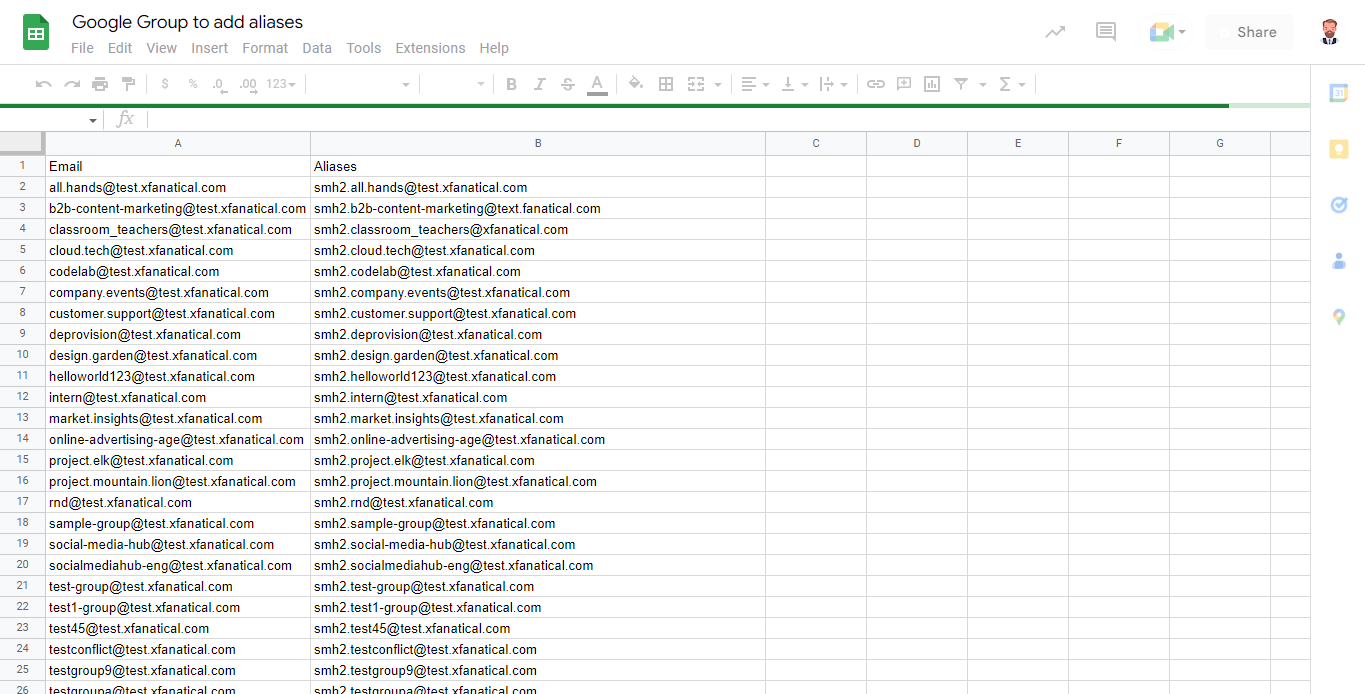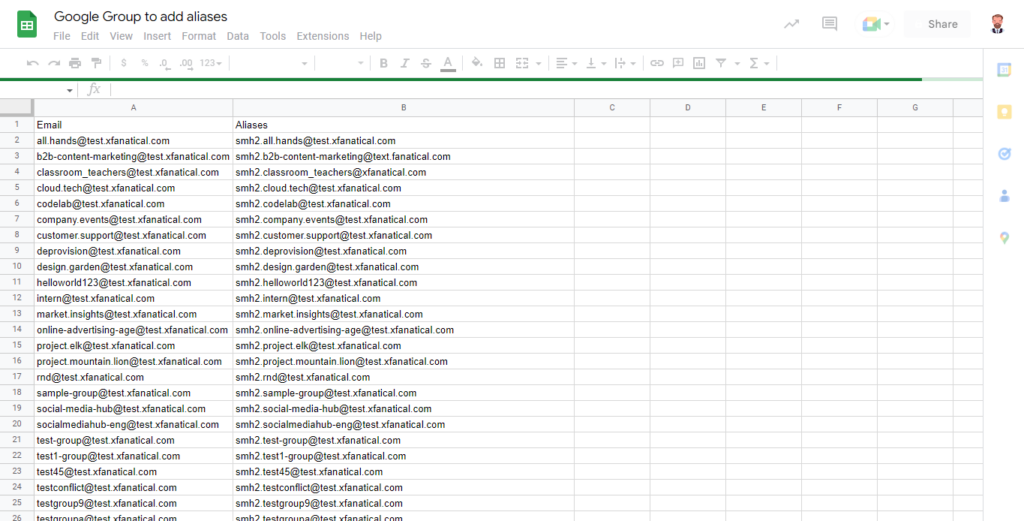 Now, download the Google Sheet as a CSV file.
Then log into Foresight with the help of a Google Admin Account. Go to the Rules page and click on the New Rule (+) button.
Select the Data uploaded trigger and upload the CSV file with updated info.
Wait for the file to be parsed and then click on Next.
Select Add group alias.
Then, grant permission for Foresight into the Google workspace Account. When it becomes successful, you will see the Access granted label.
Now select Email in the Group email field and Aliases in the Group alias field. Click on Review.
Enter the Rule name (Google Groups to add aliases) and click on Create.
Now the rule is created.
Rule Triggering
Click on the upload icon and upload the same CSV file again. This process will take a few seconds.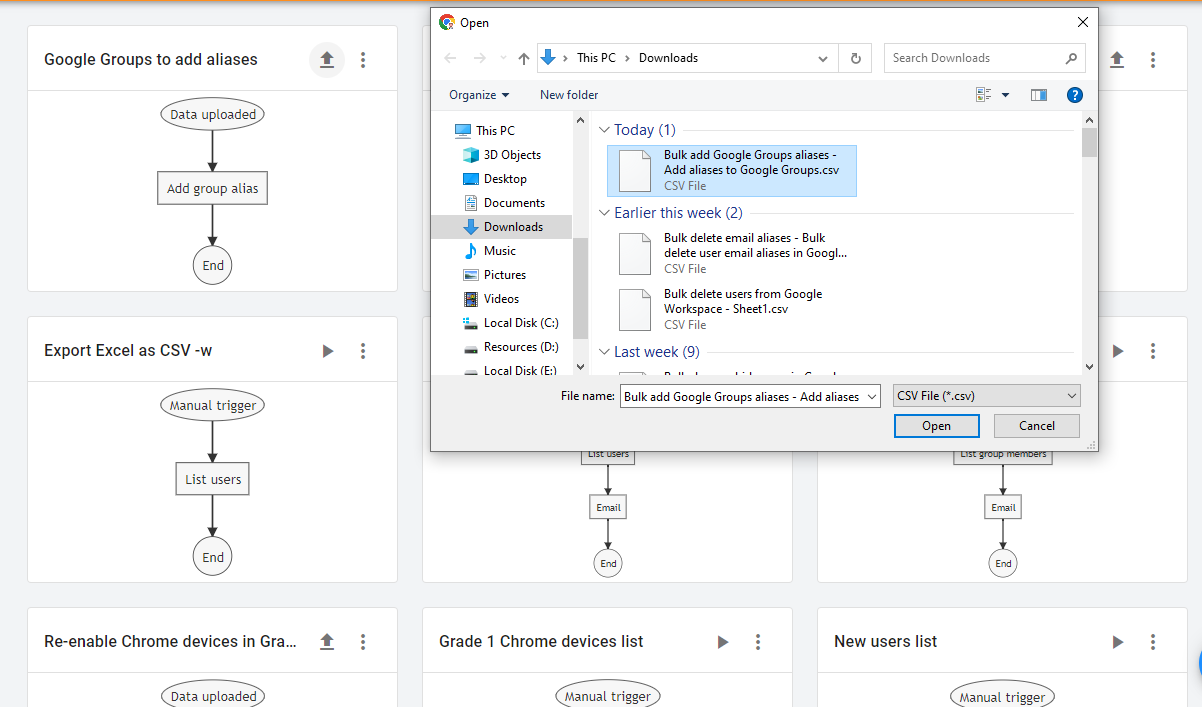 Verifying Results
A notification will appear in the top-right corner. Click on it and then click on Show All. Also, you can see the result from the Logs page of the left sidebar. The logs show the successful triggering of the rule.
Now confirm the result from the Google admin console. Go to Menu>Directory>Groups. Click on Group Name (for instance, [email protected]), and then Group Information. As you can see, the alias [email protected] is added.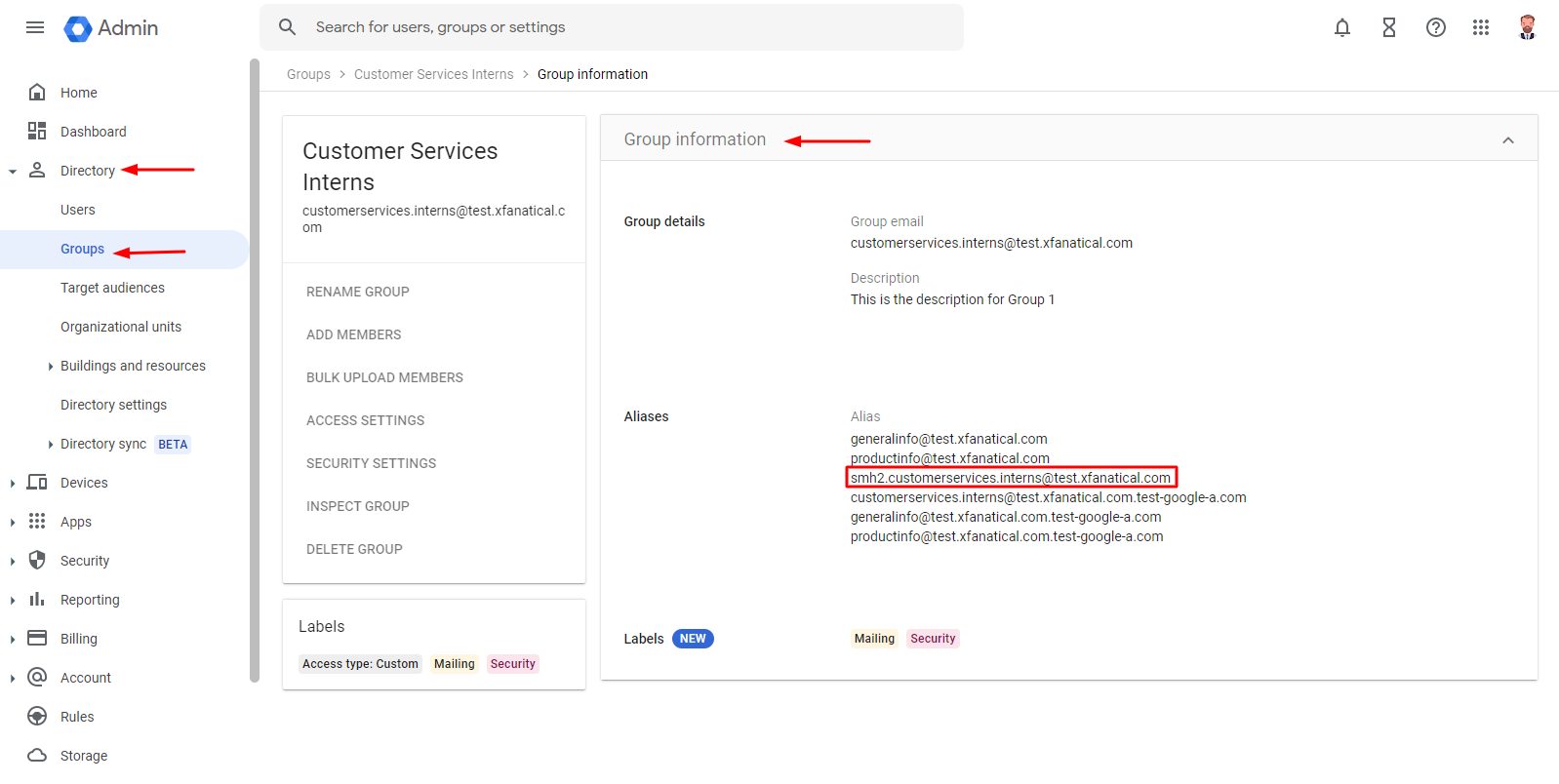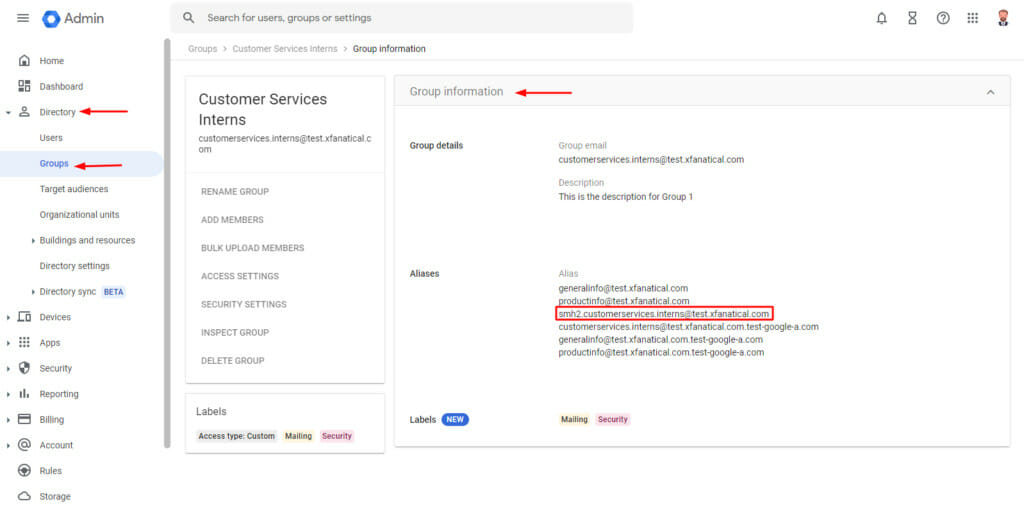 Now you have an idea of how Foresight is helpful in adding group email aliases in bulk. Apart from this, you can also use Foresight to perform tasks like- Retrieving aliases for all active users in Google Workspace, Bulk Adding email aliases to the User account, etc.
Conclusion
Now you're aware of bulk-adding email aliases to Google Groups and its background. Also, you understand how Foresight can help you with this task. So, try Foresight to manage your Google Workspace activities, and it offers a 14-day free trial for users' benefit.