There are many instances when a manager needs to bulk update Chrome Device custom fields. These custom fields could be fields like Asset ID, User of Chrome Devices, Location, and Notes etc. Now, Google Admin does not have the option to bulk update Chrome Devices except for the coding method. Foresight is one of the best tools to bulk update Chrome Devices' custom fields. But before diving deep into Foresight and how it helps to update the custom fields in bulk, we shall explain what custom fields are.
What are Chrome Device custom fields?
Chrome Device custom fields are the details about the devices that are running on ChromeOS in your domain of the Google Admin console. As mentioned above, these details or custom fields are details like Serial Number, Asset ID, Enrolment Time, Online status, etc. For your convenience, a complete and detailed list of Chrome device custom fields has been linked.
How to bulk update Chrome device custom fields with Foresight?
In this procedure, we shall explain how to update the Chrome device in the Grade 1 Organizational Unit (OU). First of all, we shall prepare a CSV file of Chrome Devices of Grade 1 OU. It should have fields like Device ID, Serial Number, Status, User's Email ID, Location, Asset ID, etc.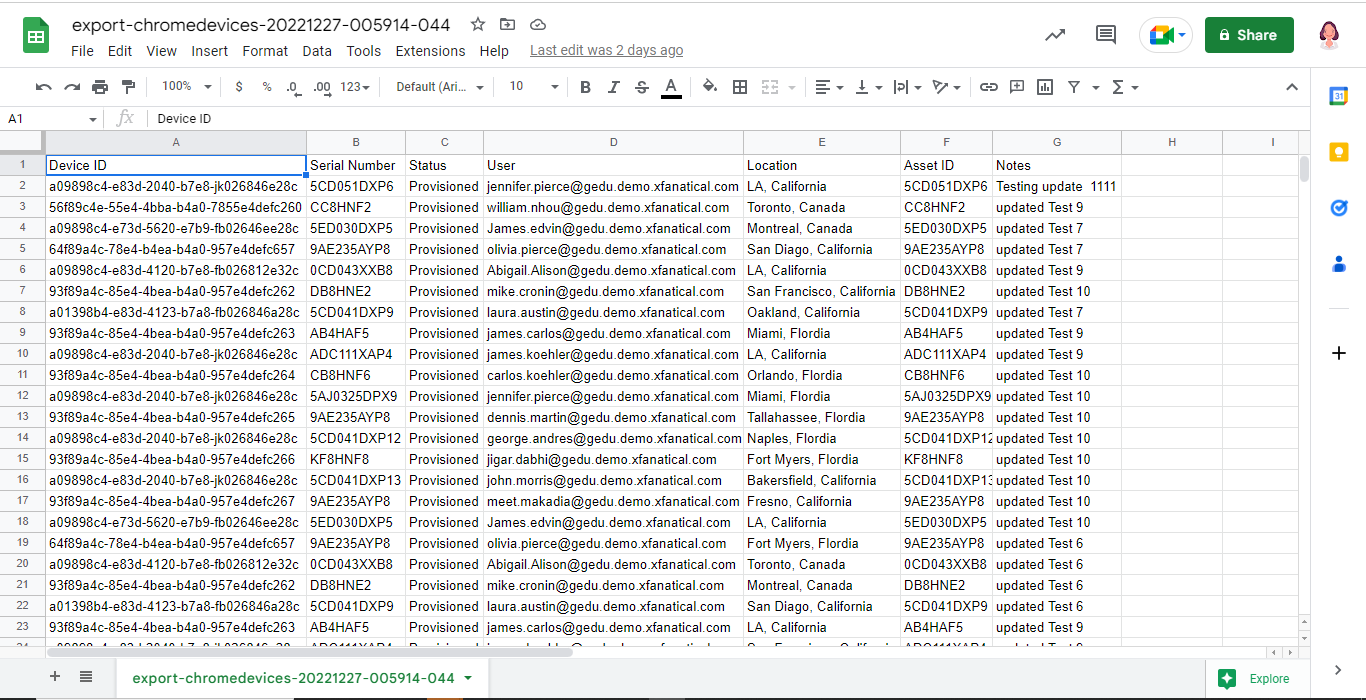 Rule creation
Signin to Foresight with Google Admin Account. Go to the Rules page, and click the New Rule button.
Click on the Data Uploaded trigger and then upload the CSV file with the updated information. Wait for the file to be parsed and then click on Next.
Select the Update Chrome Device action. First, You may need to grant permissions to Foresight in Google Workspace by clicking on the Sign in with Google button to grant access. After access is granted, the Access granted label will appear.
In the Device ID field, select the Device ID from the drop-down menu. Remember, this is not changeable. Then you need to fill in the rest of the fields like Asset ID, User, Location, etc. These variables will take the value from the CSV file.
After completing the above-mentioned steps, click on Review.
Enter the Rule Name and click Create.
Triggering rule
Have you noticed that the rule has been created? Now you need to click on the Upload Icon and upload the same CSV again. The process might take a few seconds.
Rule verification
Click on the Notification Bell Icon on the top right-hand corner of the page. Click on it, then click on View Log. You can also go to the Logs page from the left-hand sidebar. In the Logs, you will see that the rule has been triggered successfully.
Devices in Google Admin Console have been updated.
This is the complete procedure to bulk update Chrome Devices Custom Fields. If you want to know how to export a list of Chrome devices, then you can do that with the help of Foresight also.