In this current article, we will learn how to bulk add email aliases to user accounts. Nowadays, it's common to manage several roles for one job. In this situation, email aliases become beneficial for users. Thus you need to bulk add email aliases. Also, as a manager, you can add an email account of a former employee as an email alias for your current employee, so the old data will not be lost, and the new employee does not have to handle the two accounts separately.
What is an email alias?
Simply, an email alias means an alternate email address. This address is added to the user's primary email address by the Google Admin. The email (message) received on the alias address is directly routed to the primary email address of Google Workspace. Thus, the user must log in to the primary email account to read the message.
You can add a maximum of 30 email aliases for each user in Google Workspace. No extra cost is required for this service, and you can avail of this feature in different ways.
You can receive emails from different resources when you add the email alias Gmail, and an automatic filter can add them within a separate file.
Add an email alias for a user account
The following process describes how to add email aliases for a user account –
Sign in to the Google Admin Console using your Administrator account.
Go to the Menu>Directory>Users after opening the admin console page.
Then click on a user's name to open the user settings page. An alternate way to find a user is to go to the Find a user account page.
Then click on the Add Alternate Emails on the left-hand side. You can find this option under the user's name.
Now click on the Alternate email (email alias) field, and enter a name for that email. Just enter the former part of @sign.
If you have added a secondary domain, you can also add the user alias from that secondary domain. It is optional. learn more about the secondary domain.
Repeat steps 5 to add multiple alternative emails/aliases. This is not compulsory because mostly only one alias is enough. Having more than 1 or 2 aliases depends upon the requirements.
Finally, click on the Save button.
Now all the setups are done. It may take 24 hours to get the user alias activated.
Bulk Add email aliases to User accounts in Google Workspace with Foresight
Foresight is a SaaS platform to help businesses streamline and automate Google Workspace workflows without learning to code. It empowers administrators and users to design complex business workflows that cannot be done with native Google cloud services and work smarter. Foresight also has a simple feature to add email aliases within Google Workspace. Some of its advantages are-
It allows doing the task for thousands of users simultaneously.
It can complete the task efficiently without any coding.
It saves time and increases productivity.
Thus Foresight is highly recommended for large organizations.
Demo Video
This demo video will help you to understand bulk add email aliases with Foresight.
Instruction
Rule Creation
First, you need to prepare a list of users. Let's say the users of the Internship Finished Organizational unit whose email aliases need to be added. There are two columns in the sheet- Email and Email Aliases. Please note, for the demo purpose we only take 11 users, while in real cases, we can handle thousands of users at a time.
Next, download the Google Sheet in CSV (comma-separated value) format.
Sign in to Foresight with the help of a Google Admin account. Go to the Rules page and click on the New Rule (+) button.
Then select the Data uploaded trigger.
Upload the CSV file with updated information.
Wait for the file to be parsed. After that, click on Next.
Now select the Add user email alias action on the New Rule page.
In this step, you need to grant permission for Foresight through the Google Workspace account. Once you have done it successfully, the status will be changed to Access granted. In the Primary Email field select Email and in an Email alias field, select Email Aliases. Then click on Review.
Now enter the Rule name (Change internship finished users aliases) and click on Create.
You will see the rule has been created.
Rule Triggering
Click on the upload icon of the rule card and upload the same CSV file again. This process will take a few seconds.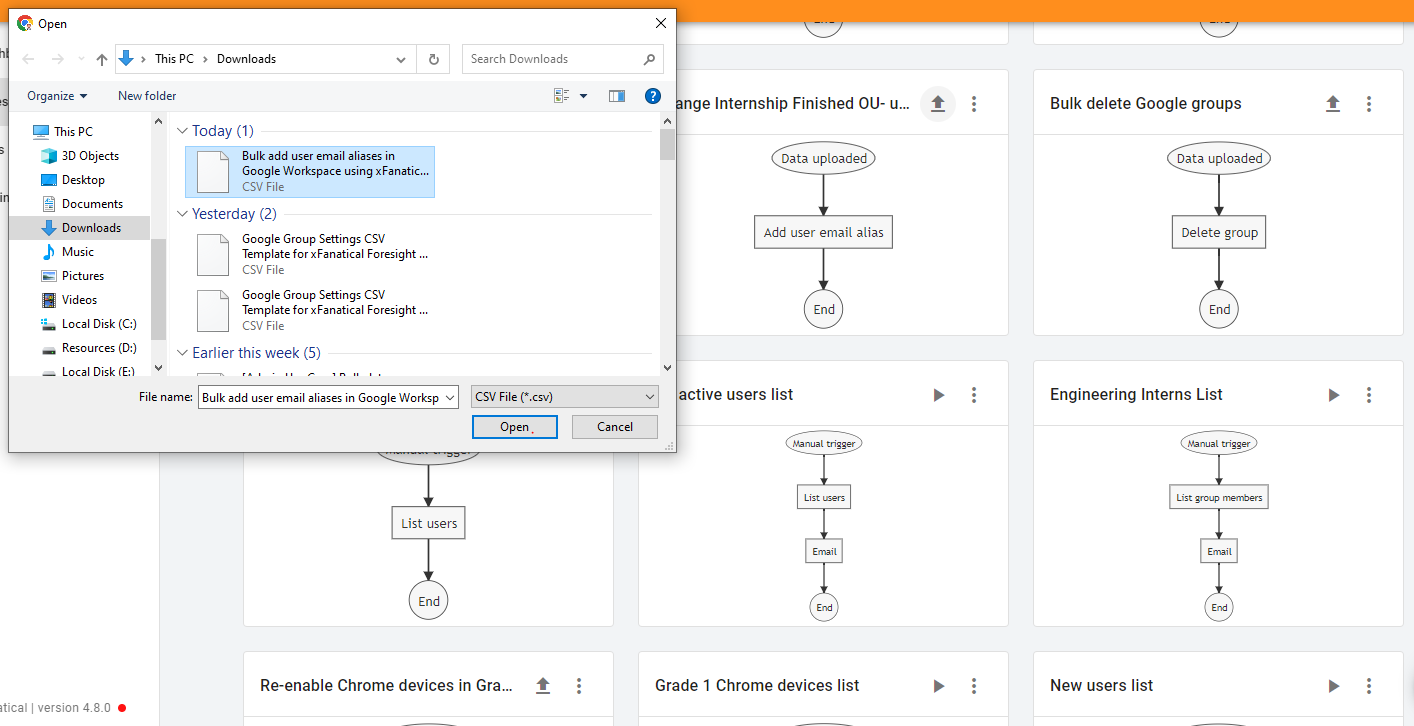 Verifying Result
Notification will come in the top-right corner of the Rules page. You can see the successful execution status of the rule after clicking on it. Then click on the View Log option within the notification to view the log details. Also, you can see it from the Logs page. It shows the successful triggering of the rule.
Finally, confirm it from the Google admin console. So, filter the users by their email and click on the user name.
Then go to the contact information. Now you can see the Alternate email added for the user. You can get the same result for the other users by repeating this process.
Parting thoughts
Email aliases come in handy on multiple occasions, but when an admin has to add those at one go, it can be challenging. But with solutions like Foresight, that is not the case anymore. Google admin does have this option, but Foresight gives a more user-friendly interface for IT admins. You can add multiple email aliases without disrupting the workflow.
What more? With Foresight, you can now also retrieve aliases for all active users in Google Workspace and bulk add email aliases to Google groups as well.