Introduction
This blog aims to provide a step-by-step guide on how to export the Google Chrome devices list in Google Workspace. By following these instructions, administrators can obtain a detailed inventory of the Chrome devices within their organization, facilitating effective device management and troubleshooting.
What are Google Chrome devices?
Google Chrome devices are those hardware devices, PCs, or Tablets that run Google's OS. But there's a catch – they can only run the apps on the system through the Chrome web browser.
Chromebooks: Chromebooks make a good travel computer because of their portable 11.5 to 14-inch monitor and lightweight size. Popular Chromebook manufacturers include Acer, Samsung, and HP Pavilion.
Chrome boxes: Chrome boxes are the desktop version of a Chromebook that can be useful for lightweight applications such as video conferencing, group presentations, and self-service kiosks. They are sufficient to fill many roles that have historically required a Windows or Apple desktop computer at a much lower price.
Being Google-enabled products, they have superior functioning. In addition, some of the features are far more convenient than the other devices. We shall discuss them in the next section.
Why Chrome devices?
Chrome devices are fast and easy to use. They are also extremely convenient when it comes to messaging, mailing, creating and sharing documents. It is also advantageous when it comes to video calling on Google Meet. They are easily integrated with the cloud and can also be synced with Android devices. Apart from that, they are easily protected by malware and phishing attacks due to the inbuilt and private security systems. They are also affordable, and none of the ChromeOS devices is priced expensively.
Understanding the Foresight Automation Tool
The Foresight Automation Tool is a versatile and user-friendly application designed specifically for Google Workspace administrators. It offers a wide range of automation capabilities, simplifying and streamlining various management tasks. From user provisioning to device management, Foresight Automation Tool provides a comprehensive suite of features for Google Workspace administrators.
Additionally, This tool offers a new action called "Upload Data to Drive," which enables users to seamlessly transfer data from various sources to their Google Drive. This feature empowers organizations to streamline their data management processes, ensuring that important information is easily accessible and securely stored.
The Importance of Exporting Chrome Devices List
Before diving into the specifics of exporting the Chrome Devices list, let's discuss why it is important. Having an up-to-date and accurate record of all Chrome devices within your organization is essential for several reasons. It facilitates asset tracking, enables effective troubleshooting, and aids in device allocation and management. By exporting the Chrome Devices list, you gain better visibility and control over your organization's hardware resources.
Exporting the Chrome Devices List with Foresight Automation Tool
As a Google Workspace Administrator, we can download a list of the devices, but we can't email the list to the manager and save the data on Drive. In Google Workspace, Foresight adds a lot of automation. With Foresight, we can download the list of devices and even mail it to the manager in a CSV list format all at once, and we can also save the data on drive with its newly added action Upload data to drive.
Now, let's explore the step-by-step process of exporting the Chrome Devices list using the Foresight Automation Tool:
Demo Video
Here is the demo video of the process. You can also read the procedure in text format below.
Login to your Foresight account with your Google Admin account.
Go to the Rules page and click the New Rule button on the bottom right corner of the page.
You will see a pop up named Select a trigger. Select the Manual Trigger option.
Select the List Chrome devices action.
Select the Device ID and Status columns. Leave the rest of the fields as default.
Scroll up and click Add Next Action.
And then, select the Upload data to Drive action.
After that select the Chrome Devices CSV Download Link in the CSV file URL. Then select the Google Drive folder path.
Again click Add Next Action and select the Email action.
Now enter the manager's email ID and give a subject line.
Create an email body and insert the Chrome Devices CSV Download Link through the Add variable icon. Click Review.
Give a Rule Name (Exporting Chrome Device List – Upload to drive). Click Create.
Rule Triggering
Trigger the rule through the play icon and check the status through the Logs page.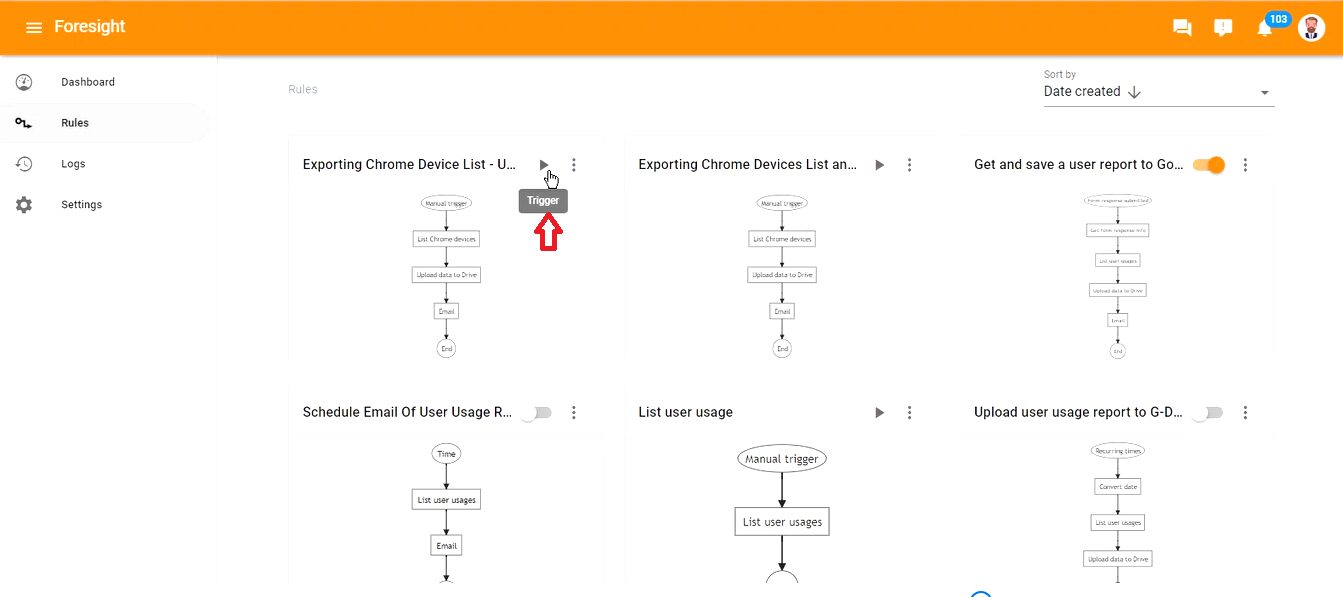 Verifying the result
You will find the CSV file through the Google Drive folder.

Conclusion
Efficiently managing Google Workspace, particularly the Chrome Devices list, is made simpler with the Foresight Automation Tool. By following the steps outlined in this blog post, you can seamlessly export the Chrome Devices list, gaining better control and visibility over your organization's hardware resources. Streamline your Google Workspace management with Foresight Automation Tool and simplify your administrative tasks.
By leveraging the Foresight Automation tool and its "Upload Data to Drive" action, organizations can significantly improve their productivity and efficiency. This tool serves as a valuable asset in the ever-changing digital landscape, providing a seamless integration between different platforms and enabling users to automate repetitive tasks with ease.
So, try a 14-day free trial of this automation tool. You can read more topics related to this one - Export Active Users In Google Workspace, etc.