This article is written for Google Workspace for Education Administrators.
In Google Meet, every participant's identity (the real full name) is visible to the entire room. Some parents don't want their kids' information to be shared to classmates, for privacy concerns. Teachers also want to protect some students from digitally abused by others.
This article explains how to hide students names in Google Meet using Safe Doc chrome extension. If you have yet to install Safe Doc for your school, please get a 30-days free trial.
What's changing in Google Meet?
Students' names appear majorly in 2 places, on the tile and in the People tab. The screenshot below tells the story straightforwardly. These two places are the most critical way to identify a student, by matching the camera (or the profile photo) with the full name.
Safe Doc removes the tool tip at all from appearing next to their faces. The names in tiles are removed and the People tab is clear. When you hover the cursor to a tile and then on the pin button, the tooltip does not display.
In this way, students' identities are anonymized, to some extent, for better privacy. Note this prevents students from seeing each others' identities. The teacher can still see the full list of students without problem on their ends.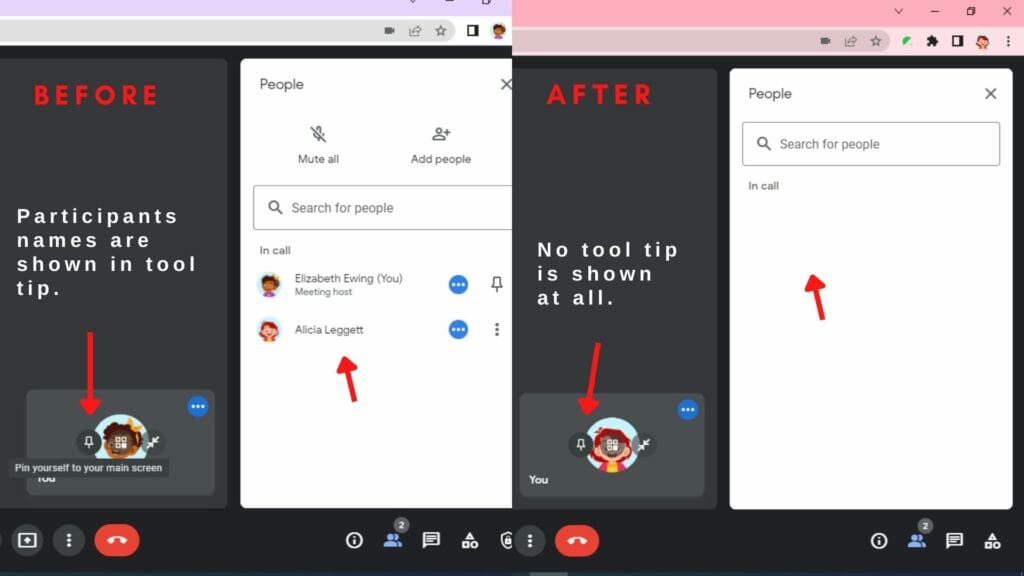 How to set up Safe Doc?
First of all, make sure you have deployed Safe Doc and have read Safe Doc Configuration.
Then, add and set the policy BlockMeetStudentInfo to true. This policy is by default OFF if it's unset.
"BlockMeetStudentInfo": {
  "Value": true
}
---
You may also like