Students have been literally searching nudity pictures in Google Docs or Slides all the time, touching many school administrators' and teachers' nerves. Image searching is a ubiquitous feature in Google Apps (Docs, Sheets, Slides, Forms and Drawings). According to an old report by Mary Meeker in 2014, 1.8 billion images are uploaded every day. It's not unlikely to find pornography or bloody images nowadays. To comply with the Children's Internet Protection Act (CIPA) law, admins have to move these contents away from students. How could we prevent students from searching unintended images in Google apps?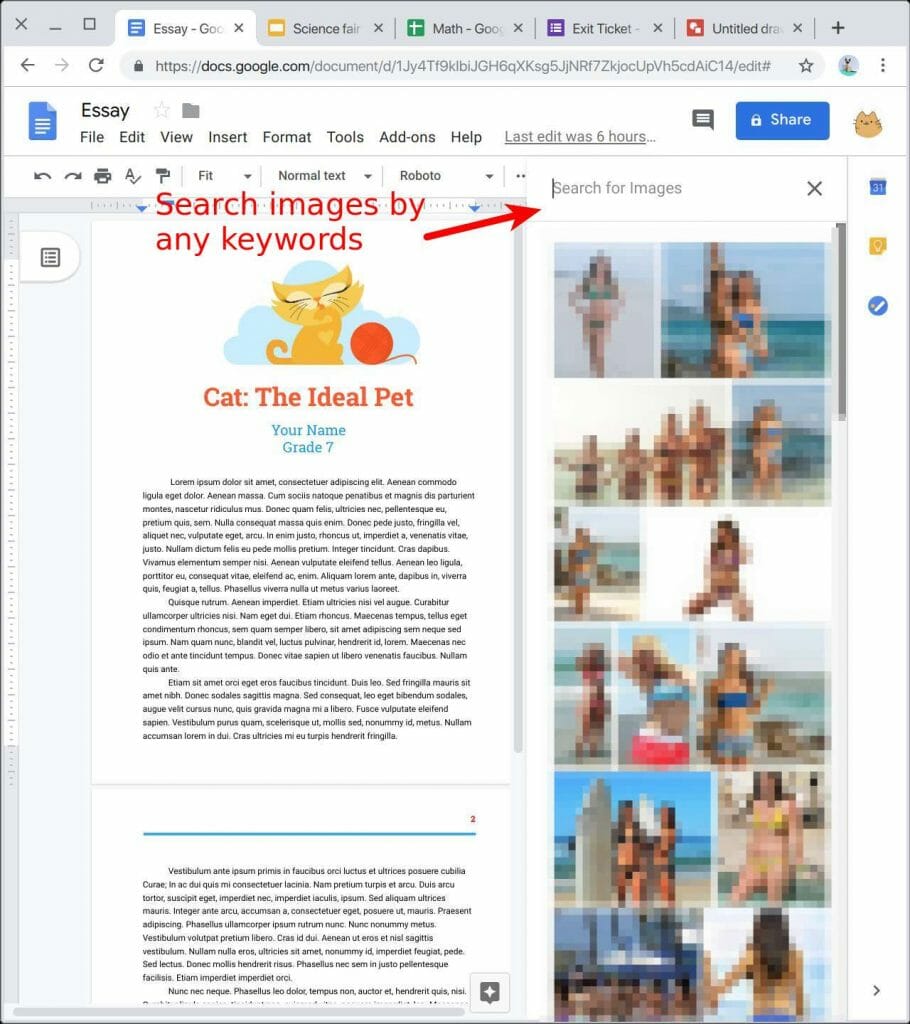 While there are other web filtering vendors like OpenDNS / Cisco that can filter malicious or porn sites plus enforce Google SafeSearch for you, admins still notice pornography slipped through the loophole of firewalls. Why? It's because the image searching results in Docs come from the same server (encrypted-tbn0.gstatic.com) as the normal Google Image Search, blocking the domains / urls won't prevent students from seeing the thumbnails or even the image itself. On the other hand, it's strange that Google returns inappropriate image in the Docs that the normal Google Image Search doesn't.
This article shows how Safe Doc blocks the image search feature to protect students from searching inappropriate images. It removes the image searching feature completely in Google Docs, Sheets, Slides, Forms and Drawings. In this way, students will no longer search random images from the web but use the whitelisted images. The way may not sound dedicated, but it ensures 100% security.
Install Safe Doc
This Setup Safe Doc explained all steps to install Safe Doc on your Chrome browser or Chromebook. Once you have installed the extension, Safe Doc will disable the image searching feature autonomously without your intervention. Just verify the subtle interface changes about the image searching feature in Google apps shown below.
How Safe Doc blocks image searching in Google apps?
Safe Doc removes dozens of entries that could trigger the image searching feature. For example, some admins found this Insert > Image > Search the web menu is often used by students. It will pops a side window for searching images. Once Safe Doc is installed and active, this entry will be removed. You will find many other spots that relates to the image searching feature. Luckily, Safe Doc can block all of them.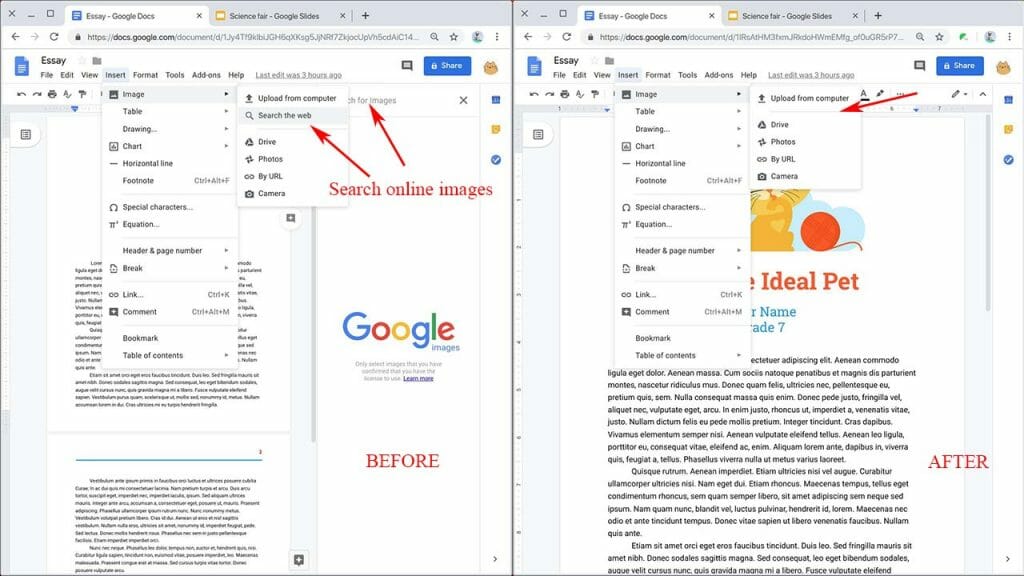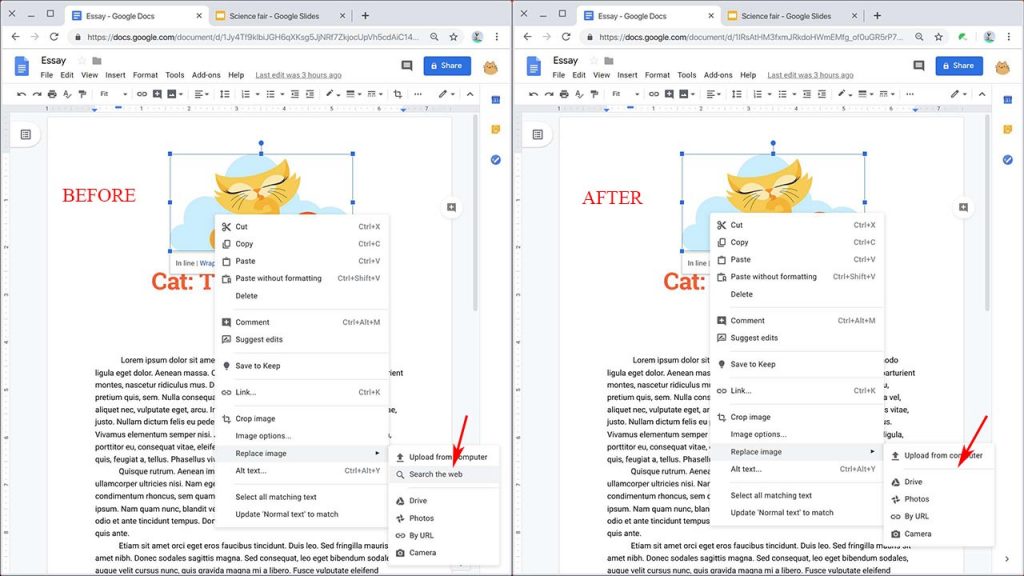 Image searching is available in Sheets too. Insert images in a cell, over a cell or insert image in a drawing, you name it.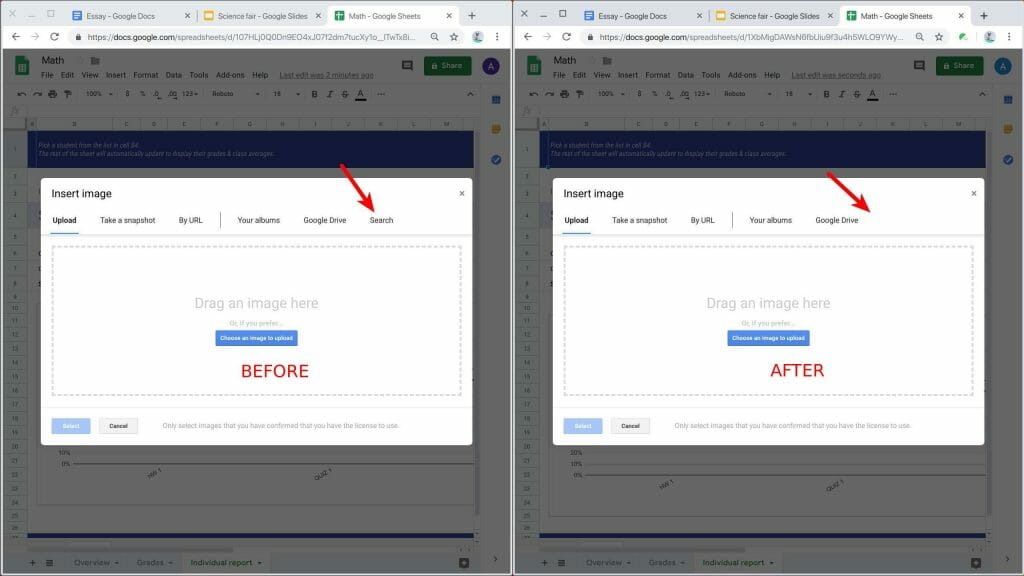 Image searching in Slides.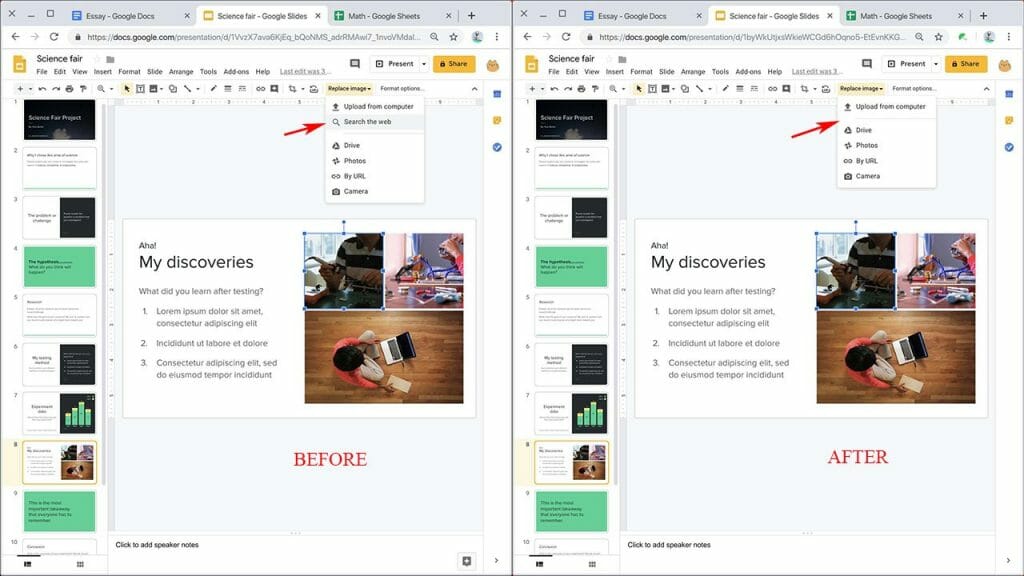 Image searching in Forms. Forms may not be a useful tool for students, but its availability allows them to exploit the feature.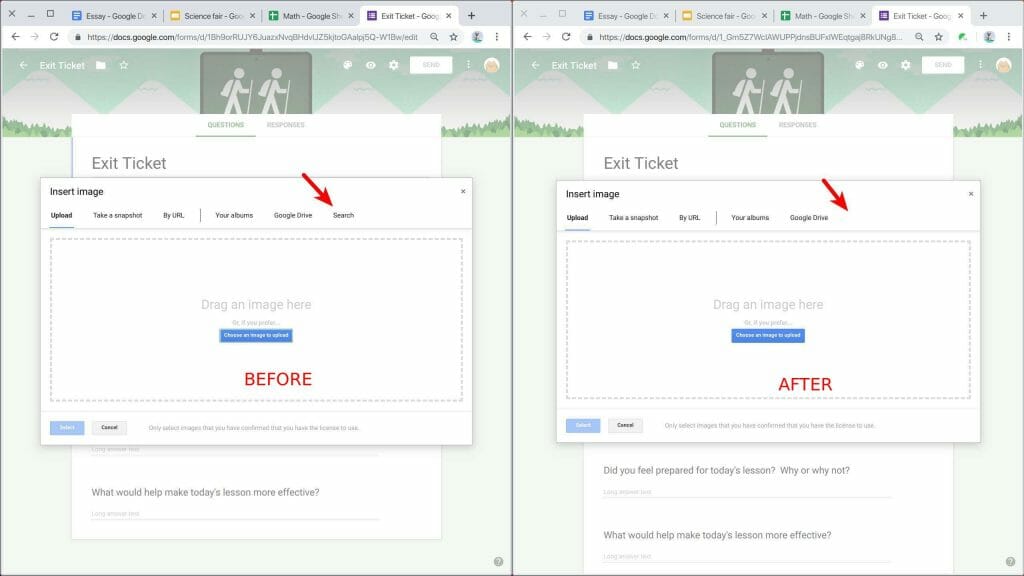 Image searching in Drawing.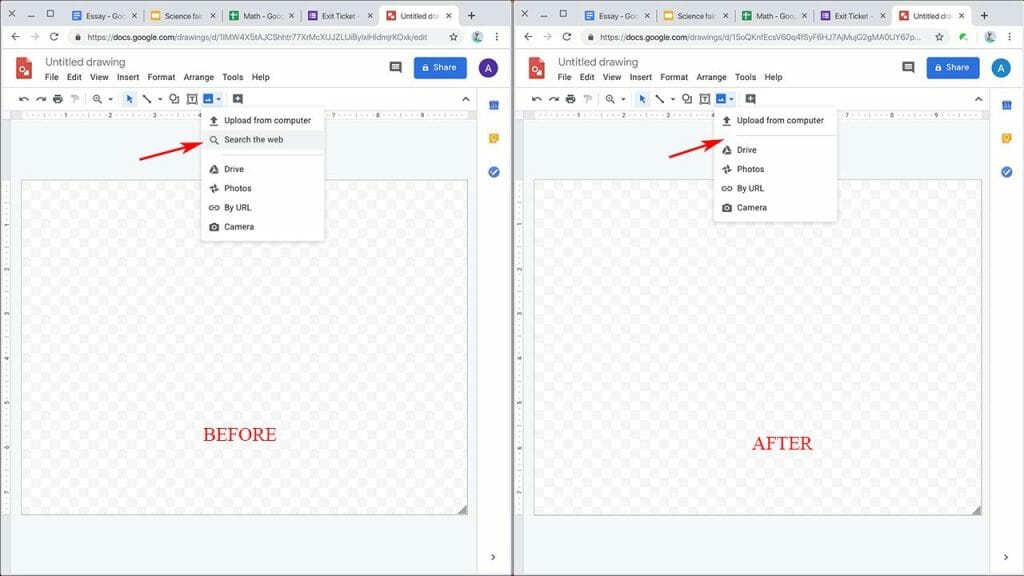 Safe Doc can also hides the image search located in the Explore feature. In fact, the Explore feature is reported as a risky feature by many admins. You may find how to disable the Explore feature.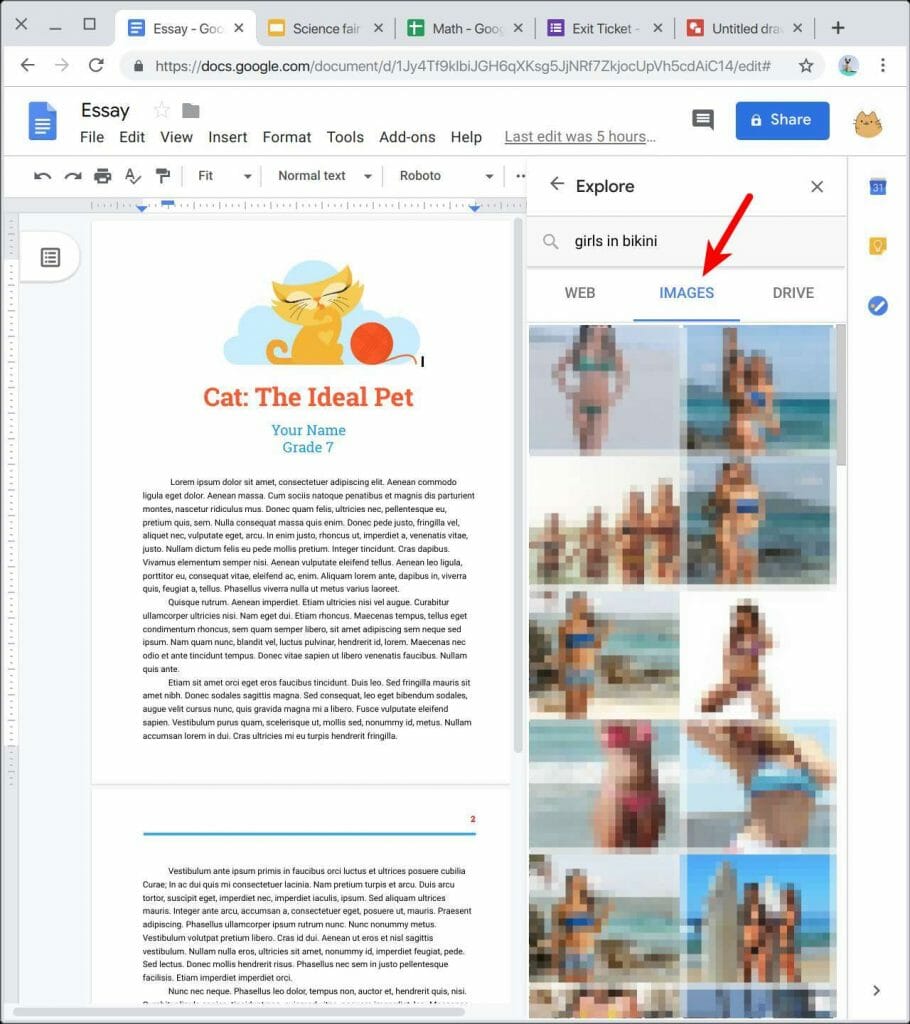 How would students search and insert images without the built-in image searching feature?
As an admin or teacher, you still can manage students to insert safe images by the following ways in Google Apps.
By URL.

Use a managed image database, say https://www.safesearchkids.com/
Find the image there and copy the image url
Paste the image here by Insert > Image > By URL or the toolbar > By URL.

Insert from an internal image pool.

As a teacher you can share a folder with your students and let them select images from the Drive only.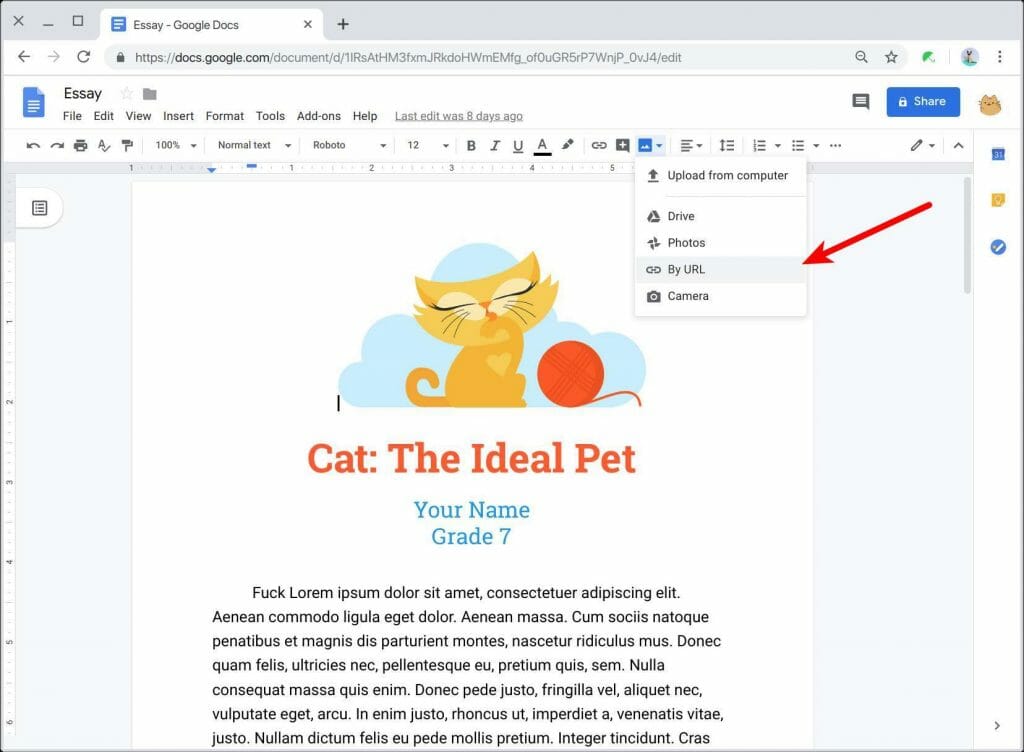 Final words
Do you find any spots of image searching uncovered by Safe Doc?
Besides, Google Apps contain other potentially "risky" features you may want to disable. I also share tips in how to block video searching in Slides or block Dictionary in Docs.
Please leave your comments below.