Introduction
In this blog, we will highlight how Foresight's automation rules rejuvenate your Google Workspace workflows. Google Workspace is a cloud platform that comes with multiple productivity and collaboration features. It includes apps like Gmail, Drive, Forms, Slides, Sheets, Docs, and others. These apps ease your communication and collaboration with team members. They have different purposes and different workflows. Some of their actions are quick, but some are lengthy. Google Workspace allows its users and admin to manage these operations manually. But, you can accelerate your workflows further by implementing automation through Google Workspace workflow automation platforms like Foresight. Over the years, Foresight has included business-specific automation rules for Google Workspace. 
Why Foresight?
Though AppSheet is a no-code automation platform of Google, it focuses on app development, document processing, connectivity with data sources, API, etc. But, Foresight is a pure automation tool for Google Workspace workflows. It has customized use cases for Google Admin Console and Google Workspace products. So, the users and admins can seamlessly automate regular workflows with its no-code UI. Also, Foresight creates some automation rules about the features that are absent in the Admin Console. 
Work Process of Foresight
Its workflows are divided into five parts –
Finding out and mapping the processes that can be automated
Creating the diagrams of workflows
Collecting data from existing data sources of Google Workspace, apps, or databases
Defining the automation rules with specific triggers and actions
Monitoring the automation rules in real time. It also gives the insights of the newly created rules
Customized use cases of Foresight for Google Admin
Now, let's move on to some popular use cases of this platform. We are mentioning one or two rules from each category. Furthermore, you should learn about the other rules from here.
Archiving your Google Workspace users protects your OU's reputation from data breaches. You can easily archive your ex-employee's details with Foresight. Simply, you have to use the Archive User action. Then, notify about this action to the manager of the archived user. So, you need to send an email to the manager. To create this email, you have to select the Manager's email variable from Foresight.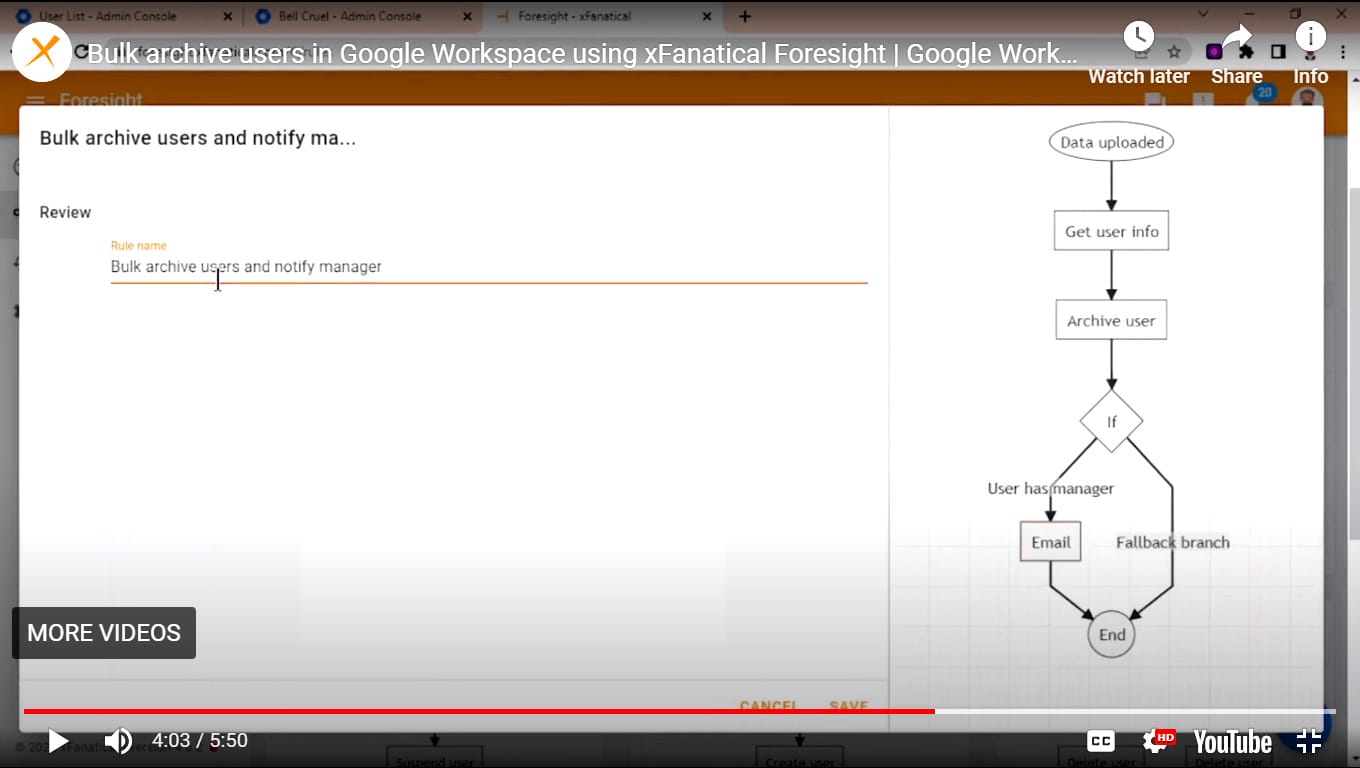 Create Google Workspace Users By Schedule
Sometimes, you need to create temporary user accounts for your OU. Foresight helps you to schedule creating these types of user accounts in Google Workspace. To create this rule, you should select the Time trigger and edit the trigger as per your preferred time. Also, select the Create user action. Then, you have to enter the details of the user, like - password, first name, last name, etc.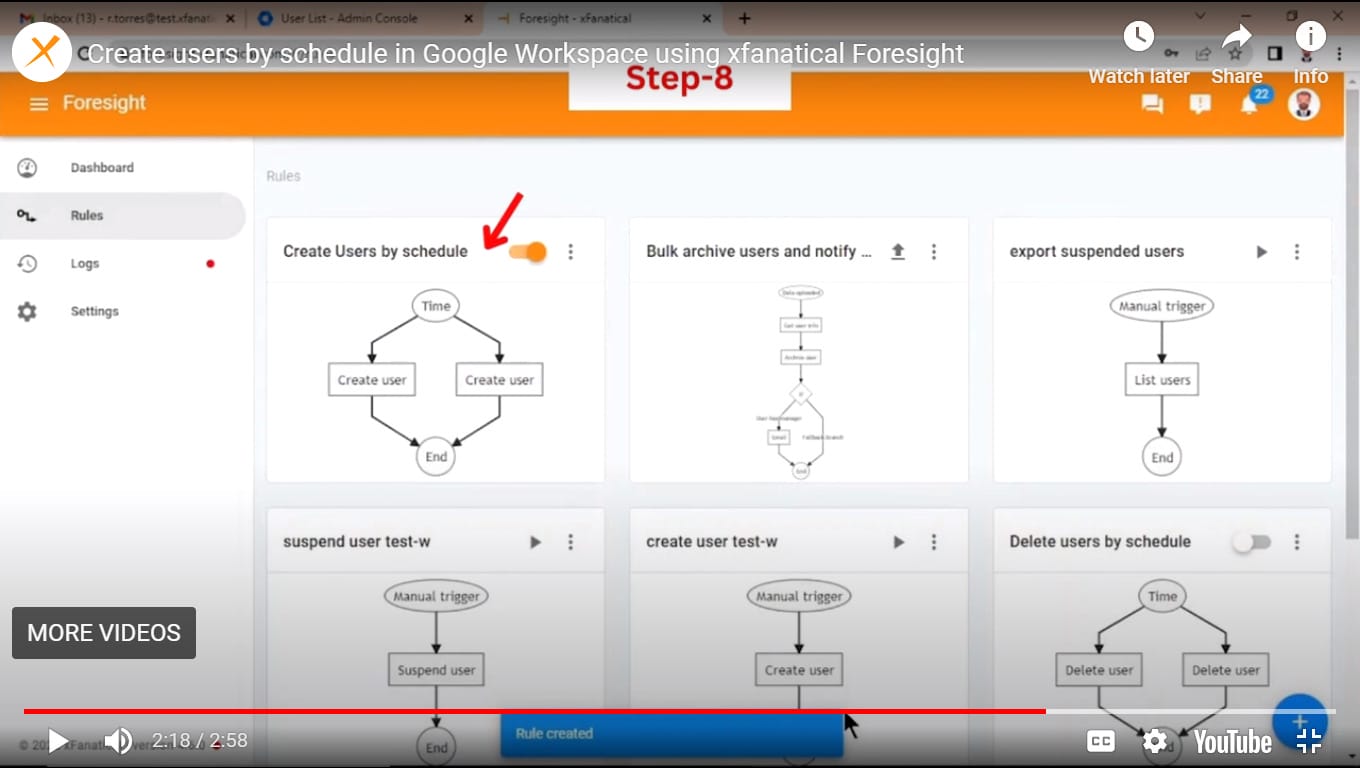 How To Bulk Rename Google Groups
You can rename one or multiple Google Groups simultaneously. Let's see how Foresight's automation rule works for this purpose. First, you should create a CSV file of your targeted Google Groups. The CSV contains the names and the emails of these groups. After that, you have to upload this file on the Foresight platform. So, you must use the Data uploaded trigger for this purpose. Following this, select the action - Rename group. Edit this action by choosing the Email and Name variables. Finally, create your rule and start triggering it.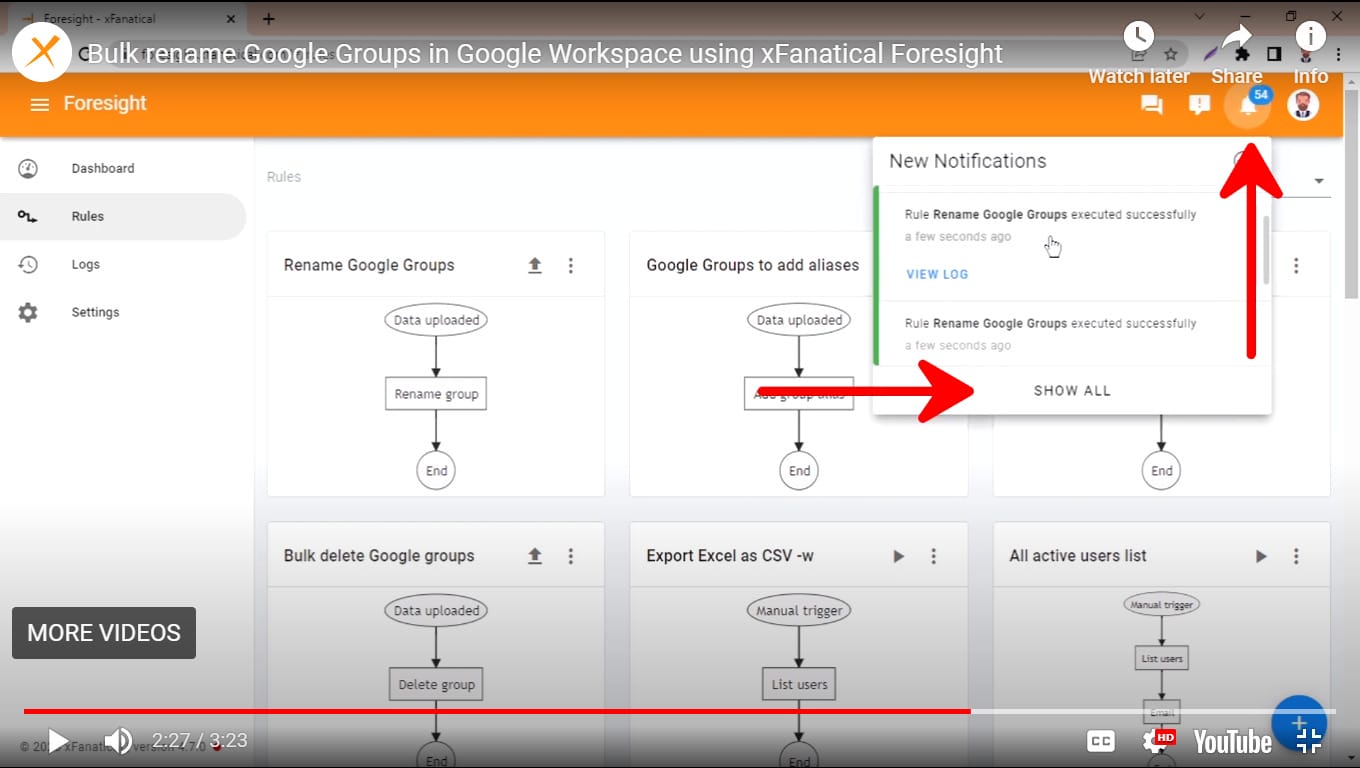 How To Bulk Create Google Groups?
This automation rule will help you to create new Google Groups in Google Workspace. For this, you should create a CSV list of the groups' names and emails. Upload this CSV file with the Data uploaded trigger. Then, enter the appropriate variables in the Group email and Group name field. Then, after creating and triggering this rule, verify the result. So, check out the result from Foresight's Logs page. Also, check your Admin Console. You will see that new Google Groups are created. 
How To Export Google Chrome Devices List In Google Workspace?
You can download the list of Chrome devices through Foresight. So, start your rule creation through Manual Trigger. After that, you have to select the List Chrome devices action. Furthermore, there are other actions needed. They are - Upload data to drive and Email actions. Also, you should insert the Chrome Devices CSV Download Link variable within the manager's email body. Then trigger your rule and verify the result.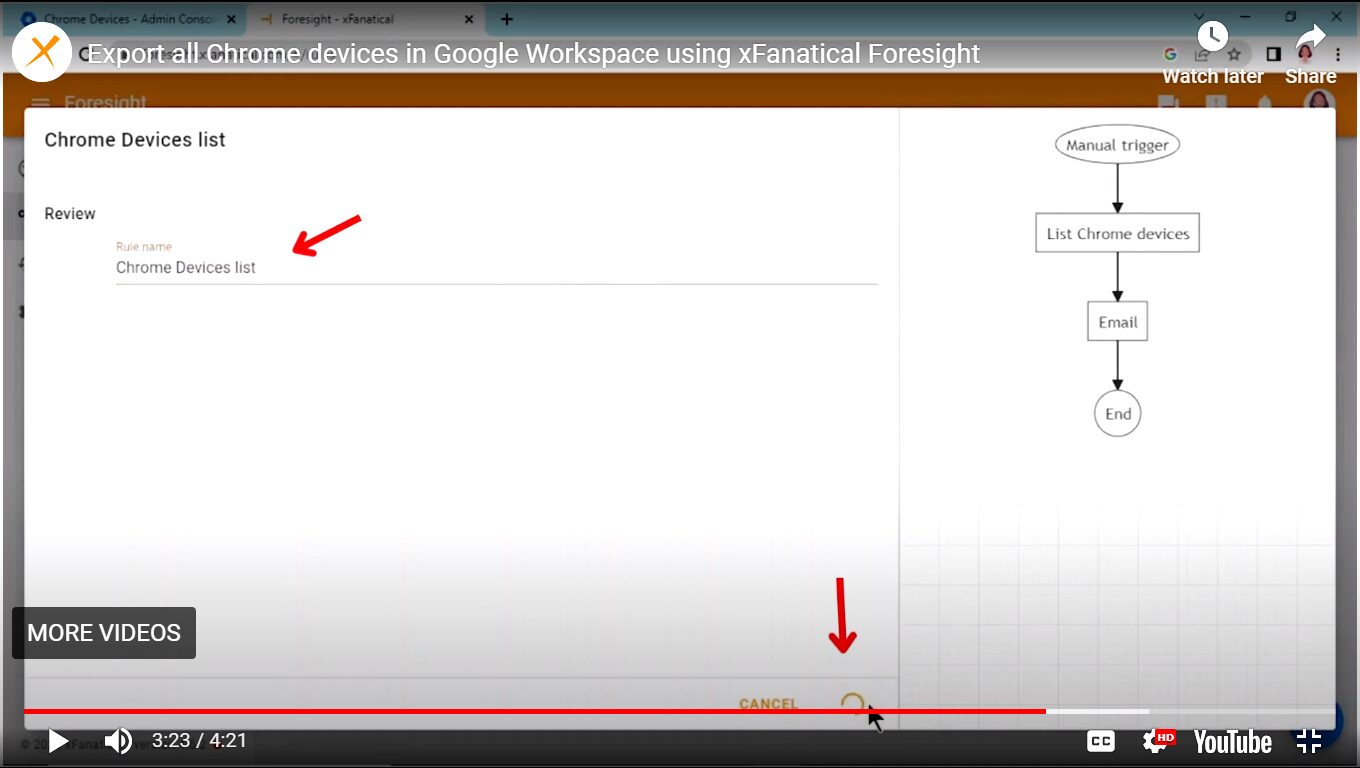 Bulk Update Chrome Device Custom Fields 
With Foresight, you can update customs fields of Chrome devices like - user data, asset ID, etc. For this, you'll need a CSV file. It should contain the Chrome device ID, user's email ID, status, serial number, location, etc. Upload the CSV and choose the Update Chrome Device action. Then, fill up the required fields mentioned above. After the rule creation and successful execution, you will find the devices have been updated in the Admin Console. 
Calendar resource management
Bulk Add Calendar Resource Features
This rule is divided into two parts. The first part requires exporting the CSV list of calendar resources. To complete this part, you should select the Manual Trigger and the List calendar resource features action. The last step of this part is to download the SV file from the Logs page. The second part requires uploading the CSV of the features. Then, choose the Create calendar resource feature action. Complete the rest of the tasks for this rule. Finally, check the result from the Manage Resources section of Google Admin Console. 
Use cases for Google Workspace users
Gmail use case: Mail Merge Using Gmail and Foresight
A simple mail merge creation starts with CSV formation. This CSV file includes email addresses and first names. Only you have to upload this CSV file with the Data uploaded trigger. After that, select the email action. Then, all you need to do is create an email subject and body. Now, it's completed. Now, finish the rest of the steps. You can check the result from the Sent folder. Also, create mail merges with multiple templates with Foresight.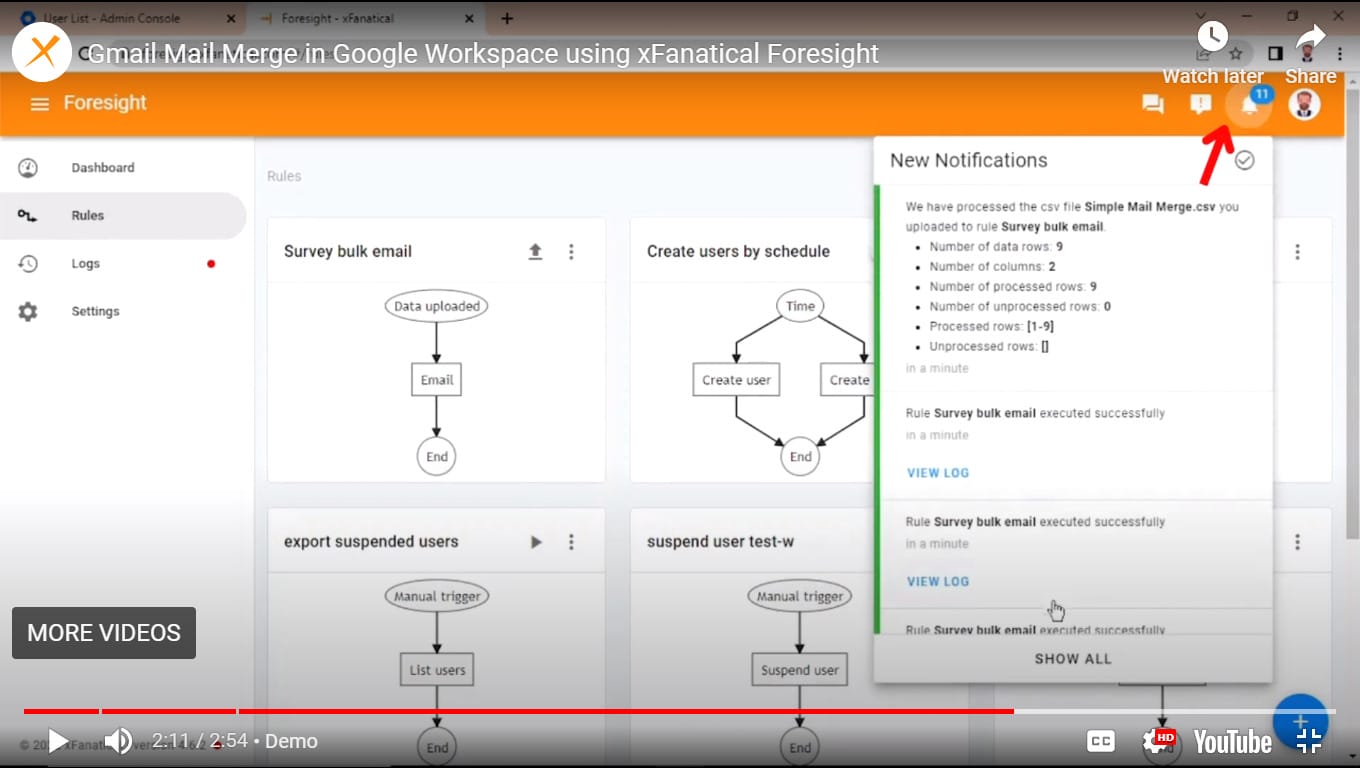 Calendar use case: Automatically Copy Events from One Google Calendar to Another
This rule will start with a new calendar event trigger. After that, you have to check some options like – Also include events I was not invited to, Also include events I created, and uncheck Include events created by Foresight. Then, it requires the Copy event to calendar action. Follow the other steps and complete your rule creation.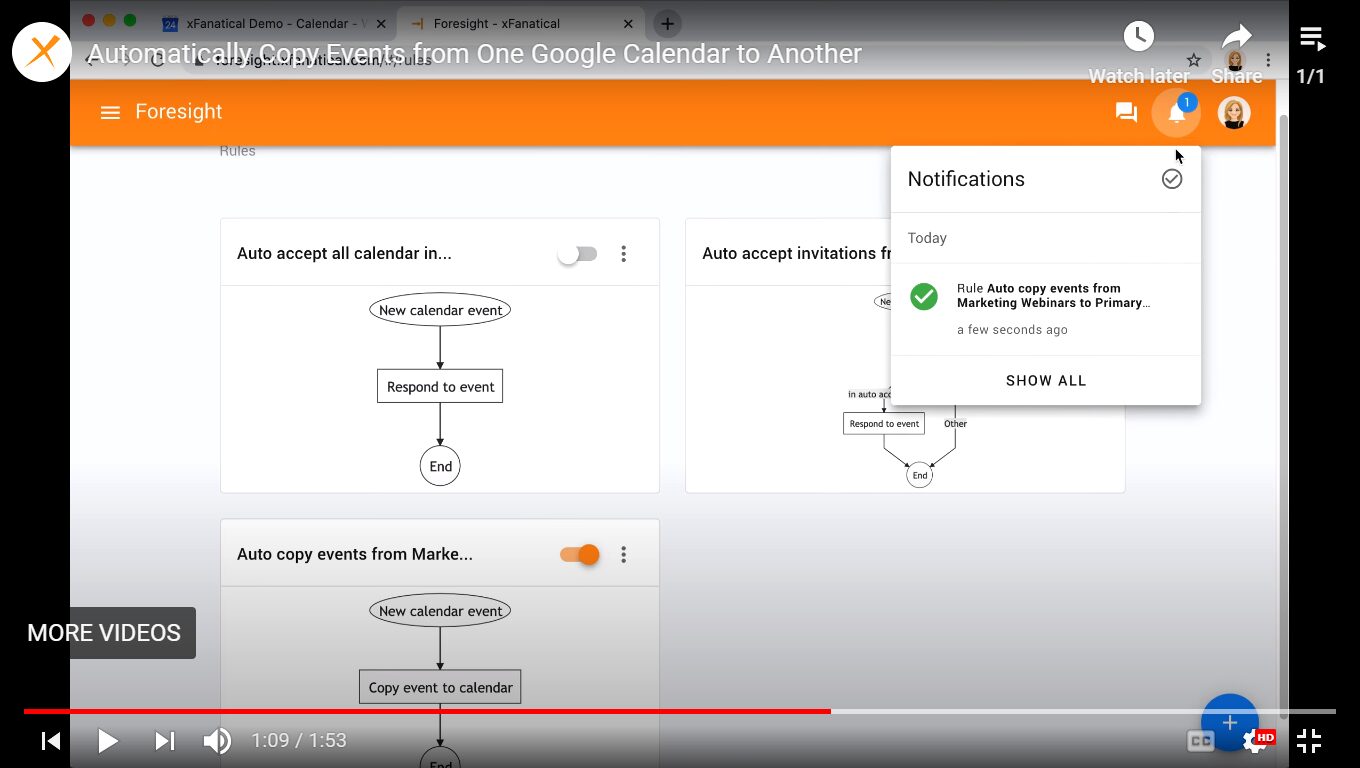 Benefits of Foresight
Foresight automation tool provides the following facilities –
It reduces the risks of errors and generates accurate results. Thus, you can implement bug-free and secured automation formulas for your business.
You don't need to follow the redundant and lengthy workflows when you choose Foresight. Its automation power speeds up workflows and improves your efficiency.
As it accelerates your work rate, you can generate more outputs within a given timeline. As a result, your organization's productivity will be improved.
Foresight has a user-friendly UI and real-time data analysis feature. Thus, it ensures a good user experience.
Conclusion
So, you have learned about how Foresight manages your Google Workspace workflows. Its automation provides outstanding solutions for your regular tasks. You can install this tool from Google Workspace Marketplace. Know its pricing from here.