Introduction
In this blog post, we will explore how to Automatically Copy Events from One Google Calendar to Another, saving you time and ensuring you never miss an important appointment again.
In today's fast-paced world, managing multiple calendars can become a daunting task. Whether you're juggling personal and professional commitments or coordinating schedules with a team, the need to keep multiple calendars in sync is essential. It's not uncommon that you have multiple Google calendars in your calendar list, and it's necessary to copy events from one calendar to another. For example, when someone created a seminar event in a shared calendar you subscribed to, you would like to forward a copy of event to your primary calendar.
Google Calendar has the convenient feature to copy an event to another calendar. It's done by clicking the event, clicking the

button and select one of Copy to <your destination calendar>.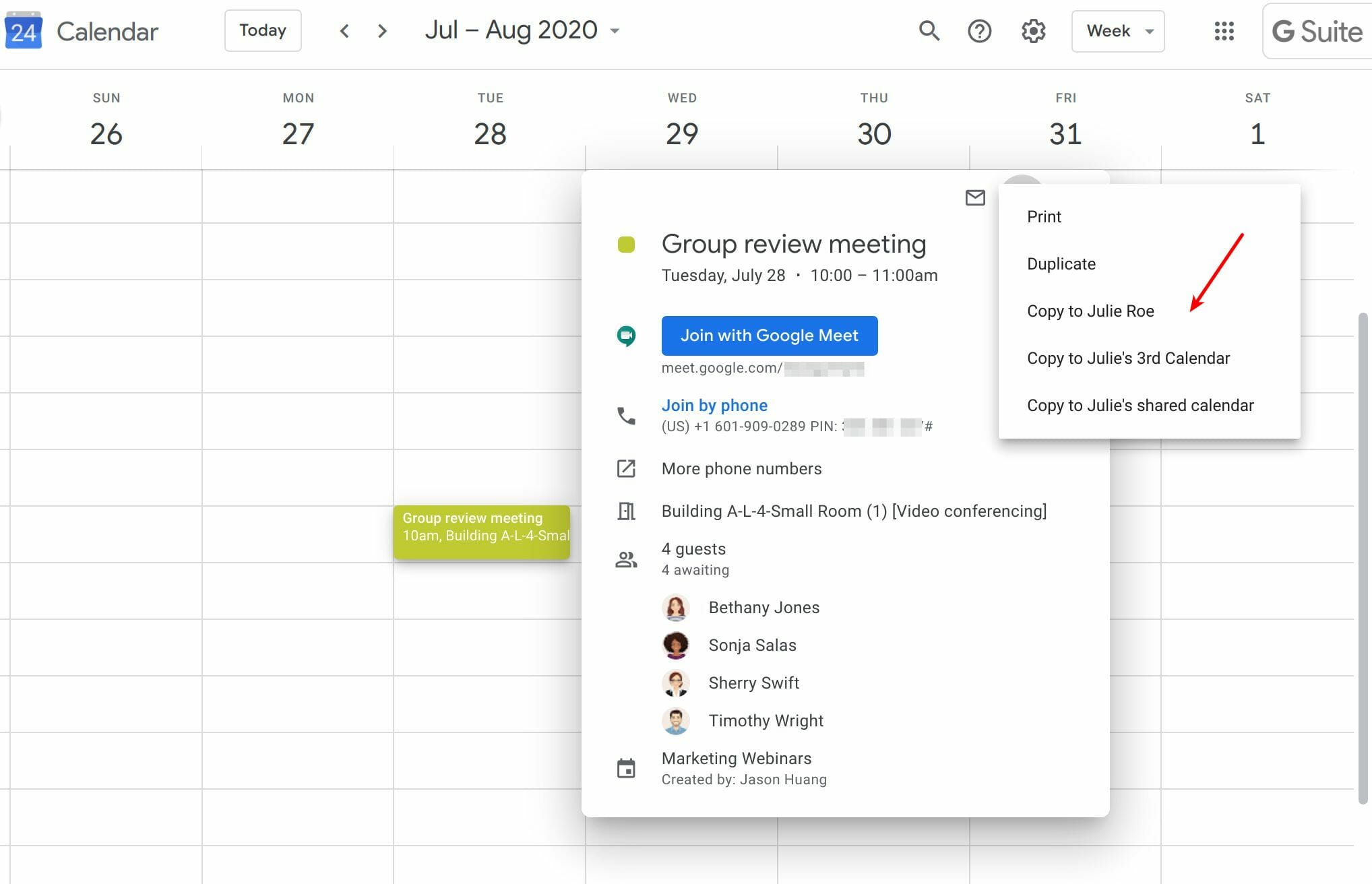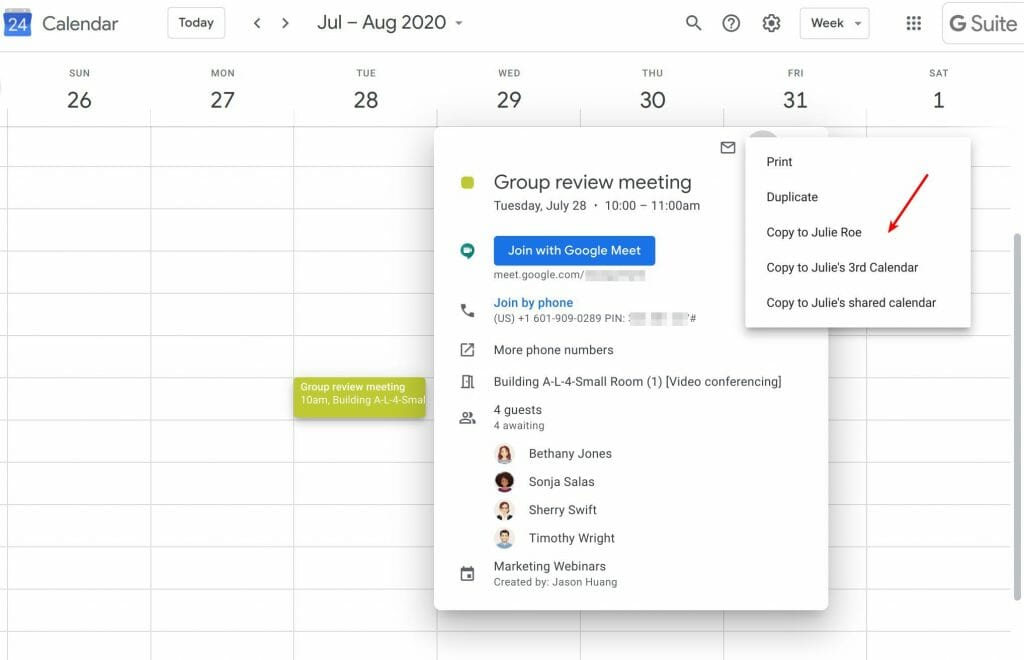 Having that said, it's impossible in Google Calendar to automatically copy events. If you consistently have events to copy, it's eating up your time.
This article explains how Foresight automatically copies new events from one Google calendar to anther calendar.
The Power of Google Calendar
Google Calendar has become a go-to tool for individuals and businesses alike, offering a user-friendly interface and seamless integration with other Google services. With its versatile features and accessibility across devices, it's no wonder that millions of users rely on it for their scheduling needs.
Demo
Assume that Julie Roe, the protagonist of this demo, wants to automatically copy new events from Marketing Webinars to her primary calendar, illustrated below.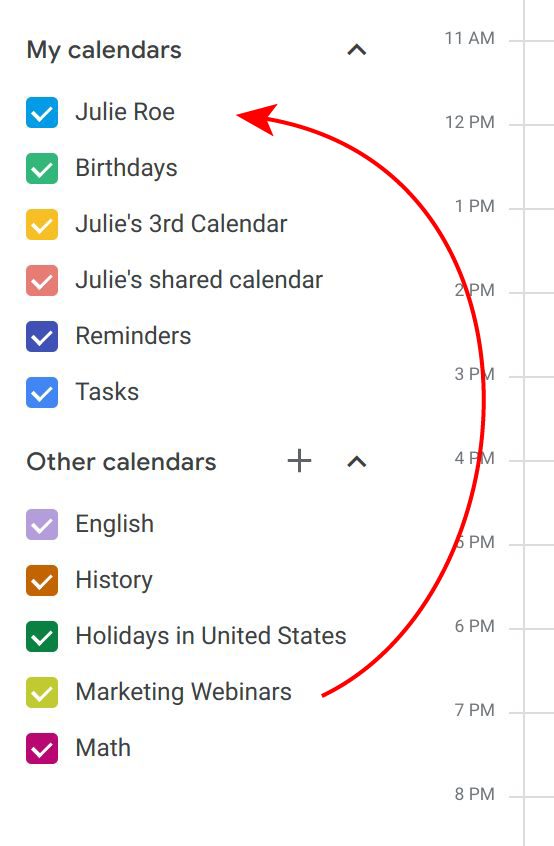 The following video demonstrates how to set up a Foresight automation rule so that Foresight automatically copies the events without your intervention.
Instructions
The automation rule is only 1 trigger and 1 action, so it's very simple to set up.
Log into Foresight.
Go to Rules.
Click the button to create a new automation rule.
In the Select a trigger page, select New calendar event trigger.
In the Edit trigger page,


Click Sign in with Google to connect Foresight with your Google Calendar. Once you are done, you will see Access granted instead.
Click Calendars, in the drop down menu, select your source calendar, the calendar from which new events are copied. It's possible to select more than one calendars, so new events from all these source calendars can be copied to a destination calendar.
(Optional) Check the option Also include events I was not invited. It's up to you whether to include events you were not invited.
(Optional) Check the Also include events I created. If checked, events you created from the selected calendar(s) will trigger the automation.
Uncheck the Include events created by Foresight option (not shown in the demo video).

Click NEXT.
In the Select an action page, select Copy event to calendar.
In the Edit action page for Copy event to calendar.


Click Sign in with Google to connect Foresight with your Google Calendar. Once you are done, you will see Access granted instead.
In the Source calendar field, select the Calendar Id variable.
In the Event field, select the Calendar Event Id variable.
In the Destination calendar field, select your destination calendar from the list.

Click REVIEW.
Give the automation rule a name.
Click CREATE.
Your rule is visualized as

Now send an event to your source calendar. Your destination calendar will momentarily copy the new event.
Conclusion
Automatically copying events from one Google Calendar to another streamlines your schedule and eliminates the hassle of manual event management. Through the power of Zapier, you can effortlessly keep multiple calendars in sync, saving time and reducing the risk of missed appointments. Embrace the convenience of automation and take control of your busy life today.
Notes
The system does not copy attendees in an event. To prevent circulating the copied event back to attendees, this action is taken.
Copying calendar events is NOT the same as syncing calendar events. The copied calendar event is disconnected from the source calendar event. Deleting/updating one won't affect the other. If you'd like to sync events between two calendars, add the destination calendar as an attendee and let the destination calendar auto accept the event invite instead.
If you want to copy calendar events across Google accounts, you need to first subscribe to calendars.
When you copy events among several calendars in bi-directions, make sure you unchecked the Include events created by Foresight option in the New Calendar event trigger.
---
You may also like