Introduction
In this blog, we will learn about what are the best workflow management systems of 2023.
The workflow management systems allow the users to build, organize, digitize, and run several discrete processes and manage the outputs. They can perform different types of tasks for multiple industries. Let's take an example of the employee hiring process. This process includes selecting a resume, invitations for an interview, scheduling the interview, and employee onboarding. In each step, an individual or a team is responsible for some tasks.
So, these systems ensure that everyone gets notified about their tasks and receives information to execute them. Modern workflow management systems use various technologies such as Big Data, artificial intelligence, automation, or computer vision to execute the tasks.
The best workflow management systems of 2023
Hubspot
HubSpot is a workflow management system for sales, marketing, services, CRM features, and content management. You can describe it as an all-in-one workflow automation platform. Moreover, you can connect HubSpot with 50 other workflow integrations available in the HubSpot App Marketplace.
Features:
It provides a free Customer Relations Management (CRM) platform to grow your business and connect with the right audiences.
Connect the visitors instantly, provide support, convert leads, and close deals. You can customize your website with the Hubspot's website builder. It has excellent drag-and-drop functionality.
Also, it allows you to add the meeting scheduler links in your emails and websites.
It has content management software that provides personalized experiences for marketers, team leaders, developers, and end-users.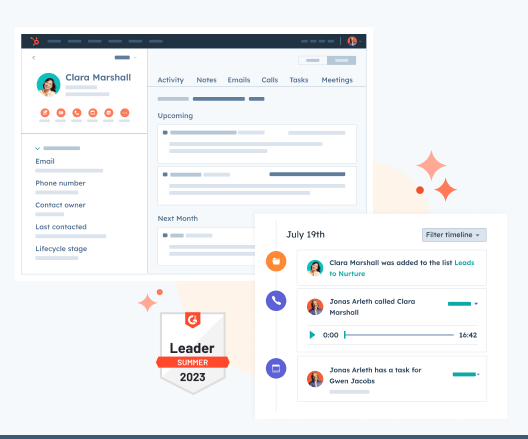 2. Foresight
Foresight is an excellent IT workflow automation software that streamlines your business procedures. Moreover, it can be integrated with Google Workspace and helps the admin in building and simplifying complex business workflows. Another interesting fact is that it can implement missing features of Google Admin.
Features:
It creates automation rules without any coding. You need to configure some triggers and actions to create the rules.
You will get real-time alerts about changes or statuses of the automation engine from the dashboard. It will help you to determine whether the automation rule works or not.
You can build your automation recipes with different Google Workspace apps, such as - Google Form, Google Drive, Google Calendar, and more.
Improves the efficiency of the Google Admin by automating the tasks for the users, groups, OUs, and mobile devices.
3. Kissflow
Kissflow provides an all-in-one automated solution for your business workflow. It has a simple, user-friendly platform to handle all kinds of tasks for finance, human resources, sales, administration, and marketing without using individual tools for each of them. It helps you to perform four crucial functions - project management, process management, case management, and collaboration. This software is best for small and start-up companies.
Features:
This software helps you to build powerful apps for your business with data forms, processors, integrations, analytics, and more. You can build your apps for fraud investigation, vendor management, customer onboarding, cash management, warehouse management, and other tasks.
It helps you to create analytics and reports using charts, pivot tables, BI connectors, and workload metrics. This feature provides reports with clear design, custom SQL scripting, and a dynamic interface. You can use these analytics for request management overview, SLA monitoring, incident resolution, invoice payment dashboard, and more.
The process-builder feature of this platform helps to boost the tasks with no-code automation. It can easily design and automate forms, SLAs, dynamic assignments, and more.
It helps you in collaboration by using contextual comments, voice messages, direct chats, calls, etc.
Moreover, it has other features like - integrations, portals, and governance.
4. Asana
This software helps your business to coordinate tasks, build project plans, manage projects, and meet deadlines. It provides solutions for marketing, operations, leaders, and products. More than 1 million organizations and teams use Asana to manage their day-to-day workflows.
Features:
Asana's project management feature helps you manage your projects efficiently from start to end. It organizes your tasks, works (as a list), timeline, Gantt chart or Kanban board, and calendar. Also, you can add labels to filter, sort, and generate reports on your work.
Its goals and reporting feature let you connect each team's work to business goals, collaborate with teams, and then track the work progress from the reporting dashboards.
It creates workflows and automates routine tasks to speed up your business process.
The Asana intelligence feature helps your business to make better decisions from real-time AI-generated responses. This feature provides different types of knowledge management components such as writing assistants, instant summaries, work organizers, asking Asana anything, etc.
Also, you will find other features like - Admin, security, customer success, support, and integration capabilities.
5. Trello
This workflow management tool assists your team in managing tasks, projects, and workflows and tracking these. Companies like Google, John Deere, Visa, Zoom, etc., adopted the solutions from Trello to streamline their business. Trello's in-built automation system guides you to set automation rules and rules commands for your regular workflows.
Features:
Trello views allow you to track your projects with board, table, calendar, timeline, map, and workspace view.
With the powerful no-code automation from Trello, you can move your workcard forward, post comments, get automation tips from Butler, etc.
Trello power-ups help your team link external tools with the Trello plugin.
It offers different types of templates for your business. You can find templates for marketing, business, education, engineering, remote workplace, project management, and more.
It supports integration with other platforms like Zoho Cliq, TestLodge, ProPad, etc.
6. Zoho
This powerful workflow management software leverages your business growth with CRM, secured mail service, simplified HR works, and more. The Zoho software becomes helpful for all sizes of businesses.
Features:
Zoho CRM offers a personalized experience for your customers. With the help of its omni-channel presence, predictive intelligence, and segmentation you can build a great customer relationship.
Zoho books support all kinds of financial services for your business including core accounting, banking, stock tracking activities, workflow automation, project management, etc.
Zoho provides cloud-based HR software to manage all kinds of HR activities such as - employee case management, tracking attendance, performance reviews, centralized course management, and more.
Also, it supports a secured mail service, project management, project tracking, and more.
7. monday.com
Monday workflow management platform defines some excellent solutions for your everyday tasks, projects, and process management. You can handle different operations related to your business such as - client projects, resource management, portfolio management, etc. It assists you throughout a project life-cycle, from planning to execution.
Features:
Through the Monday dashboard, you will get real-time insights that help you in strategic decision-making. It helps to optimize your workflows by running reports, tracking progress, and creating summaries.
It easily creates codeless automation for your teams that eliminates the necessity of lengthy workflows.
It has 200+ integrations that give you a seamless working experience while boosting collaboration and centralized information.
Moreover, it offers a Gantt chart for tracking your project, a Kanban board for agility management, work docs for collaborative tasks, etc.
8. Flokzu
Flokzu is a no-code, project management automation software that helps you create business rules, tasks, deadlines, and notifications. It also sends notifications for pending tasks in your project operators' inboxes. Again, it will assign new tasks for them after each stage of the workflow. This tool is beneficial for individual teams who want to optimize their regular workflow.
Features:
It helps you to create customized reports showing columns and defining filters. Later, you can share those reports with other users and send them through email. Also, you can set up automated reports on a daily, monthly, or weekly basis.
The sandbox feature allows you to test any tasks without bothering about the assignee of the tasks.
Flokzu databases allow you to store and share data within different processes. Also, it inserts data and updates them automatically through APIs.
Again it offers features like dynamic visibility, external participants (e.g. web apps, legacy systems), issue monitoring, etc.
9. Zapier
Zapire easily automates any kind of business workflow and quickly connects apps like Google Drive, Facebook, and QuickBooks. Just you need to create a workflow in the editor, choose your apps to include within this workflow, and finish your design. It's suitable for freelancers and small, and medium businesses, especially for the marketing and services teams.
Features:
.You can automate your business process by creating advanced workflows like custom logic, filters, and conditions from Zapier.
It provides enterprise-grade security for your automated workflow. It enables annual SOC 2 audits, single-sign-on, advanced roles, comprehensive logging, etc.
Provides secured authentication, administration, infrastructure, and permissions for your business.
10. Integrify
This workflow automation software assists you in building workflows with a drag-and-drop builder. Also, you can collaborate on tasks, test your tasks, and set up reminders for these tasks with Integrify. It has become the best assistance for the small and medium enterprises. Several industries, like healthcare, manufacturing, pharma, finance, education, etc. can adopt automated workflow management solutions from Integrify.
Features:
It improves the efficiency and productivity of your business through the workflow builder.
It provides flexibility, scalability, and rapid adaptive workflow process design.
Builds responsive forms with logical design and interactivity without any coding.
Offers reports and a dashboard for tracking your project progress and finding bottlenecks.
Benefits of workflow management systems
The workflow management software increases the automation rate of your business and generates error-free outcomes. With this digitized workflow, you can easily access, review, track, and make superior decisions wherever you have been working, from the office or home.
These software solutions always support new business models, compel changing requirements for your tasks, and fix bottlenecks to improve agility.
They ensure strong security and compliance with the regulations. Also, with the database audit trails, you can manage and monitor your business workflows better.
With this software, you can manage your time efficiently and improve work quality. As a result, you will gain more productivity.
Conclusion
Manage your regular business processes with the workflow management systems. Know their unique features and choose the best platform to streamline your workflows. Also, Foresight is a robust workflow management platform to operate your Google Workspace workflows. So, try a 14-day free trial with Foresight and grow your business. You may like other topics like - What Is The Impact Of Workflow Automation On Your Business, etc.