Introduction
In this article, we will learn about What is the objective of Automating your processes? In this competitive market, every business is looking for an edge over their competitors. And a significant part of that is streamlining business workflows. In this context, automation can save your life. Basically, you can define it as an effective usage of technologies and software to automate business workflow. Thus, you can call it Business Process Automation (BPA), too. It improves business productivity, customer service, hiring employees, and more.
According to the Gartner Survey, business process automation is considered the strategy of success by 80% of business leaders. Now it can be utilized for both the front-end and back-end applications. In this blog, you will learn about why we should need BPA and its benefits.
Objectives – the scope of process automation in business
Process automation should be integrated for all types of industries and businesses. These are the scope of BPA –
Process automation can yield outstanding results and efficiency in the employee hiring process. You can easily automate the whole process of hiring such as – interview invitations, allocating assessments, processing the result of assessments, rejections, generating welcome emails, employee onboarding, and more.
Using BPA, you can offer self-development courses and training for your employees. Simply, it helps in your employees' growth and efficiency. Hence, it eases communication with employees and generates productive employees.
Automating financial operations and transactions in the financial organizations including tasks like payment processing, invoice generating, tax filing, financial report generation, accounts payable, and receivable. Automation of these processes increases accuracy and reduces human labor requirements. You can use this technology for both regular payments and contract-based payments for external vendors.
Scheduling administrative tasks
Before the innovation of BPA, coordinating between admin tasks in multiple departments and locations were hectic. The manual operations created hindrances in the company's workflow. Now, with the BPA, human resource and payroll teams can synchronize the operations of every department as well as branches. Moreover, they can manage the schedules of their activities on time.
Better customer experience
A key factor of your business is the customers. So, you should ensure that the customers get your services consistently and gain a better experience. BPA helps to create personalized experiences for them.
Safety measurement and regulatory tasks
With the help of process automation, you can monitor and review compliance and regulatory operations. You can consider an example from the power plant industry. Here, the managers should confirm the shutdown of dangerous systems. Also, they have the responsibility of maintaining certain safety protocols.
So, with the help of automation, companies can now automate this process, and managers don't need to get involved in the process every time.
Some examples of process automation
From this section, you will learn about some practical scenarios where process automation comes in –
Suppose you have set up an online portal to automate your sales process, and there is a form that will separate your customers' requests by type. Based on their requisition parameters, the company's CRM tool automates emails to process the task for the day. If the customers don't respond to the email, the CRM sends follow-up emails after a pre-set interval. The CRM schedules a meeting when they respond to create the next action, such as a consultation. Also, it syncs with the associated consultant and follows the time of their availability.
You can automate the process of task scheduling for your employees. Your BPA system assigns your team members to the tasks when a new project is available there. When they finish their tasks and move to the next steps, the system automatically assigns the tasks to other team members. Also, it can block their schedule and send alerts to them.
Basic steps for business process automation
These are the basic steps required for your BPA –
Find out the tasks that are repetitive and time-consuming and burn down your employees.
Then, find out the processes such as marketing, sales, etc. Following this, map out the steps for automating the processes.
Use workflow automation software like Foresight to complete your tasks.
After that, test the automation steps from the perspective of front-end and backend-users, too.
Once you have been satisfied with the steps, repeat them to automate other tasks.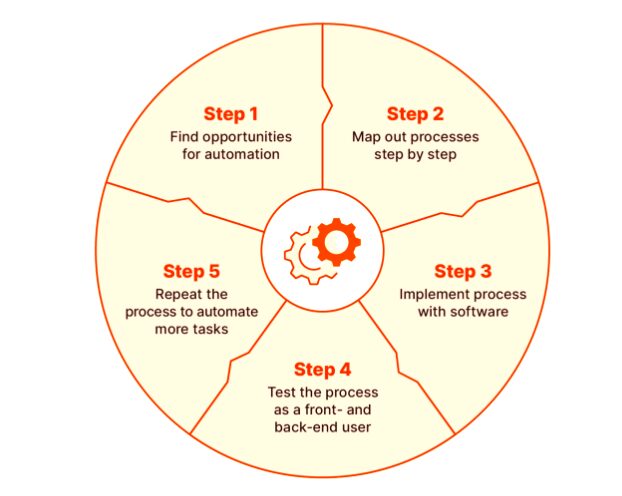 Key features of process automation
The BPA tool should be easy to handle and manage. It allows you to quickly build, edit, and share the automation workflows. Also, it provides a user interface that remains easy to use, edit, and check quick previews.
This software sends alerts to your team members to finish the incomplete tasks. It helps to maximize their efficiency without too much effort.
With this software, you can manage all the workflows within a safe and secure environment. They provide an access control option to proceed with your tasks without any data breaches. As a result, you can assign to the specific users and manage who can view and edit these tasks. Also, they provide encryption, password-protected file handling, and browser security.
Another significant feature of these platforms is a progress tracker. They allow you to monitor the progress of your project.
You will get KPIs (Key Performance Indicators) reports from this tool. The reports help you to find out performance bottlenecks and provide suggestions for quickly fixing these issues.
Techniques/terms related to process automation
Low-code/ no-code automation (LCNC)
LCNC automation is suitable for users with low or no programming skills. Instead of writing automation scripts, it only requires a set of instructions and tasks to complete the automation effort. Thus it refers to the platforms or applications having visual tools, pre-built tasks, and drag-and-drop methodologies. Moreover, these tools are reliable in governing strident security, compliance standards, security report generation, and data analysis.
Robotic process automation (RPA)
RPA is the base component of BPA. It doesn't indicate a physical robot. It means the software that is programmed to mimic human activities. Specifically, it emulates those activities that control repetitive business tasks. For example, a RPA system reads and writes data to perform rule-based tasks.
IPA or Intelligent process automation
IPA is a set of new technologies associated with machine learning and robotic process automation. IPA technologies use sophisticated tools and artificial intelligence to simplify routine, monotonous, and repetitive tasks. They can mimic human activities like – decision-making, learning new tasks, and performing cognitive tasks as well. Thus, it has the ability to improve human workers' efficiency and speed and produce error-free results.
Big Data refers to a set of large volumetric data. Moreover, it has this name because of its speed and complexity. It includes two types of data – structured data and non-structured data. Structured data has linear format and is seen on a spreadsheet. It's all about fitting everything within a row or column. Unstructured data refers to those which can be fitted within a spreadsheet. For example, emails, videos, customer feedback, etc. You can integrate Big Data with BPA. Also, you can leverage its scope by using it with AI and ML.
ML can be integrated with RPA, NLP (Natural Language Processing), and AI. It can easily collect patterns and trends and learn how to perform tasks from human users as well as data. It depends upon Big Data to collect large volumes of data. These things make the process of automation easy and accurate.
Artificial Intelligence (AI)
RPA technologies work with lots of structured, unstructured, and semi-structured data. AI technologies convert unstructured data into a structured format and help RPA to understand the data. In this way, the process of automation becomes fruitful.
Intelligent Enterprise Resource Planning (ERP) system
Nowadays, businesses rely upon ERP systems for managing regular financial tasks. But now, these systems are providing cutting-edge technologies to support another area of business operations. They help to create innovative business models and ideas, provide valuable business insides, and more.
Benefits of business process automation
BPA enhances the communication between team members and stops the need to remind each other of the tasks. Also, it reduces work-related stress for the employees.
Workflow automation cuts your business costs. It eliminates a whole host of unnecessary requirements that elevate your business overhead cost.
The BPA helps the employees to understand their roles, regular tasks, and responsibilities. Also, they can manage their tasks more effectively without wasting too much time.
Industries like finance, insurance, law, and sales need to produce huge output within a short time. Process automation helps the employees manage large assignments within this short span. Thus, this automation boosts productivity and generates greater ROI.
Know the role of Foresight in business process automation
Foresight is a great platform that helps to create automation workflows for your business. Specifically, it has expertise in Google Workspace Workflow automation. Its no-code automation rules help the admin and users regulate the processes without writing any code. Foresight is end-to-end integrated with Google Workspace and helps to streamline your business securely.
It provides customized use cases for user management, mobile device management, Google Workspace license management, and more. With this reliable platform, you can manage repetitive tasks and free up more time. Thus, it has a great contribution to improving your business productivity. So, you should learn these use cases of Foresight, such as – How to Hide Google Group From Global Address List, Know How To Audit Admin Logs In Google Workspace, etc.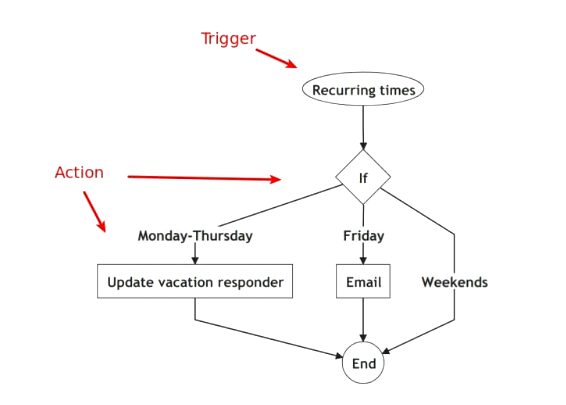 Conclusion
Process automation/business process automation/workflow automation simplifies your business operations. Thus, it becomes a great solution to improve productivity and pave the way for better cost management. With Foresight, you can automate your workflow seamlessly and make your employees more productive. So, try a 14-day free trial and set up your business plans.