Unsend an email means to stop an email from further transmission to a particular recipient. Most email service providers like Gmail offers unsend feature for email messages. But you will get a limited period to unsend an email. Usually, you will get a few seconds to unsend a message in Gmail, and if you cross this time, you can't unsend that message.
There are different reasons for performing an unsend email –
One common reason is when you accidentally send a message before finishing it. Some email interfaces provide the 'Send' option much nearer to the formatting and editing options. Thus you make this mistake. But sending an unfinished email may lack your reputation to your recipients. Therefore you need to unsend it.
Sometimes you might send an email to the wrong person. It might happen for spelling mistakes for the recipient's name, selecting an incorrect auto-completion, or other reasons. Though you send the message unwillingly, it might contain sensitive information. So, you shouldn't allow access to your information through an unauthorized person.
If you forget to attach an important document or link to your email, you need to unsend the message. Emails with no attachments disrupt the communication process, and the recipient may miss the most critical information, notice, or agenda for this reason. So, you need to be aware of this mistake and unsend your email.
To avoid writing issues – spelling mistakes, grammatical errors, or other factual errors, you need to unsend an email. When you rectify these little errors, they improve the quality and readability and build confidence in your emails.
Step-by-step instructions on how to unsend an email in Gmail
Learn the steps to perform unsend or recall Gmail messages -
1. Log in to your Gmail account and open Gmail.
2. Just after sending an email, you will see the Message sent pop-up at the bottom left. At the right sight of this pop-up, you will also find the Undo and View message options.
3. Click on Undo. This will unsend your email. So, you will find the Sending undone pop-up.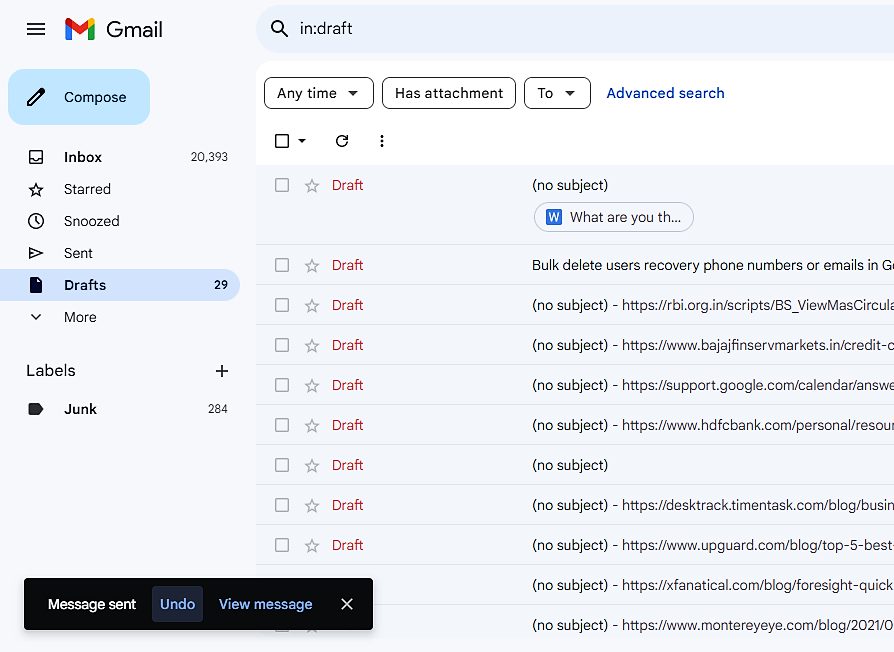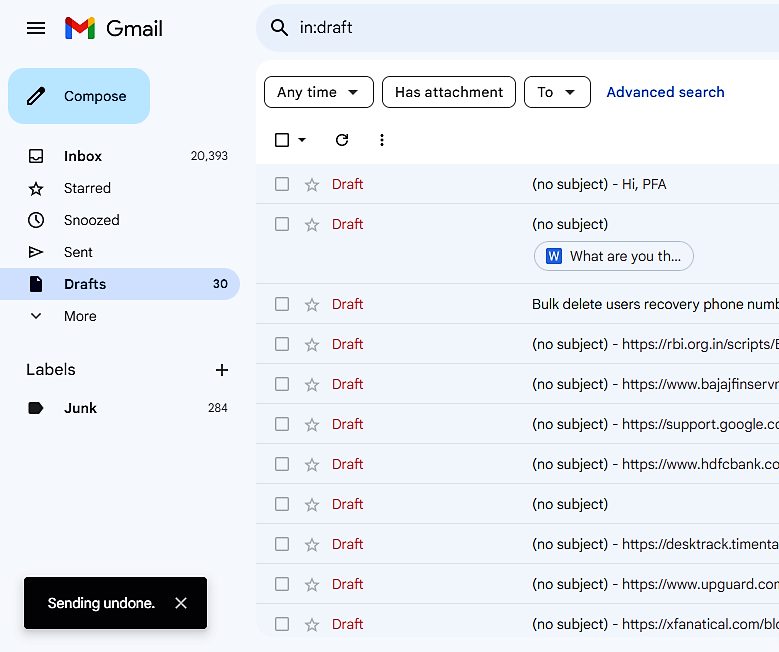 4. If you want to change the period for unsending an email, then click Settings > See all settings.


5. Then, select a cancellation period to unsend your message beside the Undo Send. You can choose a period between 5, 10, 20, or 30 seconds.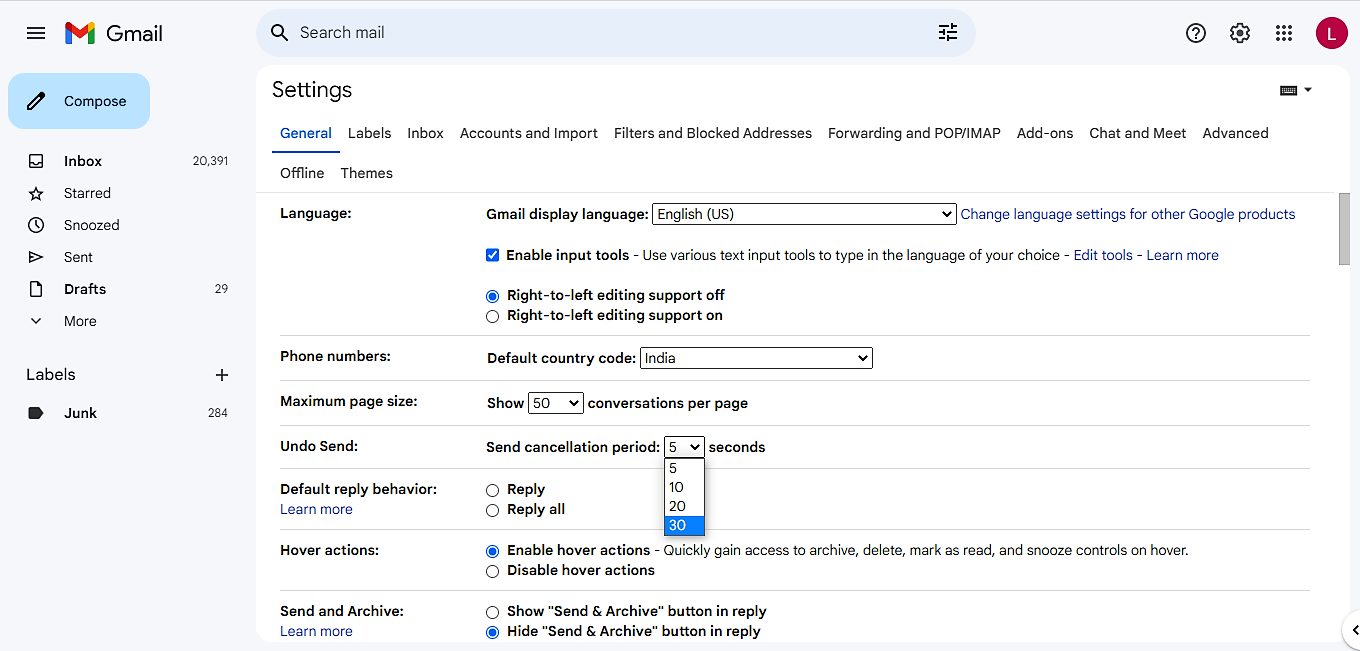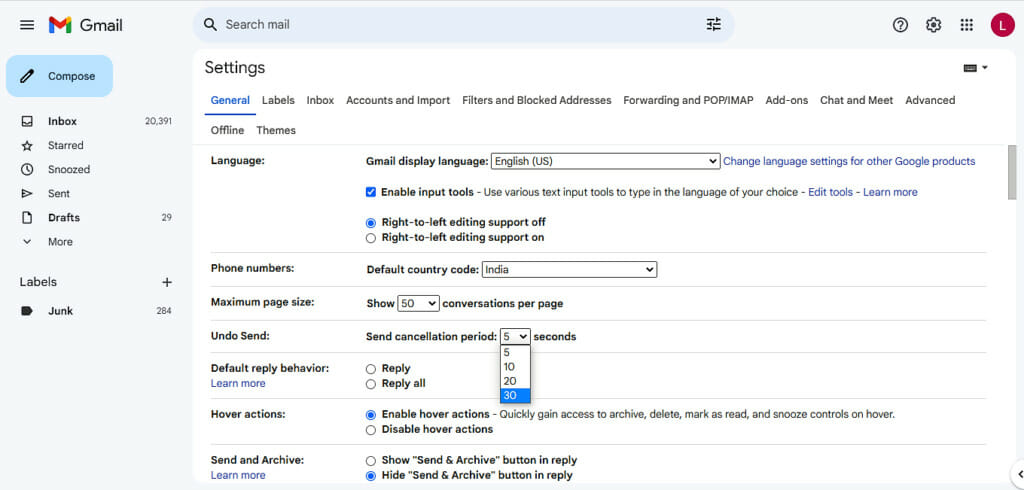 6. Finally, click Save Changes to confirm you want to unsend an email.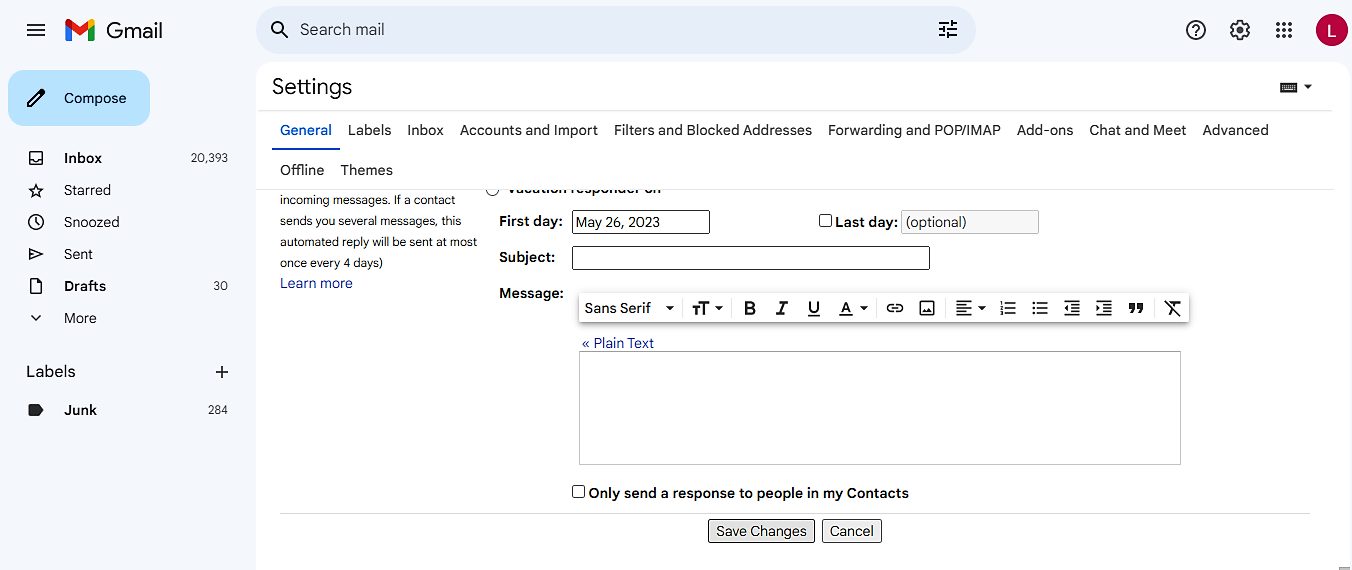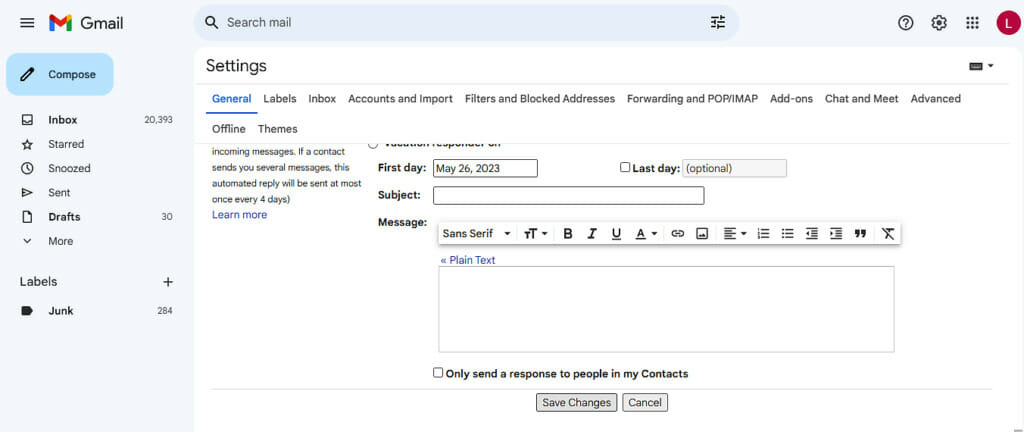 Tips and best practices for effective email unsending
Acting quickly to unsend an email: You should quickly take action whenever you want to unsend an email because you will get a few seconds to complete this action - not more than 30 seconds after sending an email. So, you should be aware of this short period; otherwise, your message will be sent.
Double-check your emails: Check your emails at least two times before sending them. You may need some editing, attachment, grammatical corrections, etc. You need to pay extra attention if your email contains personal, job, or finance-related information. Also, confirm you're sending your message to the right person. Practicing this helps you to avoid unsend an email.
Using Gmail's 'Undo send' feature: You can extend your email send cancellation period from the 'Undo send' feature of the Gmail settings page. There you can set the undo time maximum of 30 seconds.
Some common issues and their solutions for unsending an email
Before unsending an email, you need to confirm that you can send your emails without any troubleshooting. Otherwise, the necessity of unsending an email becomes meaningless. Thus you should consider the issues for sending an email for this purpose.
1. The recipient didn't receive your email
You might send your email to an invalid email address or delete the email before you sent it.
Your message may be received in the spam or junk folder of the recipient.
Wait a few hours to see if you get a delivery error message.
Make sure your device gets a strong connection from Wi-Fi or mobile data. If you're working with a poor connection, there will be a delay in sending your email.
If you sent the email from a different email service provider, like Apple Mail or Outlook, your message may not arrive in the recipient's inbox.
Solutions:
Confirm you're sending the email to a valid address.
You didn't delete the message before sending it.
Check your Wi-Fi connection and try to reconnect it.
Ask the recipients to check their spam folders.
Avoid other email services.
2. Gmail blocks your file type
If your message contains harmful elements like security issues, then Gmail blocks it. Thus you will get an error in Gmail to send or unsend your email. Gmail blocks messages that may spread security threats and viruses. So it prohibits messages including compressed (.gz, .bz2) files, archived (.zip, .tgz)files, certain links, documents having malicious macros, password-protected archives, and more.
Sometimes messages are blocked when you don't include any attachments. This can happen when you include content, images, or links that might share viruses.
Solution: Cross-check your file, images, or link attachment before sending it. Also, recheck the extension types unsupported by Gmail.

3. Obey the limitation of sending emails
You can't send more than 500 emails in a single day. Also, you can't send one email to more than 500 recipients. Gmail will send a message to alert you.
Solution:
Try to send your emails after 1 day.
Create a Google Group to send the emails.
Foresight – Automation tool regulating Google Workspace workflows.
Foresight is a platform that automates your regular business workflows without any coding. Thus you get rid of error-prone automation coding. You can automate your complex workflows within a few seconds. You don't need to perform iterative stressful tasks to initiate those workflows. You just have to choose some triggers and actions to create your automation rules. You will get neat and clean diagrams of your created workflows. So, it controls the work processes from extra time consuming, reduces cost, and increases efficiency and productivity. Both the Google Workspace Admin and users can automate the rules for them. It can cover the missing features of Google Workspace like Auto Reminds New Users Of Enrolling In 2FA, see all the admin and user use cases here etc.
Conclusion
Now you know how to unsend an Gmail. If you're looking for a reliable platform to automate your Google Workspace workflows; go to Foresight. It provides a 14-day free trial for new users. Read more topics like this - Reply to Gmail messages, Send & open confidential emails, etc.
References
https://support.google.com/mail/answer/2819488?hl=en&co=GENIE.Platform%3DDesktop#:~:text=Recall%20an%20email%20with%20Undo%20Send&text=Right%20after%20you%20send%20a,Click%20Undo
https://blog.google/products/gmail/how-to-unsend-email-gmail/
https://support.google.com/mail/troubleshooter/2696779?hl=en
https://www.indeed.com/career-advice/career-development/how-to-unsend-email