Introduction
In this article, we will discover what is Google Workspace and does it fully replace G Suite?
Google Workspace
In today's digital age, businesses rely heavily on cloud-based productivity tools to streamline their operations and enhance collaboration among team members. One such popular suite of productivity applications is G Suite, offered by Google. However, in October 2020, Google rebranded G Suite as Google Workspace, introducing new features and functionalities. Google Workspace
What is G Suite?
G Suite, formerly Google Workspace, is a cloud-based productivity and collaboration tool. There are several applications included, including Gmail, Google Drive, Google Docs, Google Sheets, and Google Slides. G Suite gained popularity due to its seamless integration, real-time collaboration features, and scalability. It allowed businesses of all sizes to work more efficiently and effectively, whether they were in the same office or spread across different locations.
The rebranding to Google Workspace
In an effort to provide a more integrated and cohesive user experience, Google rebranded G Suite as Google Workspace. This transition not only brought a new name but also introduced several new features and enhancements to the suite. Google Workspace is like a toolbox that holds all of Google's helpful tools for getting things done.
It helps people easily move between tools and work together without any trouble. The rebranding reflects Google's commitment to evolving with the changing needs of businesses and providing a more unified and intuitive platform.
Key features of Google Workspace
Google Workspace offers plenty of features designed to enhance productivity, streamline collaboration, and improve communication. Some of the key features include:
1. Gmail: Google Workspace provides a professional email solution powered by Gmail. It offers a personalized email address with your domain name, advanced spam filtering, and 30GB of storage per user. With Gmail, you can stay organized, communicate effectively, and easily manage your emails.
2. Google Drive: Google Drive is a cloud storage solution that allows you to store, access, and share your files from anywhere. It provides ample storage space, file syncing, and collaboration features. You can create documents, spreadsheets, presentations, and more, all within Google Drive.
3. Google Docs, Sheets, and Slides: These applications are powerful alternatives to traditional office productivity tools. With Google Docs, you can create and collaborate on documents in real-time. Google Sheets offers robust spreadsheet functionality, and Google Slides allows you to create stunning presentations. These applications can be accessed and edited by multiple users simultaneously, fostering seamless collaboration.
4. Google Meet: Google Meet is a video conferencing tool that allows you to host virtual meetings, webinars, and presentations. It offers features such as screen sharing, chat, and integration with other Google Workspace applications. With Google Meet, you can connect with team members, clients, and partners, regardless of their location.
Benefits of using Google Workspace
Google Workspace brings a myriad of benefits to businesses, helping them streamline their operations, improve collaboration, and enhance productivity. Some of the key benefits include:
Seamless collaboration: Google Workspace enables real-time collaboration, allowing multiple users to work on the same document simultaneously.
Enhanced productivity: With Google Workspace, you can access your files and applications from any device with an internet connection.
Scalability: Your business can scale with Google Workspace. Whether you have a small team or a large organization, you can easily add or remove users, allocate storage space, and manage permissions.
Cost-effective: Google Workspace offers various pricing plans, allowing businesses to choose the one that best fits their requirements and budget. With flexible pricing options, businesses can optimize their costs and pay only for the features they need.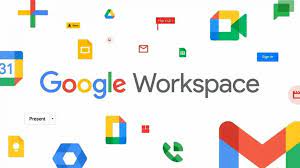 Comparison between G Suite and Google Workspace
With the rebranding of G Suite to Google Workspace, many users are wondering about the differences between the two. While Google Workspace builds upon the foundation of G Suite, it introduces new features and enhancements. Some of the key differences between G Suite and Google Workspace are:
1. Branding: G Suite was primarily known for its individual applications such as Gmail, Google Drive, and Google Docs. On the other hand, Google Workspace aims to bring all these applications together under one cohesive brand.
2. Integration: Google Workspace offers a more integrated user experience, allowing users to seamlessly switch between different applications and collaborate effortlessly.
3. Pricing: With the rebranding, Google also introduced new pricing plans for Google Workspace. Google Workspace offers Business Starter, Business Standard, and Business Plus plans, while G Suite offers Basic, Business, and Enterprise editions.
Migrating from G Suite to Google Workspace
If you are currently using G Suite and considering migrating to Google Workspace, the process is relatively straightforward. Google provides comprehensive documentation and resources to help you with the migration process. Here are the general steps involved in migrating from G Suite to Google Workspace:
1. Assess your needs: Evaluate your current usage and identify any specific requirements or customizations that need to be migrated to Google Workspace.
2. Plan the migration: Create a migration plan that includes the timeline, user accounts to be migrated, data to be transferred, and any necessary training or communication.
3. Set up Google Workspace: Create a new Google Workspace account and configure the settings according to your business needs. This includes setting up user accounts, security settings, and domain verification.
4. Migrate data: Use Google's migration tools or third-party tools to transfer your data from G Suite to Google Workspace. Google Workspace offers features like screen sharing and chat.
5. Test and verify: Once the migration is complete, thoroughly test the functionality and verify that all data has been successfully transferred.
6. Communicate and train: Inform your users about the migration to Google Workspace and provide them with any necessary training or resources to ensure a smooth transition. Migrate your organization's data to Google Workspace
Pricing plans for Google Workspace
Google Workspace offers different pricing plans for businesses. The pricing plans are as follows:
Business Starter: This plan is priced at $6 per user per month and includes 30GB of storage per user, professional email with Gmail, Google Meet, and collaborative documents, spreadsheets, and presentations.
Business Standard: Priced at $12 per user per month, this plan includes 2TB of storage per user, advanced security features, enhanced video meetings, and the ability to record meetings.
Business Plus: The Business Plus plan is priced at $18 per user per month and offers 5TB of storage per user, advanced endpoint management, eDiscovery for Gmail, and security key enforcement. Right Plan
Foresight
Do you find yourself spending hours on repetitive tasks in Google Workspace? We have the perfect solution for you - Foresight Google Workspace automation tool.
Streamline your workflow and boost productivity with this incredible tool. With Foresight, you can automate a wide range of tasks, from creating and managing spreadsheets to scheduling meetings and sending emails. Foresight does all the heavy lifting for you, allowing you to focus on what really matters - growing your business and achieving your goals.
Embrace the future with Foresight. Click here to learn more use cases of Foresight: What Is No Code Workflow Automation For Google Workspace?
What Is Google Workspace Enterprise Plus?
Try a 14-day free trial with Foresight and manage your tasks.
Conclusion
With its rebranding and new features, Google Workspace offers a compelling case as a replacement for G Suite. It brings together all of Google's productivity tools under one cohesive brand, enhancing collaboration and productivity.
However, whether Google Workspace is the perfect replacement for G Suite depends on the specific needs and preferences of your business. It is essential to thoroughly evaluate the features, pricing plans, and migration process before making a decision. Overall, Google Workspace presents a powerful suite of productivity and collaboration tools that can greatly benefit businesses of all sizes.
Try a 14-day free trial to learn the features and other useful Google Workspace tips from Foresight.
Please visit our website for more articles Google Workspace