Introduction
In this Foresight blog, you will learn how to generate QR code for Google Forms to enable a contactless registration process.
Creating a QR code for Google Forms lets you collect feedback or responses through a contactless procedure. When you scan the QR code through a mobile device, you will be navigated to the desired Google Form. Google Form QR code is the most convenient way to collect responses from users. They enable your business to create a digital dimension for the products and services with some simple processes, such as contactless registration forms.
What is a QR code?
QR code or quick response code is a type of 2-dimensional barcode which is readable through a mobile device. You need to hold the QR scanner of your mobile on the QR code and tap the pop-up link. The link will redirect you to the destination website. So, with the QR codes, you don't need to type any long web address to reach your website. Thus, obtaining information from the websites is a simple, reliable, and contactless process.
But a point to remember here is that QR codes are different from the typical barcodes. Barcodes are the combination of lines and spaces, including some numbers, and they are primarily used for product management. But the QR codes are square-shaped, and inside the square are other small squares that look like pixel Rorschach tests. They assist in communicating with people without touching their device interface. Apart from the forms, QR codes also lead you to videos and initiate emails or phone calls. 
Why do you need to generate a QR code for Google Forms?
When you create a QR code for a Google Form, it will be easily accessible to your users. After creating the QR code, you can link it to your Google Form. Then, you can share the form through a sharable link. After receiving the link, the user scans the Google Form QR code through his/her mobile, and the form will be automatically displayed on the phone's screen. Hence, they will access the form without any hassle and easily fill it up. Using QR codes for the forms will help to improve your business workflow and save your users time. Thus, it attracts more users to use your services.
But you should use a dynamic QR code for your Google Forms. The dynamic QR codes allow you to change the URL or Google Form link whenever required. That means you can reuse the code if you create a dynamic QR code.
How to get a QR code for Google Forms?
Different procedures are available for making QR codes for Google Forms. There are two easiest processes to create Google Form QR codes: creating the QR codes through Chrome browser on your PC and creating the QR codes on your mobile through Chrome browser. So, let's have a look at how to create QR codes for Google Forms–
Creating Google Form QR code on Chrome through PC
Create a Google Form on Chrome browser.
Then, go to the address bar and find the Create QR Code option.
Note:
For Windows computers, go to the right side of the address bar. Then, click Share > Create QR Code.
For Linux computers, click Share > QR code from the right side of the address bar. The process is the same for Mac computers.
For Chromebooks, go to the address bar > QR code.
3. After that you will see the QR code for your Google Form. You can Copy the QR link, click Download to download the QR code on your PC, or scan the QR code with your mobile camera.

4. Also, you can send the QR link to your user. Whenever they open the link they will get the QR code. After scanning it they will get the Google Form.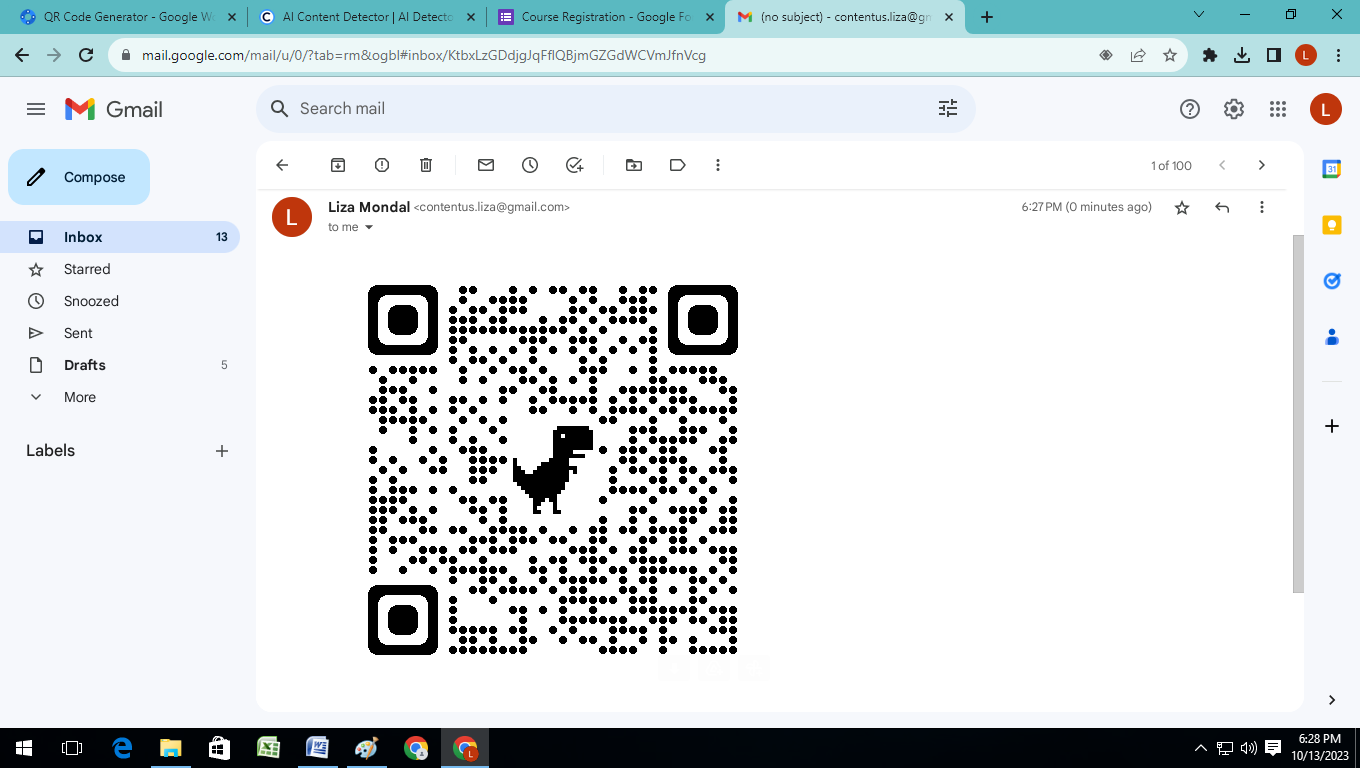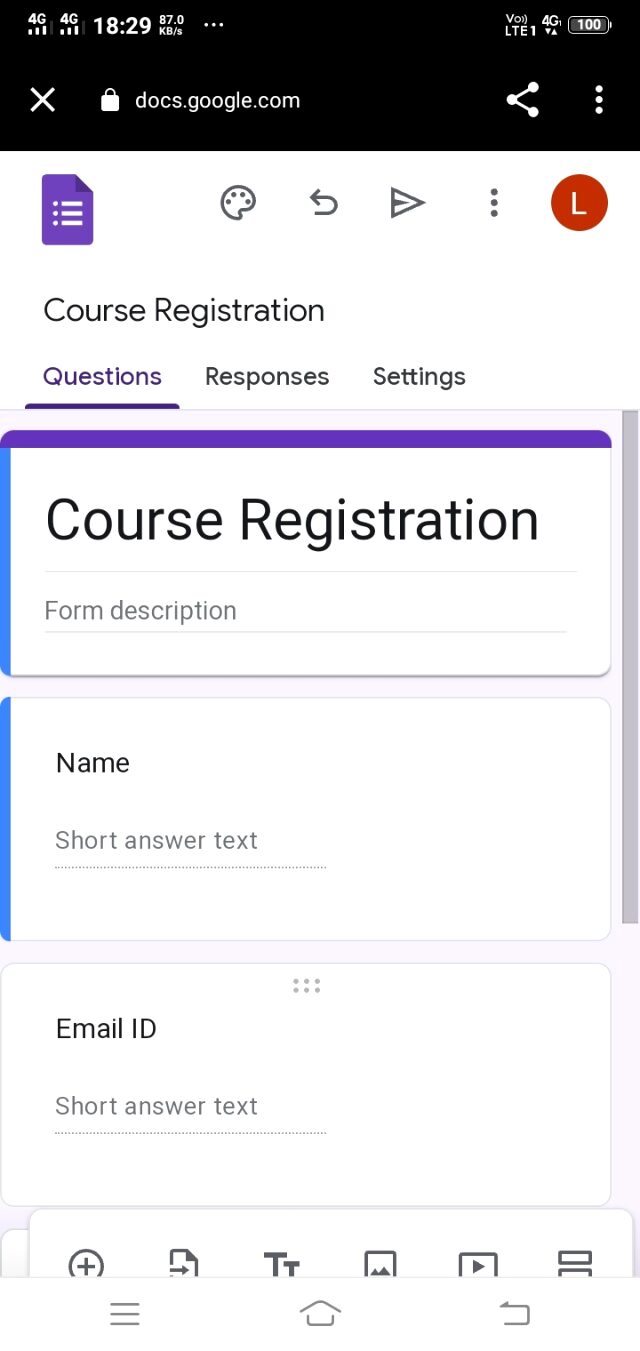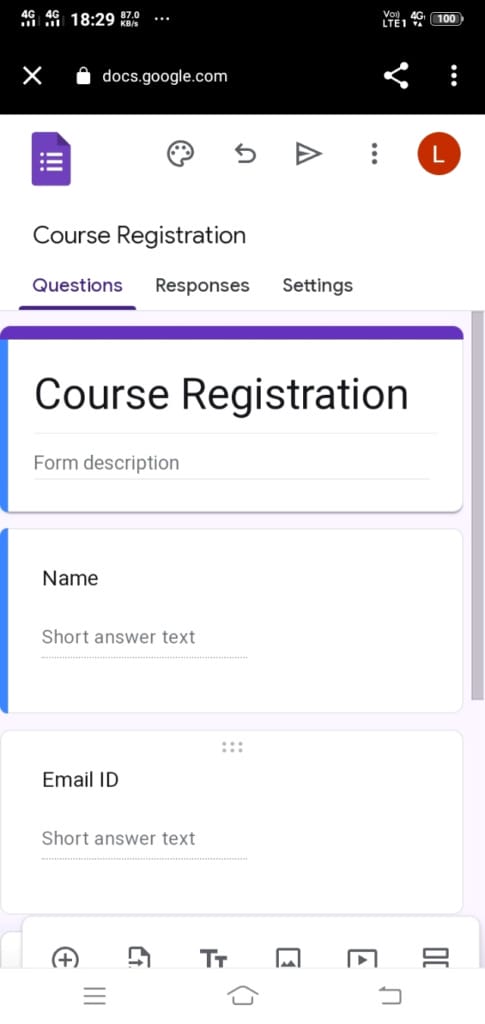 Creating Google Form QR code on Chrome through a smartphone
First, make Google Chrome the default browser on your phone. 
Then, access your Google Form through Chrome. So, you need to launch the Google Drive app on your phone. After that, your form will be opened on the Chrome browser.
Now select the Share option.
 Then, you can see the Share window. So, scroll through the available sharing options and you will find the QR code. Next, tap on the QR code.
Finally, click Download and save the QR code on your phone.
Note: You can generate a QR code on any browser like Chrome. Just you need to find the share option to generate the QR code.
QR code generator and its features
Apart from the above methods you can generate QR codes for Google Forms with code generator apps. You can find several QR code creator apps on Google Workspace Marketplace. It's an add-on through which you can easily generate QR codes for your Forms. It has several features like –
It helps to customize the QR code attributes such as background color, content, label position, label, filling color, image, and more.
You can resize the QR without editing its high-quality images.
The app allows you to insert your brand logo and images within the QR code.
You can save a QR code and paste it to Word, Excel, or PowerPoint. 
Moreover, you can track your QR code through the responses tab in your Google Form. 
Create a QR code with a QR code generator
Open the Google Form and click Add-ons from the upper right portion of the page.
Tap QR Code Generator.
Select a language such as English (en).
Your Google Form QR Code will be generated. 
Then, click on Copy to clipboard to save the QR code link in your device.
Now, you can send the QR code to the user. They can access your Form after scanning the code.
Benefits of using QR codes
QR code helps you to extend your brand value by making you stand out within the crowd. If you use QR codes in a proper way, you can attract more customers for your business. You can even provide exclusive offers, and valuable content, or create personalized QR codes with stickers to encourage your users to scan.
QR codes help your customers quickly access your content and generate responses through their phones.
They allow you to create interactive components for your static content using dynamic call-to-action buttons. It makes your content lively to the users. For example, libraries, shops, museums, and parks create QR codes to attract users by providing interactive displays of their services.
You can easily create QR codes through the landing page URL. There are several QR generator apps through which you can create QR codes within a few minutes. Also, you can easily create QR with the help of web browsers. You can create these codes free of cost. In this way, you can save your time and budget by creating interactive digital advertising for your users.
Moreover, the QR codes become a beneficial option in emergencies such as the COVID-19 pandemic. The primary precaution of that pandemic was to avoid contacts. So, the pandemic necessitates contactless interaction for everyone. Thus, at that time, every business and sector, including the government, emphasized contactless interactions like payment and registration forms filled up through QR codes. It helped a lot in combating the COVID-19 virus.
Best practices for creating QR codes for Google Form
Ensure your Google Form QR codes are mobile-optimized. People will scan your QR codes with their mobile phones. When the code redirects them to the form, it should be responsive and compatible with their phone screen. That means your form should be mobile-optimized so that it can be visible and readable enough.
You should track the performances of Your QR code through a UTM (Urchin Tracking Module) tracking code in your URL. It allows you to track the performance of the code – whether it's creating a win-win situation or just simply running on the track.
You can automate your QR codes by adding people to your email list. You can create a set of tasks like sending on-off notifications, logging into the tasks, creating routine lists, and more to create automated QR codes. 
Foresight automation tool for optimizing your business workflows
Foresight is a powerful automation and SaaS platform that refines your business procedures. This platform allows the Admin and the users to create automation rules without generating any code. Thus, it saves your time from manual workflows and assists you to complete your work efficiently.
You can explore Foresight with its different use cases and improve your expertise in automation. Moreover, Foresight has Google Form integration. It can automate tasks after submitting a form response, such as personalized notifications or messages to the respondent, notification about the form submission to the owner, manager, or other team members, etc. Now, you can learn some use cases of Foresight, such as Know how to approve mobile devices in bulk from a list, Know How to Audit Admin logs in Google Workspace, etc.
Conclusion
Now, you have come to know the process of creating a QR code for Google Forms. Also, you've learned about the QR codes, their benefits, and best practices. Then, learn about the Foresight automation tool, its features, and use cases. It provides a cutting-edge way to complete your regular tasks without giving extra effort. So, try a 14-day free trial of Foresight and avail benefits from it. Also, learn other topics related to this one, such as – Share pages with a QR Code, Read pages later & offline, etc.