In this article we will explore how to block emails on Gmail.
When you get unwanted, unnecessary, and annoying emails in your Gmail inbox, you might want to block them. Blocking an email indicates that the sender of the email no longer sends an email to your inbox, and they will be unable to communicate with you through emails in the future. Also, you can report the senders when they violate Gmail's Program Policies.
When do you need to block an email?
If the sender asks you for sensitive information like – personal info, password, bank account details, transaction details, OTP, and job or career-related data, you should immediately block them. So, be aware of these spammers.
You may get poorly written emails in your Gmail inbox. Most of the time, these emails include several miss-spelled words, grammatical errors, and unprofessional writing approaches. Undoubtedly, these emails come from scammers.
Sometimes, you may receive an email that contains a link from an unknown sender frequently. You should block these senders. Cybercriminals attach lengthy links within the emails to eject malware in the users' system. Thus, you must not open their messages.
You have to block and report the sender's harassment or threatening emails like - asking for money, property, etc.
Spammers try to gain trust by creating proper well-structured emails like reputed companies. They can even create perfect copies of emails from famous MNCs. These are spoof emails. You should pay attention to the sender's email address and block them. Also, you should report this sender for impersonating an organization or individual.
Your account may be compromised for mail bombing. In this case, the hackers send tons of unwanted promotional, subscription offers, newsletters, or other messages. As a result, you don't find essential emails in your inbox. For this reason, Gmail informs you about the mail bomb. Then you should either block their addresses or mark the emails as spam.
You should avoid empty emails. Scammers often send empty emails for phishing, block the messages and report them as spam.
Step-by-step guidance on how to block emails on Gmail
These are the steps to perform this action -
1. log in to Gmail on your computer. You will automatically navigate to the inbox.
2. Click and open an email you want to block.
3. Click the three-dot icon from the top-right corner of the email message.

4. After clicking that three-dot icon, a drop-down menu will open.
5. Next, click on the Block " sender ". Ex. Block " ABC".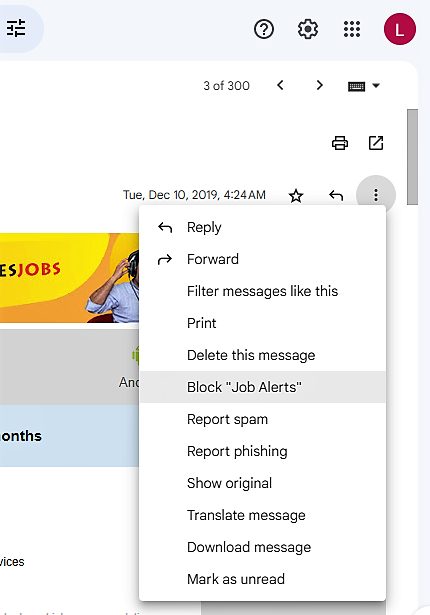 6. After that, you will get the prompt 'Future messages from sender <sender's email id> will be marked as Spam. Ex. Job Alerts <[email protected]>.

7. Click Block. This will block the sender.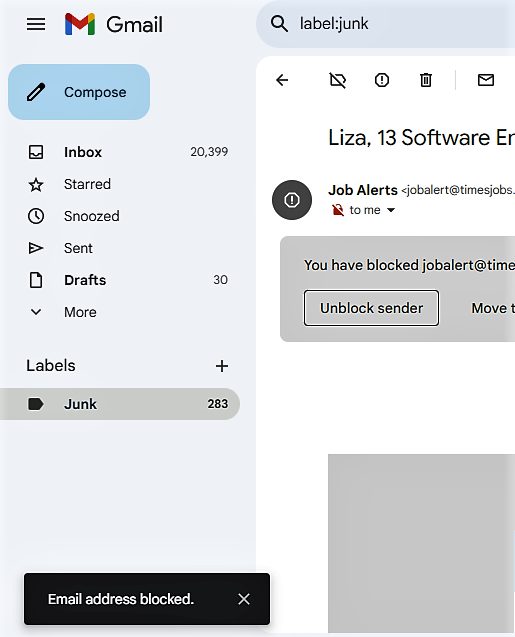 8. Finally, you will receive a security alert from Gmail at the top of the message. There will be a Move to Spam option. Click on that to move the email to the spam folder.

How to stop spam emails in Gmail?
To stop the spam emails in Gmail, you should follow the above-mentioned processes.
Otherwise, you can follow this process –
1. Open the mail from Gmail.
2. Click the three-dot icon. The dropdown menu will open.
3. Click the Report Spam.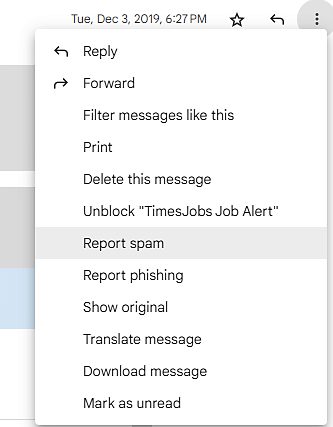 4. Finally, click Report Spam from the prompt.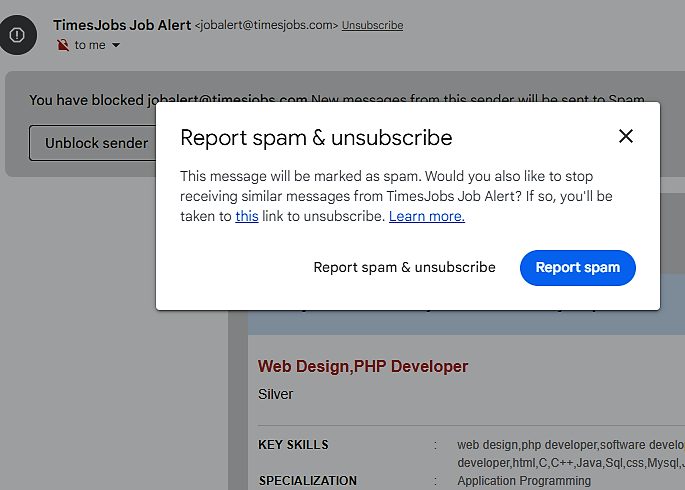 Tips and best practices to offer effective email blocking
Being selective about which email you want to block
Select your emails carefully before blocking them. Ensure that you don't block important emails from your workplace, emails containing informative attachments, agendas, newsletters, etc. Also, you must avoid the beneficial subscription, offers, and promotional emails from blocking. You can add, move, or import the significant email senders in your contacts to prevent them from blocking.
Using Gmail's filtering option
Gmail provides effective filtering options for receiving emails –
You can create an email filter by following this path – Gmail > Show search options > Search > Create filter. Then you have to choose an action that you would like to perform by your filter. Again, click on Create filter.
Email filtering is possible with import or export filters. You can set this from – Gmail > Settings > See all settings > Filters and Blocked Addresses.
Also, you can set a filter for a particular message using Filter messages like these.
Go to this link to learn more about the filters.
Check your blocked sender's list regularly
You may move a trusted sender unwillingly, sometimes. Thus you need to check your blocked sender's list regularly. If you find a sender within this list, you should unblock them and remove them from the spam folder.
Some common issues include solutions for blocking emails on Gmail
The sender change or hides their real email address
After blocking an email address, you may receive the same messages from different addresses. It's possibly the sender changing their mailing address or trying to spoof by sending emails from multiple addresses.
Solutions: You can set advanced security like –
You should turn on spoofing and authentication protection. This will protect you from domain spoofing, spoofing with any person's name, and unauthenticated emails.
Enable attachment protection to become safe from attachments from untrusted senders.
Again, you can set suspicious email links, external images, and link protections.
Your junk, spam, or email filtering becomes turned off
If you turn off your spam email filtering, you may receive emails from blocked email addresses.
Solution:
Use the email filtering features for your received messages. You should go to Settings > See all Settings > Filters and Blocked Addresses.
Use Report Spam and Move to > Junk.
Make sure that anyone else is not using your Gmail account.
The sender is in your Email allow list
If the blocked sender remains in your email allow list you will still receive their emails. The allow list permits according to the IP addresses of the senders. Thus, it will never impact their email address and they can send you emails even if you blocked them.
Solutions: You can save the sender within your email denylist through the following actions -
Create or select an address list for the blocked senders – especially for the spam, phishing, and malware emails.
Add rejection notice for the blocked senders. (optional)
Furthermore, you can use filters and reporting for unwanted messages.
Note: You need a Google Admin account to handle email allowlists and denylists.
The companies or businesses use third-party services to send emails
Large companies may prefer third-party services to provide their business emails. These third-party services use multiple email addresses to send emails to the users. Thus blocking one email address can't stop the other addresses from further communication. Also, not every time Gmail filters them and sends them to the spam filter.
Solutions:
Make aware the third-party email provider of the abuse and tell them to follow the Spam and abuse policy in Gmail.
They should check their SPF record to authorize all the email senders for their domain.
Ask them to offer an email address for reporting abuse.
They should remove the clients who send spam messages.
The server taking time to change the settings
Sometimes your server takes time to sync your settings for blocking a sender.
Solutions:
In this case, you have to wait for 24 hours to see the changes.
Again, check your Wi-Fi connection. The slow connection may cause a delay in syncing.
Otherwise, you have to contact your admin.
Foresight the automation tool improvises Google Workspace workflows
The Google Workspace Admin and users need to handle several business workflows for their regular work schedules. Mainly, the IT Admin handles the more complex and iterative tasks than the users. They often conduct a user enrollment workflow – creating a user account, assigning them within an OU, sending welcome emails, and more.
The work process includes lots of overwhelming tasks. Moreover, they have to complete these tasks manually in Google Admin Console. That is exhaustive, error-prone, and reduces resources and money, too.
Thus Foresight comes to help the Google Admin and users to customize the Google Workspace Workflows. It's a SaaS and automated platform with no-code rules. So it can handle the complex tasks of Google Workspace, including employee enrollment, without any lengthy automation script. So, it saves you time from compulsive work. That's why it has become an efficient, feasible productivity tool. Ultimately it will take your business to the next level of achievement. Not only for the Admin, but it includes use cases for Google Workspace users, like Google Workspace archive User, Auto Accept Invites In Google Calendar, etc.
Foresight gives you the scope to learn more topics related to Google Workspace - Bulk update Chrome Device Customs Fields, etc. Furthermore, you should try its automation workflows to streamline your business process.
Please visit for a 14-day free trial to compose your automation rules.
Conclusion
From this blog, you learn how to block emails on Gmail. This is the safest process to prevent your Gmail inbox from suspicious emails, spamming, phishing, etc.
References
https://support.google.com/mail/answer/8151?hl=en&co=GENIE.Platform%3DDesktop#zippy=%2Cremove-block-spam-from-my-inbox%2Ca-suspicious-email-asked-for-personal-information
https://support.microsoft.com/en-us/office/receiving-email-from-blocked-senders-in-outlook-com-265923a0-b52c-4157-92c8-370385215da1#:~:text=If%20email%20from%20a%20blocked,to%20the%20Deleted%20Items%20folder.