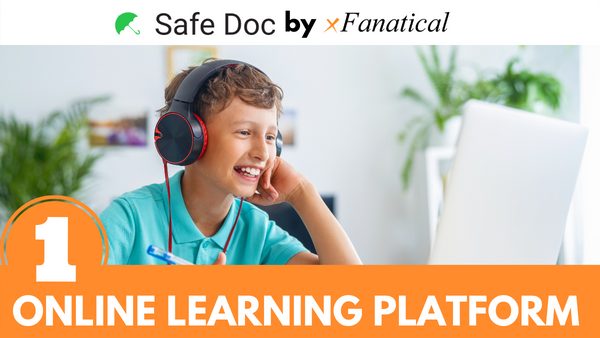 In this blog post, we are going to see the best online learning platforms for K-12 students in 2022. Online learning has come a long way since the internet came alive. Online learning platforms can be defined as a mode of learning through which students or teachers can connect and do classrooms online. After 2020, online learning got much awareness and created a need for an effective online learning platform for students.
Education has indeed transformed due to online learning. In this post, we'll examine how to choose the top K–12 online learning platforms that offer resources for both instructors and students, including complete curriculum solutions and entertaining and interesting extra content.
Even before COVID-19 kicked in, the education technology industry was at a good pace with over $19 Billion investment stated by an article by Business Insider, which is projected to tap $350 Billion by 2025 led by the US and China like countries.
This has also brought competition among solution providers for claiming as the best online learning platforms for students. Well, there are a few important factors to consider while choosing an online learning platform for K-12 students.
How to choose the Best Online Learning Platform for K-12 Students
A variety of items can be referred to as an online learning platform. While some platforms concentrate on augmenting a general school curriculum with more specialized and in-depth topics, others offer comprehensive K–12 teaching following a conventional school curriculum.
These can be obtained for free, through paid subscriptions, or through paid courses. But as the saying goes, not all fingers are the same size. Not every plan suits every business. Here are some considerations to bear in mind while choosing the finest online lessons for your requirements, regardless of the platform -
The information was created by (or approved by) experts from respected organizations or educators.
The website offers relevant exercises or tests for students to complete.
Both advanced learners and those who require more assistance can benefit from the materials.
Either the content is free or a trial version is available.
Examples of Online Learning Environments
Although a typical experience with an online learning platform depends on what it offers, in most situations students will require access to a computer and the internet in order to interact with the content. For tablets and smartphones, many platforms now include iOS or Android applications, but if you're viewing content on a website, it's definitely a good idea to download a supported browser, such as Google Chrome.
Additionally, if you're using Zoom for live lessons, for instance, download the necessary software beforehand, and make sure you (and/or your student) are familiar with how to use it. The finest experience to assist a student's learning will be ensured if certain initial technical limitations can be overcome! We advise being there the first few times a student uses a certain platform, in case of problems develop.
Which Online Learning Platforms are used by Schools?
Not just individual students profit from online learning environments but also schools leverage online learning solutions for K-12 students.
For instance, Time4Learning observes that its curriculum is utilized or derived from fully certified institutions.
Create & Learn also provides live classes that may be webcast in more conventional, physical classroom settings. Modular lessons or even completely developed lesson plans that are dynamic, current, and accessible online are used in schools worldwide.
What Platforms do Educators use to deliver instruction online?
Many online learning systems' modular designs are excellent for individual teachers as well as institutes. Pre-made exercises can be used by teachers to expand on a subject or introduce a brand-new one. Additionally, there are websites that provide teachers with a lot of wonderful functionality and tools to create their own unique courses that students can readily engage with online, such as Scratch or Replit (both for coding).
Best K–12 Online Learning Resources
There are hundreds of online learning platforms for K-12 students that help you with comprehensive homeschooling solutions or just a few interesting classes to refresh or introduce new content.
The ability for students to learn at their own speed from the comfort of their own homes is one of the main advantages of any online learning platform!
There are students from different age groups and grades like elementary students, high school, and so on. Taking everything into consideration, we have jotted down the top 5 online learning resources for students as below-
1. CK-12
K-12 educators can take advantage of CK-12 learning resources for their students. This is one of the free online resources you can leverage for effective learning online. CK-12 also accompanies a digital tutor (bot) who engages students in their learning.
The bot helps with online self-assessments and assignments. No doubt this is an effective as well as a thoughtful integration of the resource.
2. Khan Academy
Khan academy is one of the top eLearning resources for online students and institutes. It is an American non-profit organization focused on education. Through online free videos, online quizzes, tutorials, etc. teachers can find this tool efficient for their students.
3. HMH
HMH is another free online learning resource for K-12 students with the purpose of educating users worldwide. With numerous free lessons and planning ideas to cover any concept, HMH is a good pick for educators online.
Also, students can conduct free online experiment sessions online to broaden their minds and learning.
4. ReadWorks
ReadWorks is one free online reading course that helps you develop comprehensive reading skills online. If you are shy about joining an English reading course in your area or falling short on budget, ReadWorks is just a fit for you.
They include online assessment sessions, quizzes, and on-demand print options for a resource to help you revise concepts after the online session has ended.
5. Century
An online resource like Century helps supercharge the online learning experience for K-12 students and helps close educational gaps for students in corners of the world. The biggest advantage of using the Century tool is that it includes artificial intelligence to customize learning patterns depending on individuals.
Conclusion
Today, we discussed online learning platforms and resources for K-12 students those are the latest in 2022 that help you with free online material and quizzes for both sides' efforts in learning.
Also, learning online across google workspace tools like google docs can expose your students to restricted actions like unwanted emojis and adult image searches. We got your back though!
Chrome extension Safe Doc turns ON the restriction of unwanted searches and offensive emojis online while learning for students. With no more inappropriate actions online and total control over your child online learning has become more fun and efficient than ever before.