Introduction
From this blog, we will learn how to transfer emails from one Gmail account to another account. You may want to transfer emails from one account to another if you're a multiple email account holder. For example, you can transfer the emails of important meetings scheduled in your organization to your other Gmail account. It will help you to organize and retrieve them easily.
Transfer emails from one account to another
You can transfer emails from your Gmail account as well as Outlook, Yahoo, or other email services. But can only transfer emails, not labels or folders, to the other accounts.
Change the settings of other accounts
If your other email account belongs to other email services like Outlook, Yahoo, etc., ensure the account has POP access.
If your other account is a Gmail account then follow these steps –
Sign in to the Gmail account where you want to save your imported emails.
Click Settings > See all settings from the top right side.
Next, click Forwarding and POP/IMAP.
After that, select the option – Enable POP for all mail from the POP Download section.
Select keep Gmail's copy in the inbox from the next of "When messages are accessed with POP".
Finally, click Save Changes.
Change the settings of your account
First, sign in to the Gmail account from which you want to transfer your emails
Click See all settings from the Settings option
After that, Click the Account and Import tab
Select "Add a mail account" under "Check mail from other accounts"
Type the account's email address where you want to transfer the emails. Click Next.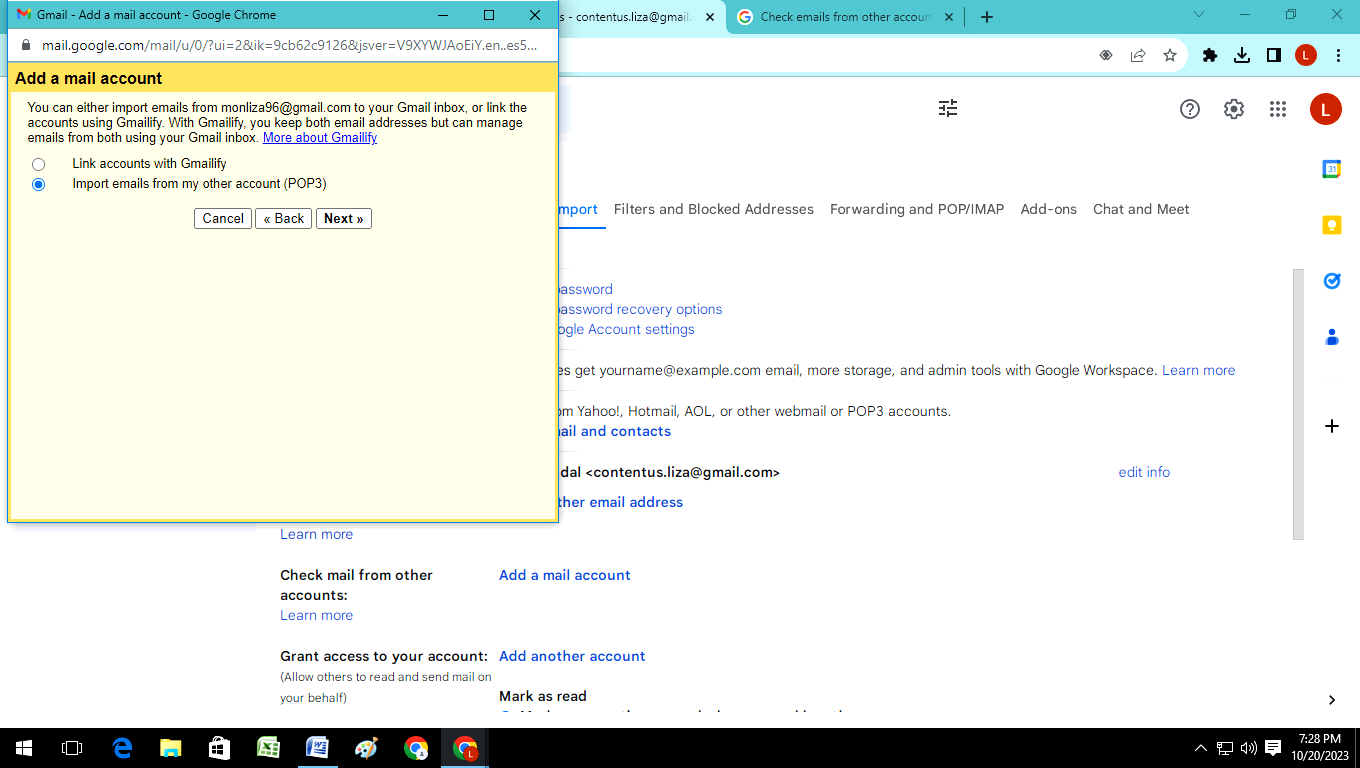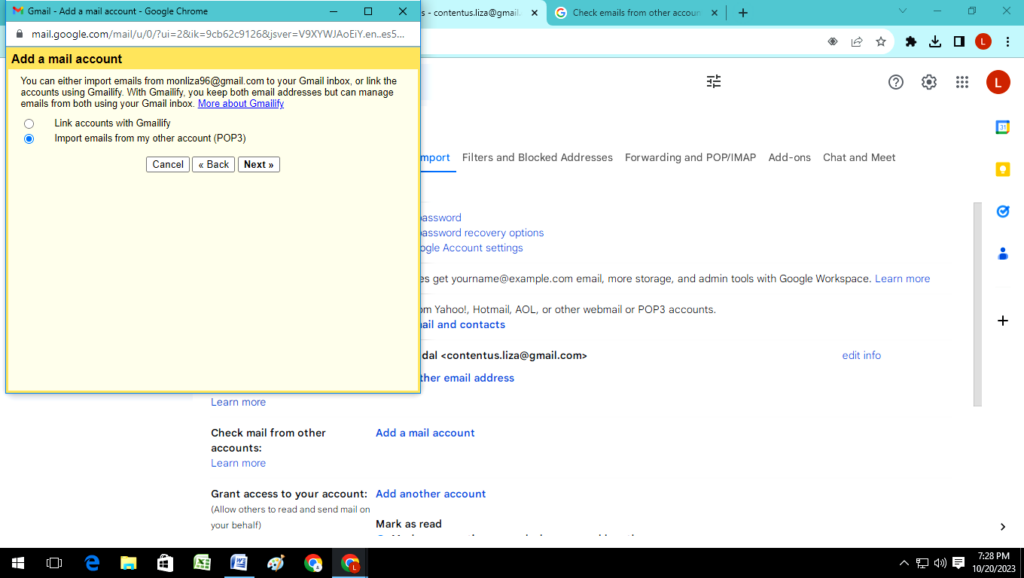 6. Then, complete the recommended configurations, such as – always using an SSL for retrieving your email and labeling your incoming messages. You should check the boxes for the corresponding settings. Uncheck the rest of the boxes.
7. Finally, click Add Account.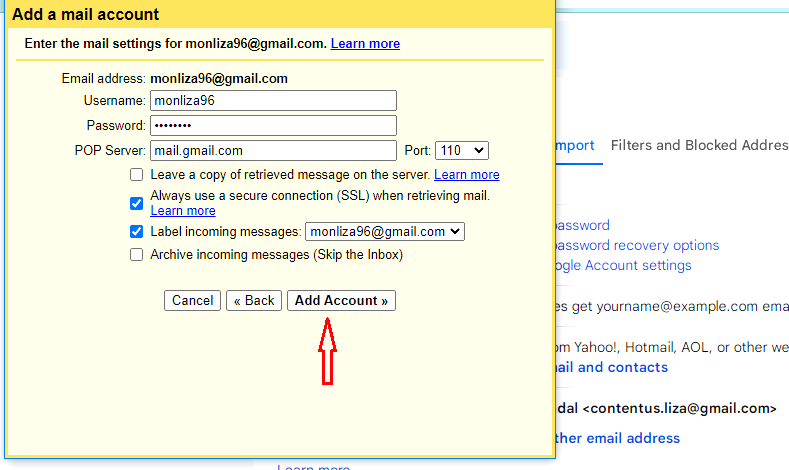 Transfer Your Old Messages to Another Account
Furthermore, you can transfer your old emails from another account into your new Gmail account. Here are the steps you should take in this case:
Open Gmail, then go to Settings > See all settings.
Next, click Accounts and Import or Accounts tab.
Following the previous step, click import mail and contacts.
Finally, click Start Import.
Note: You can't find the Import mail and contacts option when the Admin disables it.
Problems in transferring messages
You may find two types of errors during email transfer. They are – 'Server denied POP3 access' and 'I'm getting a different error'.
Solutions
These are the possible solutions for fixing the server-denied problem –
Give a new app password when you're using 2-step verification.
For school or work account, enter mail.domain.com in the POP Server section. Then, choose Port number 110.
Enter pop.gmail.com in the POP Server when you're using Google MX records. Also, your port should be 995.
If you find different errors, then either your POP is disabled or unavailable. To solve these problems –
Try to enable POP from the settings page in case the POP is disabled.
If it is unavailable, import old messages, as discussed previously. After that, it automatically forwards new messages to another account.
If you find other problems, then go to troubleshoot problems with Mail Fetcher.
Forwarding emails and their best practices
Also, Gmail provides the feature to forward emails to another account automatically. You can forward all emails or choose specific emails to forward. Learn more about email forwarding from here.
These are the best practices for forwarding your emails –
It's necessary to set POP or IMAP for your Gmail account. POP helps you to get emails on a single device. Your emails will not be synced in real-time when you're using POP. You can decide when you need to download your new emails. IMAP acts just the opposite of POP. It helps you get messages on multiple devices and sync them in real-time.
Help Gmail to identify spam and non-spam messages by setting up mark or unmark messages as spam. As a result, Gmail can identify the actual spam messages and doesn't mark genuine messages as spam.
Also, you should update your Gmail settings time by time. If you forward your emails from a third-party email service provider's account, Gmail may mark them as spam. Thus, you should add your non-Gmail address in your Gmail settings. Find the detailed steps on how to send emails from different addresses.
Know about more practices from here.
Foresight – The trustworthy platform for your regular automation
Foresight provides a friendly environment to streamline your business operations. The biggest feature of the tool is that it automates your Google Workspace workflows without lengthy code blocks. This no-code automation trains you to effortlessly manage manual tasks without wasting time. Thus, it provides customized solutions for your business to improve productivity.
You can learn several use cases from Foresight, such as – Bulk Add Email Aliases To Google Groups, and more.
Conclusion
You can transfer your emails to other accounts through some simple steps. But you must have proper settings on your email account to perform this action. In this blog, we have discussed those steps and the required settings for this. Then, learn about Foresight and follow the path of automation. So, embark on your journey with Foresight and try a 14-day free trial. Also, learn the other topics like this – Email clients (POP/IMAP), etc.