In this article we will know all about removing OU accounts from all groups takes time and effort. So, learn this topic from Foresight and make your task easier. The Admin removes the OU accounts from all groups, or they remove several groups from an OU for safety purposes. They can take this action using the Admin Console of Google Groups. But doing it one by one can be pretty time-consuming. Thus, Foresight has automation rules to quickly complete this task in Google Workspace. So, let's see the automated action for removing OU accounts from all groups through Foresight.
Why should you remove the OU accounts from the groups?
There are instances when the group members leave your organization. The OU account for these groups becomes unmanaged after their departure, which leaves a chance for others to use these accounts.
Thus, as a group admin, you should remove OU accounts from an unmanaged group of users to maintain your organizational security. When you take this action, their group address becomes invalid for your OU. Thus, the group members can't access any documents, files, or other OU information. So, it saves your organizational data from misuse, breaches, or hacking activity.
Removing OU accounts from all groups in Google Workspace with Foresight
Foresight is a powerful automation platform that allows you to simplify your complex business workflows. With the help of no-code automation, it streamlines your routine business work process and helps to design those workflows that can't be performed with the native Google Cloud Services. The Admin and users can automate their tasks with the help of Foresight. It relieves you from the iterative daunting tasks and manages more time. Thus it improves accuracy, business productivity, and growth. The Google Admin Console has the feature to remove the groups from an OU. But there is no option to remove specific OU accounts in Google Admin. Thus, Foresight automates this and improves the efficiency of the Admin. It is another edge of this platform over the Admin Console.
Demo video
From this video demo, you will learn how to remove OU accounts from all the groups in Google Workspace with Foresight.
Instructions
This automation task has two parts. That means you have to create two rules to complete the process. They are -
Rule 1: You have to create the CSV file containing the list of users. Here we made a list of 10 users. But in real cases, we can handle 1000 users.
Rule 2: It's the final rule you have to create. It will remove the OU accounts from the groups.
Rule Creation
Sign in to your Foresight account from the Google account. Click on the New Rule (+) button on the Rules page.
Select Manual trigger.
Select the List users action.
Select /Marketing/ Digital marketing in the Organizational unit field. Click Review.
Give a Rule name (Rule1_ Removing OU accounts from all groups). Click Create. You will find that Rule 1 has been created.
Now create your second rule. Again, click on the New Rule button.
Select the Data uploaded trigger and upload your CSV file. Click Next.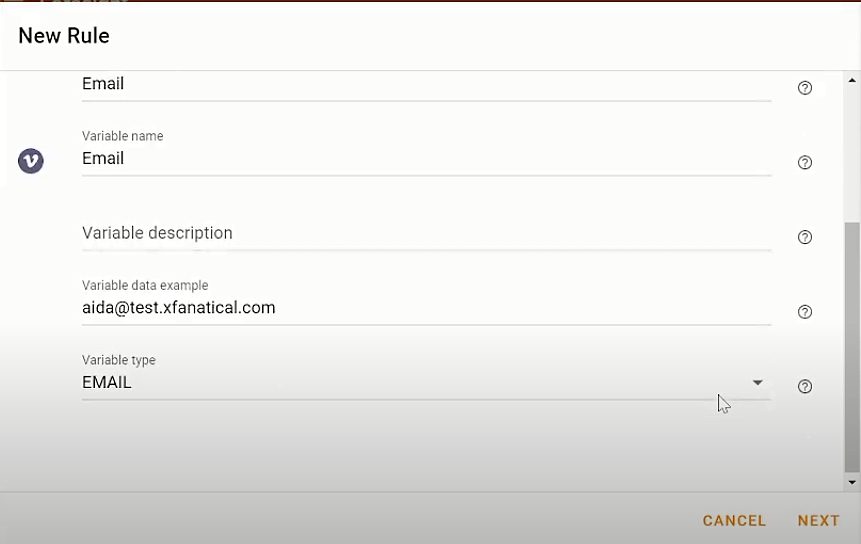 8. Select the Remove users from all groups action.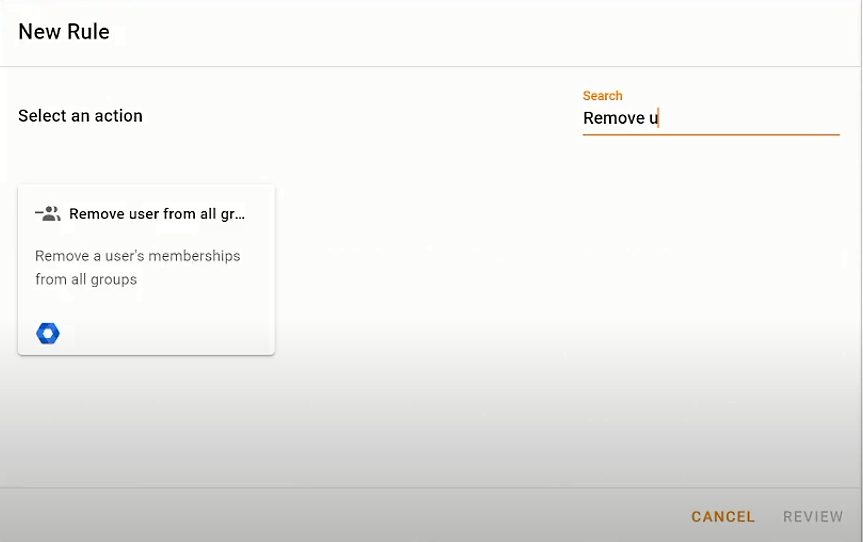 9. Select Email in the Primary email field. Click Review.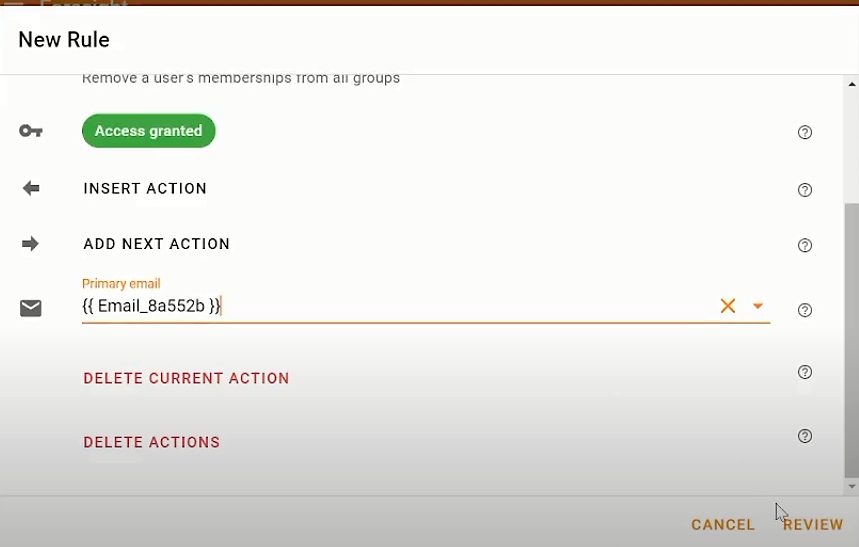 10. Finally, give a Rule name (Rule2_Removing OU accounts from all groups) and click Create. The rule will be created within a few seconds.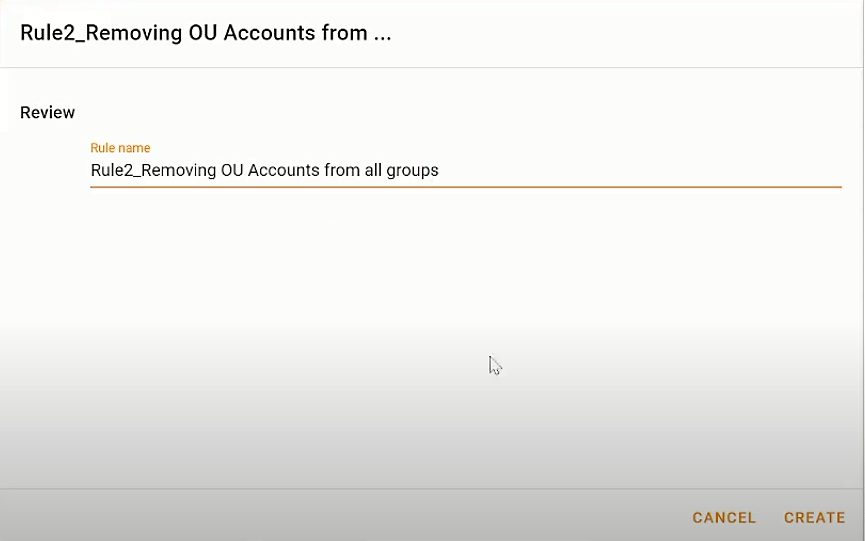 Rule Triggering
Rule 1: Trigger your first rule through the play icon.
Rule 2: Upload the same CSV file after creating the rule.
Verifying Results
You will find the notification about the first rule creation. Also, you can see the result of Rule 1 from the Logs page. Then download the CSV file from this page.


2. Similarly, you will find the effect of Rule 2, also. Then verify the result from the Admin Console.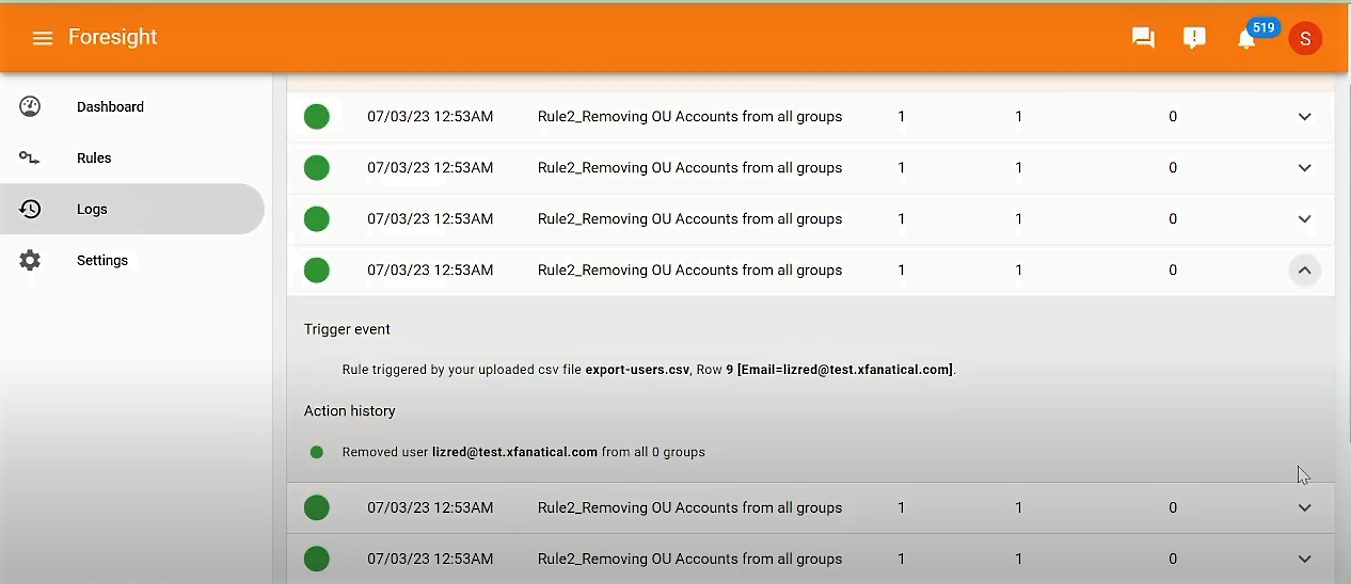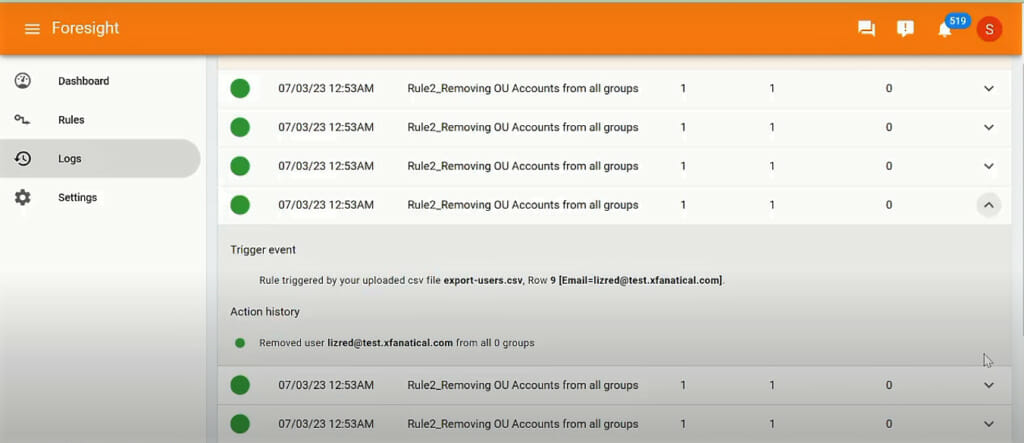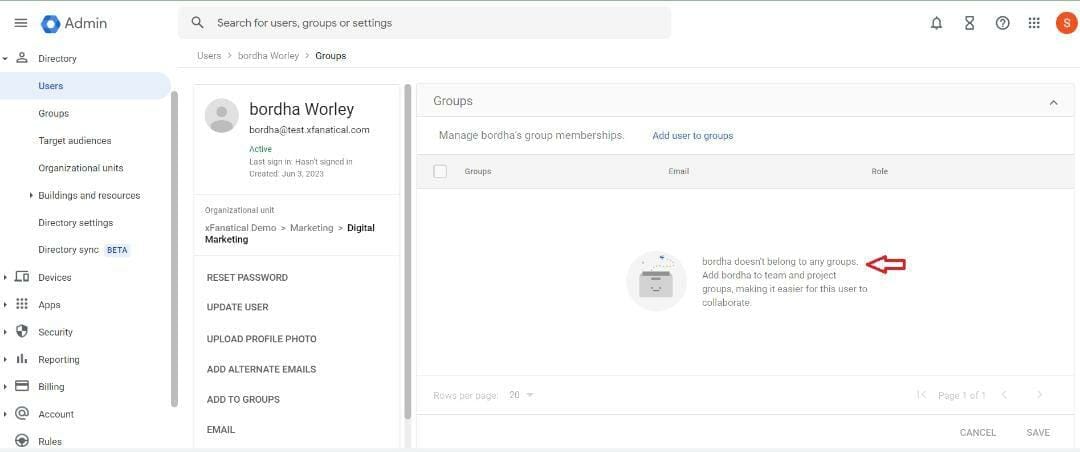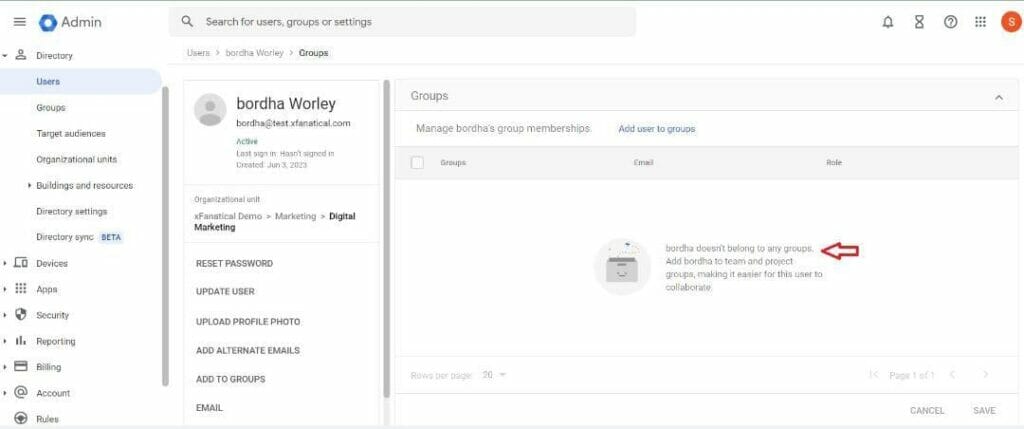 Conclusion
This use case will help you to remove the OU accounts automatically from all the groups in Google Workspace. Foresight allows you to perform this action efficiently. So, now you don't need to remove your groups from the Admin Console manually. Thus it will save additional time for you. You must try Foresight with a 14-day free trial to increase your business productivity. Apart from this article, you can read other articles like - Bulk Remove Members From Google Group, etc.