Introduction
In this article, we will know about is Google Workspace the next-generation CRM software?
CRM (Customer Relationship Management) is a platform that helps you to manage effective customer relationships. CRM Software helps the company to boost its relationship with the customers, streamline the business process, and increase profitability. It can handle the operations of different departments, such as - customer services, sales, marketing, and more. Moreover, it provides real-time insights into clients' data for the business and offers personalized services for the customers. In this way, it easily communicates and balances the operations between different teams, departments, and their customers.
Now, Google Workspace also developing CRM features to optimize your business process. Though Google Workspace doesn't provide 100% CRM services, some of its apps have outstanding CRM capabilities. So, in this article, you will learn the features of Google Workspace that fulfill CRM abilities.
Features of CRM software
Here, we list out the best CRM features for your business –
Managing regular contacts
One of the most important features of CRM software is managing customer contacts. You can access this feature through any CRM platform. This feature helps the sales representatives create new customer contacts for their regular deals and restore their information. Moreover, the best CRM tool reduces and simplifies the users' effort for data entry for managing customers' contacts.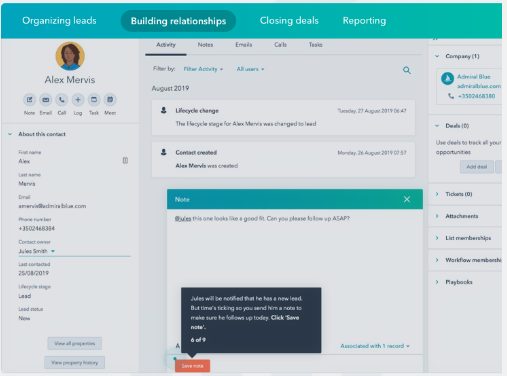 Customize your sales process
Most of the CRMs support customized sales processes for your regular business workflows. For example, if your company goes through a three-deal stage, you can easily customize your CRM system for this procedure and include required values regarding this purpose. Similarly, you can do it for a fifteen-deals stage sales procedure.
Daily insights and reports
Your sales representatives can see the insights of regular work progress from a CRM dashboard, such as - the number of deals in their pipelines, their statuses, pending tasks, date of quote, and more. Also, the leaders and managers can track and review the progress of the sales team. They can easily access these data with high visual apples and customized reports. From these reports, they can make data-driven decisions easily.
CRM systems help your sales team to manage their regular tasks efficiently. It keeps them updated and improves performance.
Most of the CRM tools enable handling your regular operations from mobile devices. You can use your smartphone or tablet to manage regular CRM activities. Specifically, this feature is helpful when you are traveling for a long hour.
Support marketing automation
A quality CRM system supports marketing automation. Marketing automation allows you to target the right audiences properly, and helps you to make them interested in selling products. Hence, you can handle your marketing operations more professionally with the help of the CRM tool.
Ensure your CRM tool has been integrated with the email service, such as Gmail. It helps you to control your customers' email addresses, names, and email messages from your business. As a result, you can easily find out when, who, and for what purposes you have emailed them.
CRMs easily sync with meeting tools like Google Calendar. So, the CRM and meeting tool integration helps you manage schedules, your availability, and real-time updates.
Automate your data capture
By using CRM tools you can archive your business-related data and documents, such as - email copies, sales representative copies, call recordings, etc. Generally, salespersons need to handle 100 or more calls per single day. The CRM systems automatically record these calls and post them on the records page.
Salespersons need to store different email templates, documents, reports, and other valuable content. So, you can embed your CRM with a content repository. It will help you to manage the content you often share with your clients or customers.
How Google Workspace is developing as the next-gen CRM?
Now we will analyze the features of Google Workspace products from the above CRM features. It will help you to understand how these Google products help in CRM operations.
Google Contacts manages all your customers, clients, new leads, and other personalities. It automatically syncs with the contacts from your Gmail. Each contact includes basic information, such as - name, job role, email, phone number, company, etc. Also, it uses labels to classify your contacts according to their professional roles. You can also integrate your Google Contacts with other Google apps, like - Google Maps, Google Calendar, etc.
Gmail is Google's email service provider through which you can easily communicate with your customers. It provides 24*7 email, phone, and chat support. Also, it keeps your emails safe from any kind of vulnerable activities.
Google Calendar helps you to schedule appointments, and meetings, create events, and assign tasks to your clients. It syncs with third-party calendars and notifies your customers about important events and schedules. You don't need to inform your clients and customers about the meeting details manually. Also, they get the information whenever you change any data of your meetings.
Google Drive allows you to manage, share, and collaborate documents with your sales team. Also, you can attach files from Google Drive to any sales stage using a CRM. Google Drive supports both online and offline access to your documents.
Google Analytics helps you to generate reports about how your customers interact with your sites and services. It will provide reports about their purchase activity, transaction information, etc. Also, it generates your sales-specific reports like highest-performing products, subscriptions, average purchase revenue, and average purchase revenue per user. Again, you will get advertising workspace, built-in automation, data collection, and management from Google Analytics.
Foresight - a reliable Google Cloud partner
Foresight is an excellent SaaS platform that allows you to automate your Google Workspace workflows. But you don't need to understand any automation script to perform automation with this platform. With a few clicks and simple steps, you can complete your automation rules setup. All you need to do is to include some triggers and actions to cook your automated recipes.
As a result, you get relief from manual, repetitive tasks, and improve your efficiency. It saves your time and your business earns more revenue. You can learn these use cases of Foresight - Learn How To Bulk Suspend Users By Group/OU, etc.
Conclusion
Google Workspace has some significant features of next-generation CRM software. These features will help you in sales operations, customer support, project management, and more. Additionally, you can use some automation tools like Foresight for your business. It streamlines your overall business workflows and provides your customers a better experience. So, try a 14-day free trial with Foresight and explore its functionalities.