Introduction
If you are looking for where the archive is in Gmail, you have come to the right place.
The archive feature in Gmail allows you to remove unwanted emails from your inbox without deleting them permanently. This can be a great way to declutter your inbox without losing important emails.
We understand the importance of having an organized inbox.
In this ultimate guide, we will share with you some tips and tricks on how to easily locate your archive in Gmail.
These tips will not only save you time and frustration, but they will also help you stay on top of your inbox and keep your important emails easily accessible.
What is archiving in Gmail
Before we dive into the tips and tricks for locating your archive in Gmail, it's important to understand what archiving means in Gmail and how it differs from deleting.
When you delete an email in Gmail, it is moved to the trash folder where it will stay for 30 days before being permanently deleted.
Archiving, on the other hand, removes the email from your inbox but keeps it in your account so that you can still access it later if needed Archive or mute Gmail messages.
Archiving is useful for decluttering your inbox without permanently deleting important emails.
It's also a great way to keep your inbox organized and focused on the most important emails. When you archive an email, it is removed from your inbox but can still be found using the search bar or by accessing the "All Mail" label in Gmail.
Why retrieve archived emails
There are several reasons why you might want to retrieve archived emails.
Perhaps you accidentally archived an important email and need to retrieve it, or maybe you need to reference an older conversation.
Whatever the reason, retrieving archived emails in Gmail is a straightforward process.
How to find archived emails in Gmail
To find your archived emails in Gmail, you can access the "All Mail" label. This label contains all of the emails in your Gmail account, including those that have been archived Archive or mute Gmail messages.
Follow these steps to access the "All Mail" label:
Step 1: Go to your Gmail inbox.
Step 2: On the left-hand side of the screen, click on the "More" dropdown menu.
Step 3: Click on "All Mail" in the drop-down menu.
Step 4: Once you have accessed the "All Mail" label, you can browse through all of the emails in your Gmail account, including those that have been archived.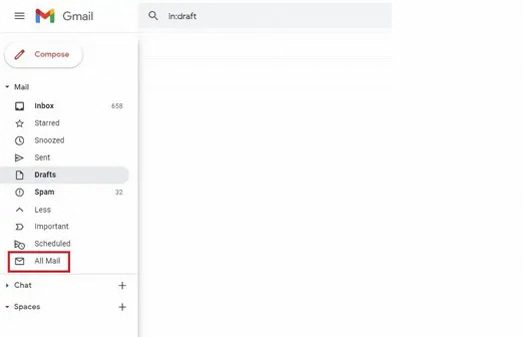 Use search filters
Alternatively, you can use search filters to find archived emails. Use the following filters to find your archived emails more easily.
For example, if I want to find an archived email that was sent to me from xFanatical and had an attachment, I can use a filter like this.

As shown in the screenshot below, it will show all such emails

Tips for searching for archived emails
If you're looking for a specific archived email, using the Gmail search bar can save you a lot of time. Here are some tips for searching for archived emails:
Use Keywords: Use relevant keywords to search for specific emails. For example, if you're looking for an email about a meeting, try searching for "meeting" or "conference".
Use Quotes: When searching for an exact phrase, use quotes. For example, if you're looking for an email with the subject line "Project Update", search for "Project Update" in quotes.
Use Date ranges: If you know the approximate date that the email was sent or received, you can use a date range to narrow down your search.

For example, if you're looking for an email from last month, you can search for "after:2022/01/01 before:2022/02/01" to find emails from that time period. By using these tips, you can quickly and easily find the archived emails you need. Create labels to organize Gmail
Moving archived emails back to the inbox or to a specific label
If you find an archived email that you want to move back to your inbox or to a specific label, it's easy to do. Here's how:
Step1: Go to Gmail on your computer
Step 2: Search for the archived message
Step 3: Select the checkbox next to the message
Step 4: Click Move to Inbox at the top of the page 
By moving archived emails to specific labels, you can keep your inbox organized and make it easy to find important emails later.

Potential issues with retrieving archived emails
If you use Gmail's multiple inbox feature, Manage your emails with multiple inboxes you may need to check other email accounts to find archived emails.
This is because archived emails are not included in the separate inboxes created using this feature.
To find archived emails in other accounts, simply follow the steps outlined above to access the "All Mail" label.
How to prevent accidentally archiving important emails
Accidentally archiving important emails can be frustrating, but there are a few things you can do to prevent it from happening: Organize and find emails
Use the "Star" feature: If an email is important, Star it, so that it is easily accessible later.
Create labels: Create labels for specific types of emails so that they are easy to find later.
Use filters: Use filters to automatically label and organize incoming emails
By using these features, you can stay on top of your inbox and prevent important emails from being accidentally archived.
What is Foresight
Foresight, a no-code Google Workspace Workflow Automation platform, is a cloud-based productivity tool that allows Google Workspace admins and Google Workspace users to create automated processes and workflows without having to write any code.
With the integration of no-code workflow automation, Foresight users can automate and streamline processes, saving time and increasing productivity.
You may also be interested in reading about the Foresight use case Google Workspace Archive User
Our team has worked hard to find the perfect balance of features and function, and we believe that this product will revolutionize the way people manage their email inboxes.
Additionally, Foresight is very helpful in bulk transferring the data of a former employee to a new employee also by using Foresight we can add former employees' emails as an alias to new employees so that, they can receive their emails in their inboxes, 
This means that users will never have to worry about losing important emails or forgetting to follow up on tasks. Get 14 days free trial today, and automate your Google Workspace workflows without coding
We believe that this product has the potential to change the way people use email, and we are committed to making it the best possible experience for our customers.
We hope you enjoy using Foresight as much as we do!