In this blog post, we will learn about what is productivity and what are its important factors. Productivity can be explained as the efficiency in the production of goods or services, and its measurements are generally expressed as a ratio of two quantities - an aggregate output to an aggregate and single input. These quantities should specifically be used in an operational process of an organization. An example of productivity would be output per unit of input over a specific duration.
What is business productivity?
A company's business productivity depends upon the speed of the business workflow. The faster the pace of the business, the more growth. Business sector productivity for IT organizations mostly depends on using the right software and tools for management operations. Productivity apps like Google Workspace and automation can help to grow the organization at multiple levels.
How to define and measure productivity?
For calculating productivity, it has to be done mathematically, and you need to measure an output which is divided by an input measure. Before entering that, let us first understand various input and output aspects.
What are we referring to by output?
A quantity of goods and services that are produced in a particular duration is called output. There is a concept called Gross Value Added (GVA). GVA is the total goods and services type that has been produced, deducted from the values of those products and services necessary for the manufacturing process.
It is typically used for measuring industry output. This is called intermediate consumption, which can be used to compute the output for the entire organization. GVA is calculated by subtracting the product subsidies value by adding the tax values.
And what is input?
There are two basic input categories – capital and labor.
Anything could be used to calculate labor input. It could either be the number of employed people or the number of paid employee hours. This type of input is called labor input. That's because this parameter accounts for traditional working hours. Other parameters include overtime for leaves, regular overtime or flexible work arrangements, or hours worked. These are some of the metrics that are often chosen. The level of education and experience are used for assessing the quality of the labor force.
Another way of measuring an input, especially when we are talking about capital services, is what is called capital input. It helps in measuring the productive resources that an organization possesses. Tangible assets like vehicles, buildings, and machinery, or intangible capital like intellectual property, are categorized as physical inputs. There are certain physical assets like tangible ones, and the raw material stocks are depreciating because they have a deteriorating utility over a duration of time. Its value has to be changed regularly as per its rate of depreciation.
Difficulties encountered while measuring productivity
Measurement of productivity has a specific set of challenges. Some examples of this type are -
Measuring output in non-marketable businesses
Multifactor productivity (MFP) plays a vital role in around 16 market industries in the present day and age. The existing demand in output and supply accurately represents the prices. There is no way to measure output for industries like public administration and safety or educational training, health care, or social assistance.
The value change in estimates over time
Companies face difficulty in adjusting input quantity in the short term. It uses productivity measurement according to demand variations. That is one of the main reasons why productivity comes down during a period of recession. Whenever there are economic downturns, and there is an increase in the prices of the input, it causes a decrease in output, thus diminishing productivity. However, when you look at the opposite case, then you notice a rise in productivity. In the economic boom, output grows more than the costs.
It is impossible to monitor all the inputs and outputs
Although a careful study is done while measuring the input and output, most of the time, the assessors are able to find out the macro-factors that help to measure productivity. Some of the micro-parameters are either ignored or missed. It happens in the case of some natural resources and intangible capital inputs, resulting in the skewing of productivity measuring quantities.
Why is productivity important?
Productivity is important because it helps the organizations to be more efficient than before and the pace of the operations pick up. It saves the admins in an organization a lot of time and effort. Now, who wouldn't like that?
Another reason for that is an increase in productivity means that a greater output can be extracted from the same input amount. It translates into higher efficiency for the organization, and it also shows the rate of transformation of the raw materials and resources into goods. Thus, growth in productivity helps you grow more from less.
Productivity and investment
There is always a potential for a salary hike, corporate profits, and standard of living. If productivity fails to increase significantly, economic and operational constraints exist. Investment in an organization, specifically an IT organization, should be invested in productivity apps for operations or productivity software. This is almost equal to a level of savings. Since investments need to be financed from savings in bootstrapped companies, these costs can be saved by investing in things or assets that help enhance an organization's workflow or performance.
How can investments in workflow automation tools/software affect productivity growth?
Investments in workflow automation software can have a significant impact on productivity growth. Workflow automation software refers to tools and platforms that automate repetitive tasks and streamline business processes. By automating routine tasks, businesses can reduce the time and effort required to complete them, allowing employees to focus on more valuable tasks.
Here are some ways in which investments in workflow automation software can affect productivity growth:
Improved efficiency: Workflow automation software can automate tasks such as data entry, invoicing, and report generation. By eliminating manual processes, businesses can save time and reduce errors, resulting in improved efficiency.
Increased speed: Automating tasks can speed up processes, allowing businesses to get more done in less time. This can help businesses to be more responsive to customers and market changes.
Reduced costs: By automating tasks, businesses can reduce the need for manual labor, resulting in cost savings. Additionally, by reducing errors, businesses can avoid the cost of correcting mistakes and rework.
Better collaboration: Workflow automation software can improve collaboration among team members by providing a centralized platform for sharing information and tracking progress. This can improve communication and coordination, leading to better productivity.
Improved decision-making: Workflow automation software can provide businesses with real-time data and analytics, allowing them to make more informed decisions. This can help businesses to identify areas for improvement and optimize their processes.
Foresight's functions and its advantages on productivity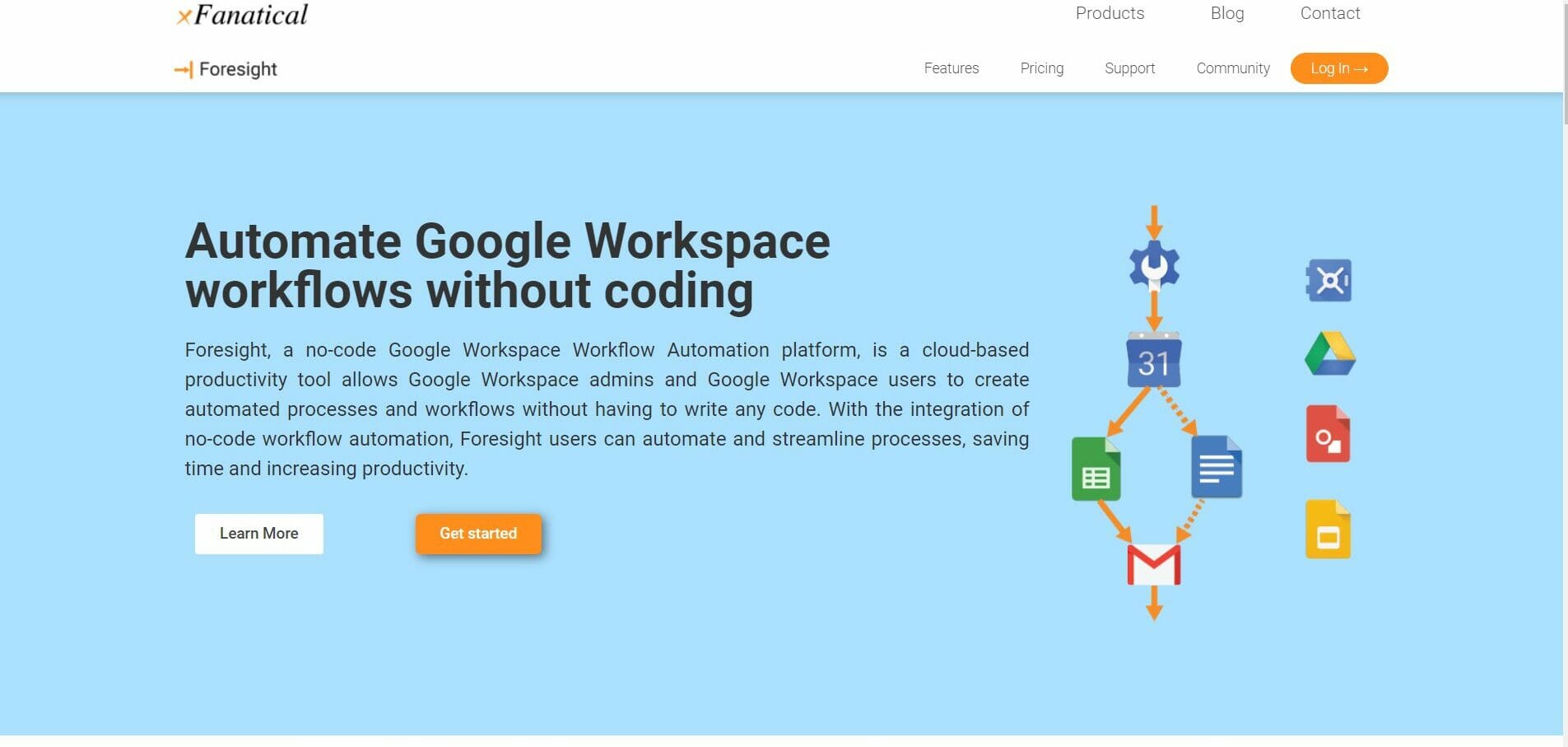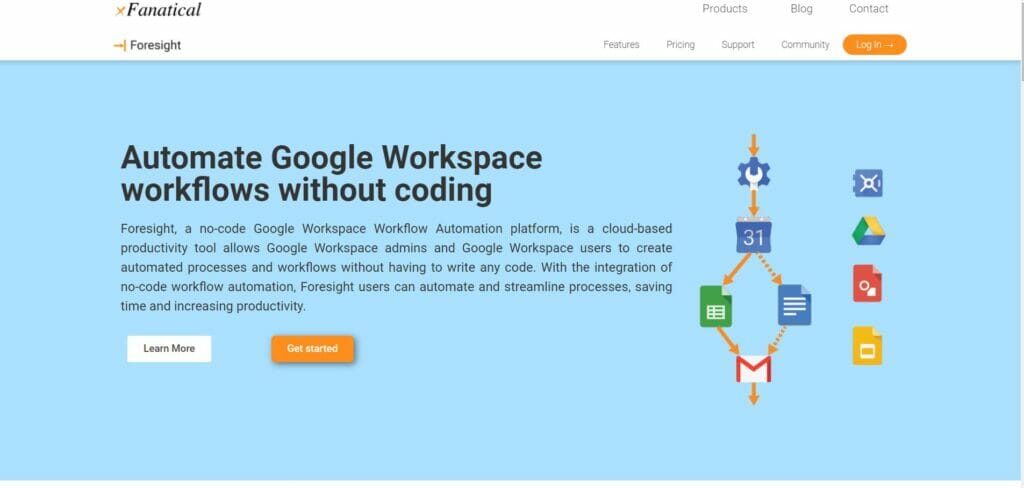 Presently, automation is one of the most crucial factors in enhancing productivity. But automation comes at a cost, that of hiring developers who can help in programming for automation of operation(s) in a company. However, with Foresight, that isn't the case. You can automate the process and complete the bulk tasks like updating employees information in Google Workspace or bulk data transfer between users in Google Workspace and more in a jiffy, saving you both time and increasing productivity.
Increased productivity also drives a lot of revenue for the organization. It makes the organization more capable of performing its function with increased efficiency. This results in benefits for all aspects and sections of the organization. Business analysts check all this to assess whether a company is showing an increase in productivity. There are other benefits one can get from increased productivity in an organization.