In this article, you will read about the top 3 classroom features that every distance learning elementary school can utilize.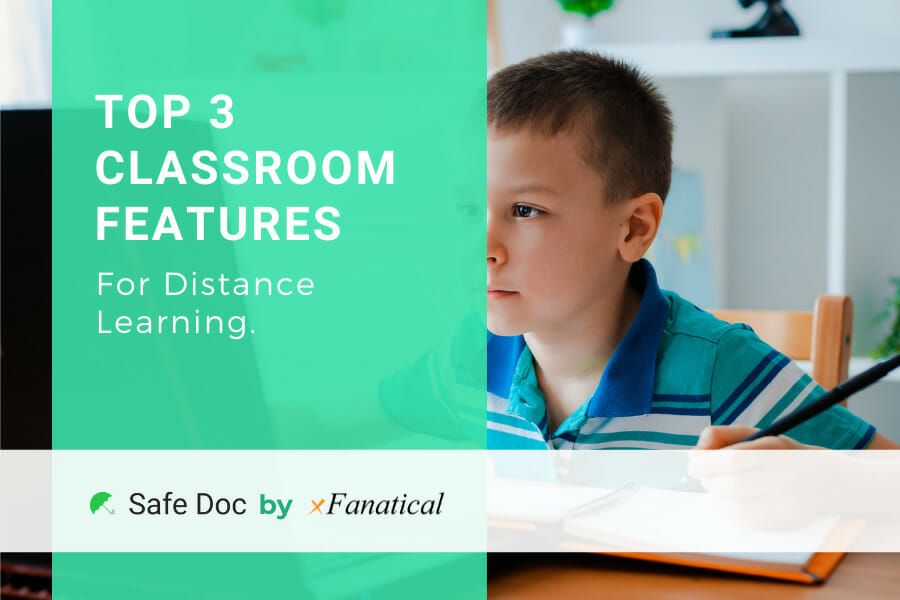 There are countless online platforms for distance learning. But, none are as popular as Google Classroom. And for some very good reasons. In this article, we are explaining about 3 features that make Google Classroom the best distance learning software.
It is no surprise that Google Classroom has tons of incredible features that all K-12 online schools can utilize. The wide range of features of Google Classroom will not only come in handy for a distance learning elementary school but is also easily accessible. So, what are the top 3 features of the classroom that you have to utilize?
Live classrooms, easy assignment submission, and announcements are just a few of the amazing features available in Google Classroom. These can also be tailored to meet your specific requirements. Not to mention they are fun and simple to use as well!
With the rise of online learning, platforms like Google Classroom are making education more convenient and accessible. Let's delve deeper and find out more!
Top 3 Google Classroom Features
Honestly, Google Classroom is a pretty extensive tool with many features. But I wanted to highlight the top 3 features it has. These will help your experience (and the student's experience) that much more.
So, without further ado, let's jump right. These features range from seamless collaborative tools to taking a class where there can be up to 250 people.
1- Live Classes
For any distance learning elementary school, the ability to take live classes is a fundamental thing. Without it, there is no distance learning.
Google Classroom number of participants:
The live classes feature on Classroom allows you to take real-time classes where up to 250 people can participate at the same time.
That is a lot of students if you think about it. It is done by Google Meet – an online video conferencing software.
Google Classroom live stream feature:
Over 100,000 viewers can live stream it as well. While that is pretty overkill for elementary schools, it just goes to show how capable it is.
Google Classroom record meeting:
That is not all, though. The lectures can be recorded as well. This will help students who, for some reason, missed the live session go back. They can check it out later.
Google Classroom ease of use:
Distance learning is supposed to be all about ease of use and accessible education. Features like recording, and engagement tools like the ability to ask questions can help students greatly improve their learning experience.
2- Easy Assignment Creation
Google Classroom test for students
Take what the students have learned from your lectures by giving them assignments. You can create assignments easily on Google Classroom. There are spaces to give specific instructions as well.
Google Classroom set grading, due date:
The features are pretty robust. You can set due dates, points (or grades). The grading system can be customized.
Google Classroom grading and assignment:
You can pick from a total grading point system, a weighted grading system, or just forgo grades altogether. The choice is up to you and how you see fit.
Google Classroom different assignments for specific students:
If you want to give specific assignments to different students, then you can do that too! A Classroom allows you to assign different assignments to a specific student.
With all these features combined, giving assignments in a classroom is super easy!
3- Announcement
Distance learning does not have to be difficult. Sometimes, it can become hard for students to keep track of due dates and changes to the scope of a course. Well, the announcement features allow teachers to keep students informed.
Google Classroom Making Announcement:
You can make an announcement that is designed to inform students about important dates, syllabus, or any kind of information you would like to let them know. The deadline for an assignment has been extended?

Google Classroom student comment on announcement:
Well, let all your students know with a single announcement. If students have further questions, they can comment on them.
And then you can go in and answer those questions to clear out any confusion. It is pretty easy and a simple yet useful feature.
4- Online Classroom Safety:
Although we mentioned 3 points in heading, but this points comes later and I found it very important. Online Classroom Safety is a great concern. There is a wonderful article written for Online Classroom Safety by Abbey Schukei. I recommend you read this.
Reference: theartofeducation.com
Do More With Safe Doc
Google Workspace is great and all, but teachers could do with a bit more control during their online classes. Most students would just end up playing games on their browser or doing something else while they take classes. And that definitely hampers your ability to teach.
Google Classroom plus Safe Doc monitor student activity:
With Safe Doc, you can control everything like what your students see, how they interact with the classroom, and even their browser. With it, you can create the ideal classroom platform you need to properly teach your students.

Safe Doc disables explore feature in Google Docs Editor:
With Safe Doc, you can disable the explore feature that allows one to search on web while working on Docs, Slides, and Drawing. In some Google apps like sheets, this feature is not available. But sheets have other features that need to be disabled. To learn further about these visit the Safe Doc features list.

Wrapping Up
Any distance learning elementary school can use Google Classroom to make education more accessible, collaborative, and fun. At the end of the day, isn't that what distance learning is all about?