In this article, we're going to discuss the top limitations of Google Workspace For Education.
Whether you are a business or an educational institute, chances are that you are probably using a couple of Google's products right now. Google Workspace for Education is another very powerful tool. And K-12 schools can leverage its easy tools for education. However, there are a couple of limitations.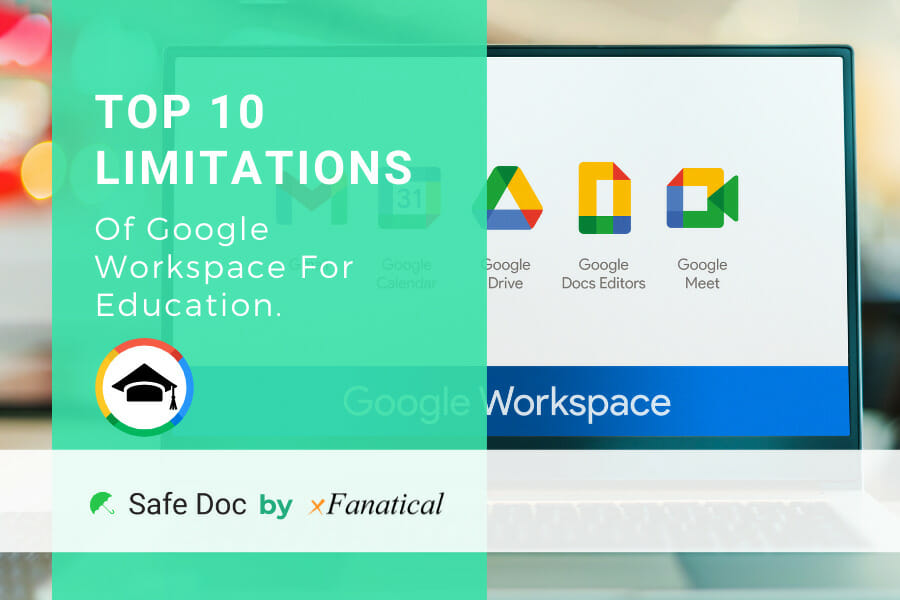 For example, GWFE is completely online and does not have native desktop programs. And then there is the issue of security and storage limitations. Sometimes, there can be slight compatibility issues with MS office suite applications.
However, these are not completely crippling limitations. With some thought, you can work around these with relative ease. Let's take a closer look at the limitations.
Top 10 GWFE Limitations Every K-12 School Needs To Know About
Any K-12 school wants to provide the best education for its students. That is pretty obvious. And one way of ensuring a seamless and enriching experience is to use modern technology. This will familiarize kids with the use of essential tools.
They can also get the kids familiar with essential tools like Gmail, Google Classroom, using the internet, researching, collaborating, and more in the process. But if you are a K-12 school, there are some GWFE limitations you need to know about. Here are the top 10.
Not as Extensive as MS Office Suite
Google Workspace for Education is pretty powerful. It is a very collaborative tool. However, when it comes to word processing, creating presentations, or doing spreadsheets work, Google suite might not be as powerful as MS office.
However, it is not a big deal though. Since most people can find their way around Microsoft's solution pretty easily when they have some practice with Google's software.
Needs Stable Internet Connection
Since everything happens online, your school (and the kids) need to have a stable internet connection. Otherwise, they will face trouble when using the platform. Internet penetration is pretty extensive nowadays. This should not be much of a problem though. But on the rare occasion the internet is acting up, it can get quite annoying.
Storage
Google gives you quite a lot of storage from the get-go. However, when you have hundreds of students or have a lot of heavy files, it can get filled up quite fast. You might need to upgrade to a higher storage tier.
Security
An online platform always runs the risk of security. It can be hacked if proper security protocols are not maintained. However, this will also depend on your IT department. So, having a strong and competent IT department that takes all security best practices into account is important.
Bullying is another common issue when teaching online. And frankly speaking when it is the students themselves bullying each other, stopping it can become quite difficult.
Lack of Attention
As you can imagine it is much harder to hold on to your students' attention when you are teaching online. Children are by nature mischievous. So, when they are taken away from your direct supervision to the opposite side of a screen, and also with the access to the internet, they are much more likely to browse other websites to play games or watch YouTube videos.
Privacy
Privacy can be another concern. Students can easily see all the personal information of other students in the People tab. Other generic privacy concerns like ad tracking might be an issue. There is certain software that can help mitigate these issues.
Compatibility Issues
If your students are using Google Docs, then they might not gel all that well when converted to MS Office versions. This can cause minor compatibility issues. This is not that common though.
Pricing
Educational institutes might be on a tight budget. If you need more storage or need to upgrade to a higher tier, the pricing can be a challenge for some K-12 schools.
No Native Desktop Application
There is no native version of Google's suite of applications. Everything is online. So, you might not see a very smooth experience in some cases. However, modern web browsers are pretty powerful these days. This is a limitation that can be overcome with little effort.
Hard to Understand Labels
At first, the labels and all the features can be a bit difficult to get used to. Students and teachers might need some time to get comfortable with all the features. Google is pretty good at making software though. With some time put into Google Workspace for Education, you will be much more comfortable later.
How To Make Online Teaching Better?
There are so many issues with using Google Workspace for education. But a lot of the issues can be solved by a nifty little app called Safe Doc. Safe Doc is a powerful tool that allows you full control over your students.
You can monitor and prohibit certain actions, restrict their free access to the internet while they are attending class, and also prevent bullying. And it does all this while also ensuring the privacy of your students.
Wrapping Up:
There you have it. Now you know all the limitations of Google Workspace for Education. If you are a K-12 school, you need to keep these in mind and build all the processes and best practices accordingly. These limitations can be slightly inconvenient but with some planning, they are easy to deal with.