This blog post will help you to understand how to use Google Suite for knowledge management. When the users utilize your product or service, they find several questions or issues about your service. So, you need to provide real-time answers and help for them. Thus, you should create an IT system for the end users that provides all kinds of knowledge, including frequently asked question-answers, 'how to' tutorials and articles, education, training programs, webinars, search engines, and more. Similarly, Google Suite provides some excellent knowledge management services for users.
The Google Workspace apps that you can use for knowledge management
You can use these Google Workspace apps to share, edit, collaborate, and data storage for your business. These things optimize your knowledge management system. So, let's see how these apps help in knowledge management activities.
Google Drive is a cloud-native app from Google Workspace that helps you store, share, edit, and collaborate on your documents. You can access this app from anywhere, any time, with any type of device - computer, mobile, or tablet. Not only does it store your files, but it also provides end-to-end secured access and encryption for your documents. Moreover, Google embeds its powerful searching abilities in Drive, offering speed and reliability for your team. For example, the Drive search chip helps your team to find the files and folders quickly with the relevant results.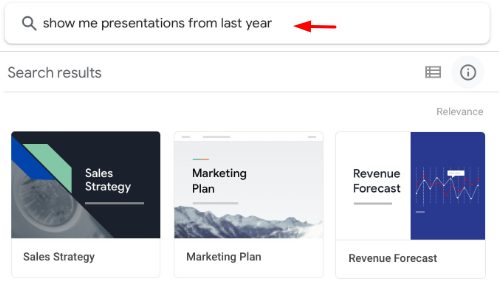 Google Docs is an online word processor from Google Workspace that helps you to create, format, share, and collaborate documents with other people. It helps you to edit your documents with formatted text, assign styles for headings, insert images, links, tables, and more. Again, you can add comments in your documents to provide additional information for the users. You can see all the version history for changes you have made in your documents. Finally, you can download your documents, duplicate your documents, or send a copy through email.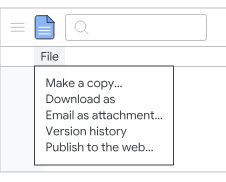 It's an online spreadsheet app from Google Workspace that helps you to store, analyze, edit, collaborate, and share data easily. It provides assistive functionalities such as Smart Fill and formula suggestions for the users, and it also helps to analyze data more efficiently without too many errors. Furthermore, it can easily connect with other Google apps like Google Forms, Slides, and Docs to analyze data from them. Moreover, it allows you to build custom apps for your business with the App Script. Also, you can add custom functions, macros, and menu items on those apps with the Apps Scripts.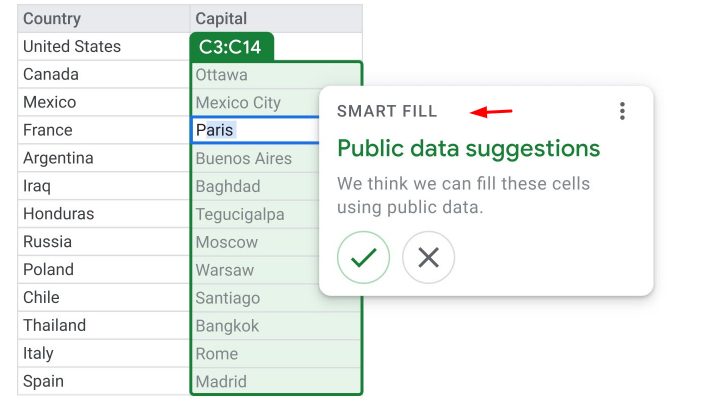 Google Slides help you to create presentations with speaker notes, live captions, and more. Also, you can easily embed charts from Google Sheets. Furthermore, you can search the web and Drive to add relevant content or images within your documents from Slides. It has the assistive features like autocorrect and Smart Compose.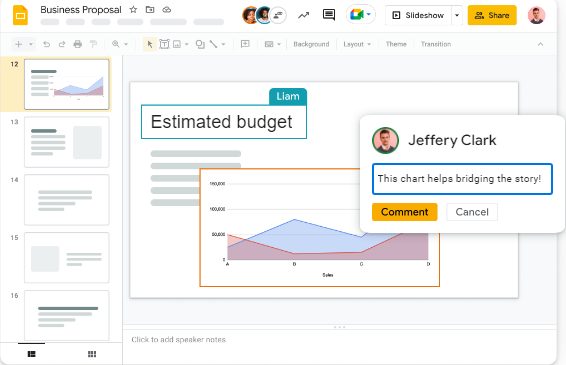 Create a knowledge management system with Google Cloud Agent Assist
Agent Assist is an element of Google Cloud's Contact Center AI. It uses Machine Learning technology to suggest responses for your human agents when they are participating in a conversation with the users. It builds suggestions based on your own uploaded data on the knowledge base. In this way, it performs a significant role in knowledge management.
Agent Assist has the following features to provide different types of suggestions for human agents:
The Article Suggestion checks the conversation between a human agent and an end-user and suggests relevant documents accordingly. The human agent scrutinizes those suggestions and makes a decision about which document is necessary to share or read to the end-users. Additionally, the Article Suggestion helps the human agent to solve any issues during a conversation.
Agent Assist provides basic Article suggestion models to suggest documents for your human agents. Again if you wish, you can train a custom suggestion model with your own uploaded documents, in this case. But if you want to train your custom model, you should contact your Google representative.
FAQ Assist suggests proper FAQ answers for your end-users during a conversation. The human agent provides the answers to common FAQs for the users. The Agent Assist tracks the conversations and fetches the FAQ documents from the knowledge bases. A knowledge base stores your FAQ document or any kind of knowledge document. These documents consist of relevant information that will help your customers during conversations. Thus, the knowledge base suggests answering the FAQs from the end users. Also, the human agent can inspect these suggestions during the conversation. Based upon this inspection, they decide which suggestion should be sharable to the users.
Note: To implement the FAQ Assist, you must enable the Dialog Flow API and Data Labeling API.
The Smart Reply API helps to generate automated replies against messages. It helps your users to reply to a message from your human agent. Thus, it can easily support automated replies on devices having limited input capabilities. It has the ability to generate replies based on the context of a full conversation instead of a single message. Therefore, the reply suggestions become more beneficial for the users. A custom model calculates the suggested responses for your users. This model should be well-trained about your conversation data.
So, how does the model create relevant answers so quickly?
The model analyzes the 10 most recent messages from a conversation history. Then, it detects the language of the conversation. If the language is English, it will provide the replies in English. But before generating the final answer suggestions, it also checks if there is any sensitive topic in the conversations. If it finds any sensitive subject from the conversation, it doesn't provide any reply. Only it provides responses for the non-sensitive matters. The model provides a maximum of 3 suggested replies. Again, the quantity of responses depends upon the sufficiency of the confidence level of the input to that model.
Learn more from the Smart Reply Tutorial.
Generative Knowledge Assist
The Generative knowledge assist provides answers for your customers based on your documents. So, you need to upload documents (any number of documents) with your domain name. Then, the Generative AI App Builder indexes your documents. Then, your end-users can access these documents in real-time with the help of the Generative Knowledge Assists feature of the Generative AI App Builder.
These are the key features of the AI app builder -
It helps your customers, employees, and stakeholders receive personalized information about your services. Also, businesses can access various resources to develop applications to understand users' needs. It includes any personalized information and the attributes of the company's data.
It allows developers to build apps with a combination of multiple texts, images, and videos to provide the best user experience.
The AI app builder helps your business achieve control over how to use data and where to store them. Also, it ensures the security of your business data with various data sovereignty laws, rules, and regulations.
Also, the developers can build chatbots and search engines to assist the best knowledge-hunting opportunities for the users.
Benefits of using a knowledge management system
You can save your customer support costs by using a knowledge management system. If you create manual customer support workflows, it becomes costly for your business. Moreover, the processes become quite time-consuming when your customer representative communicates with customers in each and every step of customer support activities. Thus, you must use a knowledge management system to manage your budget and save more time for your business.
Knowledge management systems increase customer satisfaction. When they use the system, they can instantly get the responses to their queries or other documents they are looking for. For this reason, they don't need to wait for a long time for the responses. It makes them happy and more satisfied. As a result, it increases their interest in your business, product, and services. So, they communicate again to your business for purchasing new products.
When you launch new products or services, customers can easily know about these through a knowledge management system. It provides several product guides, FAQs, educational content, and more. Thus, the customers easily understand the features and purpose of your products.
Foresight automation platform and its knowledge management capabilities
Foresight is a flexible and scalable automation platform that streamlines your Google Workspace workflows. With the no-code automation recipes, you can achieve error-free outputs within a few times. As a result, you can save time and gain cost-effective solutions for your regular business workflows.
Moreover, Foresight has an excellent knowledge management system - FORESIGHT HELP. It provides a search bar to retrieve any information you're looking for. Also, it provides several blogs, concepts, use cases, rule management guidance, troubleshooting guidance, and FAQs on billing and accounts. You can read use cases like - Know How To Bulk Update Google Workspace Licenses, etc.
Conclusion
Knowledge management becomes a significant part of your customer support activities. Similarly, Google Suite provides knowledge management for end-users. It provides accurate information against customers' queries. Thus, it easily manages your and the end-users' time and helps attract more customers for your business and leverage success. Foresight also provides a knowledge management system to help you with Google Workspace Automation. Try a 14-day free trial and learn the use cases of Foresight.