Introduction
In this article, we will learn how to mail merge in Google Docs. As a part of your business communication, you often need to send personalized emails in bulk. In such cases, you need to work with specific data and templates for personalized emails, so you have to produce tons of emails for your employees, vendors, stakeholders, and clients. Do you ever think about how much time is required for these boring tasks? Moreover, the amount of man-hours it wastes is also staggering. Thus, you need an automated work procedure to simplify these tasks and get rid of the manual, repetitive process.
Mail merge is an automated task that helps create and send emails or other documents in bulk to the recipients.
How does mail merge work?
Mail merge helps you to create and personalize similar documents and send them to various recipients. Suppose you want to send an email to the 70 recipients with their personalized data. A data source like Google Sheets or Excel sheet helps to retrieve recipients' data for personalized emails. The merge fields guide the document where to include the data from the source. Merge fields are the type of placeholders.
But before starting the merging process, you have to connect the data source and the document you prefer to be mailed properly. After completing the process, you will get the batch of mail-merged templates.
Types of mail merge in Google Docs
Emails: You already know that this technique easily creates multiple emails for business purposes. Moreover, you can create emails for your personal needs through this technique.
Letters: Mail merge creates multiple letters within a few seconds for business, education, and personal purposes.
Individual letters: With Google Docs, you can create multiple individual letters through this technique. It creates these letters into separate documents.
Envelopes: You can create bulk envelopes and print them directly from Google Docs.
Elements of Mail merge
There are three elements in a mail merge process –
The primary document: It contains the body of your content, placeholders, and merge instructions.
Data source: It's a type of spreadsheet that holds the recipient's data. Your primary document should collect data from this file.
Final document: You will get the final template/document after the proceedings of the mail merge. This file should contain the body of the primary template and the data from the data source.
Purpose of mail merge
Mail merge accumulates the name of the students and teachers on the documents eliminating the need for handwritten notes. As a teacher, you can generate letters or emails for parent-teacher meetings using this technique. Also, you can send personalized letters to the guardians with their students' names, classes, roll numbers, etc.
Using this method, you can create certificates, awards, assignments, and results. Also, you can record students' progress or responses by collecting their data and later storing them as forms. You can do this easily with the help of mail merge.
Sales and marketing-related works
It helps to generate different kinds of reports for the clients and the stakeholders. You can create a bunch of documents, such as – users order forms, invoices, feedback forms, contracts, labels, brochures, and catalogs.
You can manage different administrative responsibilities through this mail merge. It automates the processes of interview call letters, training or invitation for meetings, offers letters, and more. For your employees, you can initiate bulk welcome emails sending monthly progress reports for employees, worksheets, performance reviews, and stock ownership plans.
Communication for business
The businesses send Thanksgiving letters, registration forms, and invitations for events to their clients. They send you prize codes, gift coupons, and more for the customers when they announce any game, challenge, or tournament. Thanks to mail merge, that can handle everything.
You can send New Year greetings, birthday and wedding invitations to your family and friends. Moreover, you can invite your family for a get-together or a holiday tour with the mail merging process.
This process also becomes helpful in other purposes like – bulk creation of acknowledgment letters, donor letters, etc.
Steps to perform a mail merge in Google Docs
To perform mail merge in Google Docs, you need to install the Mail merge add-on from the Google Workspace marketplace. You can use it free of cost. Here are the steps for performing this action –
Go to Google Docs and open an empty document.
Now create your basic document, ex. a letter, email, or other document. Alternatively, you can choose a template from Google Docs if you wish.
Then click Mail Merge from the right side of the Docs.
Choose the type of document.
Under Select Recipients, Select a spreadsheet from where you want to choose the merge fields.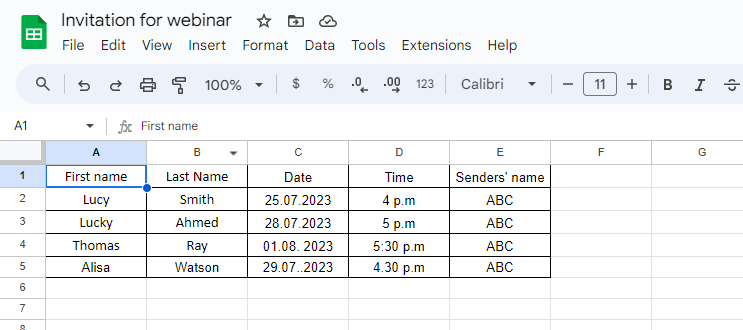 6. Click Insert merge fields.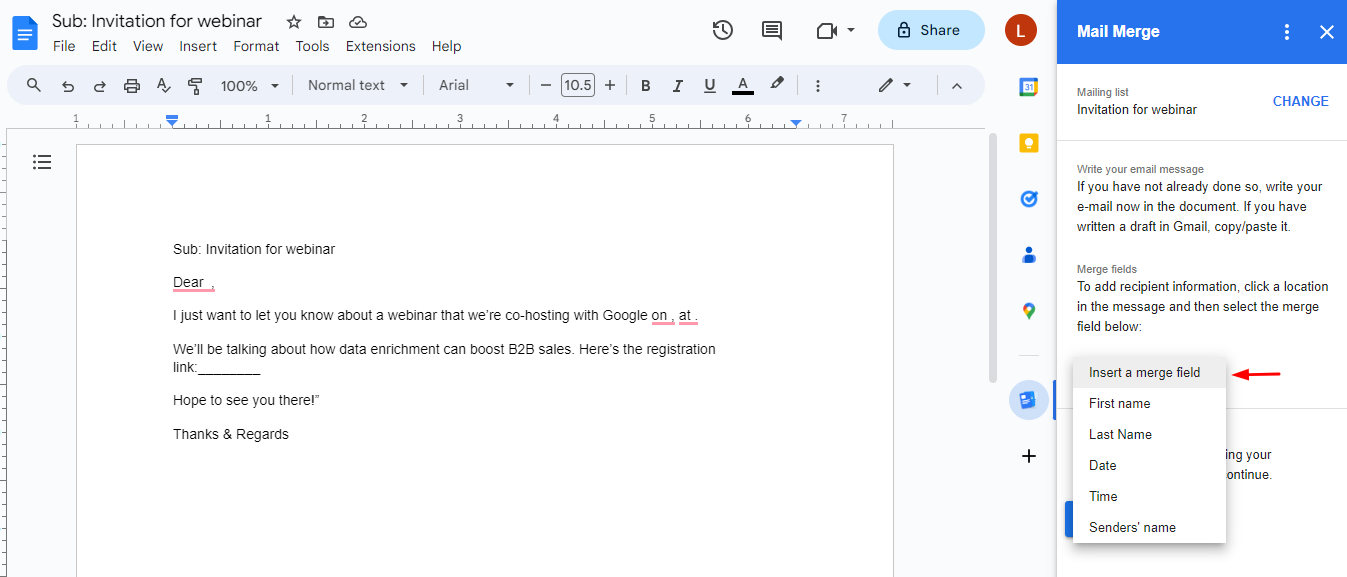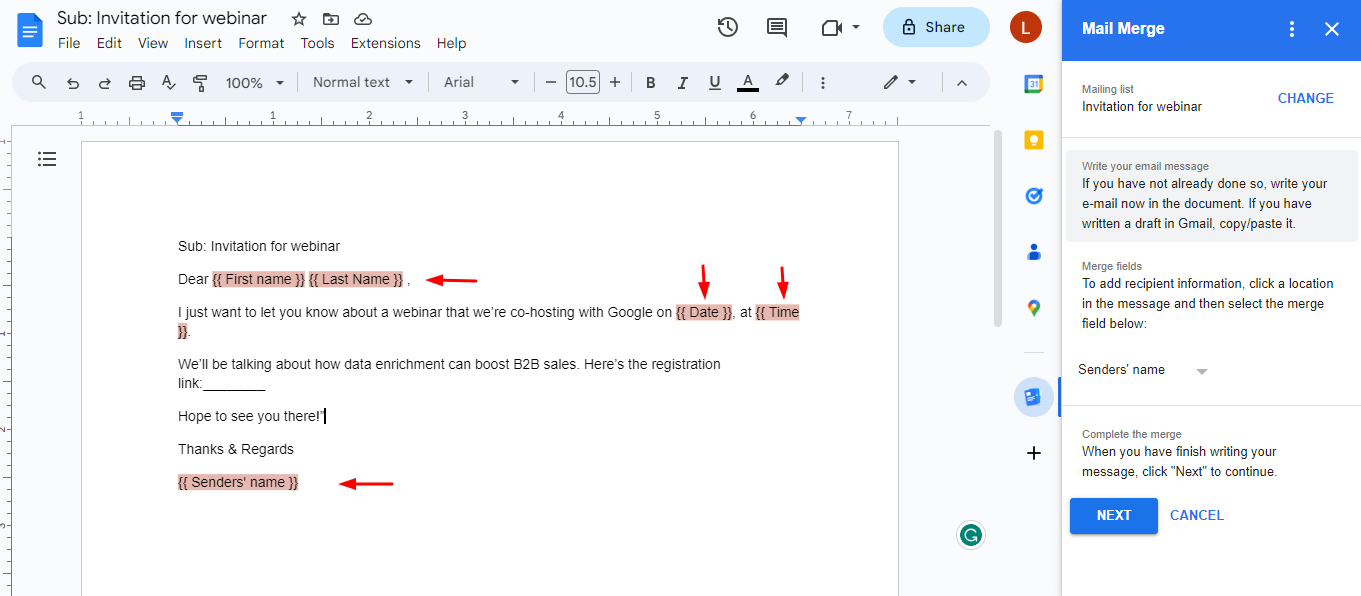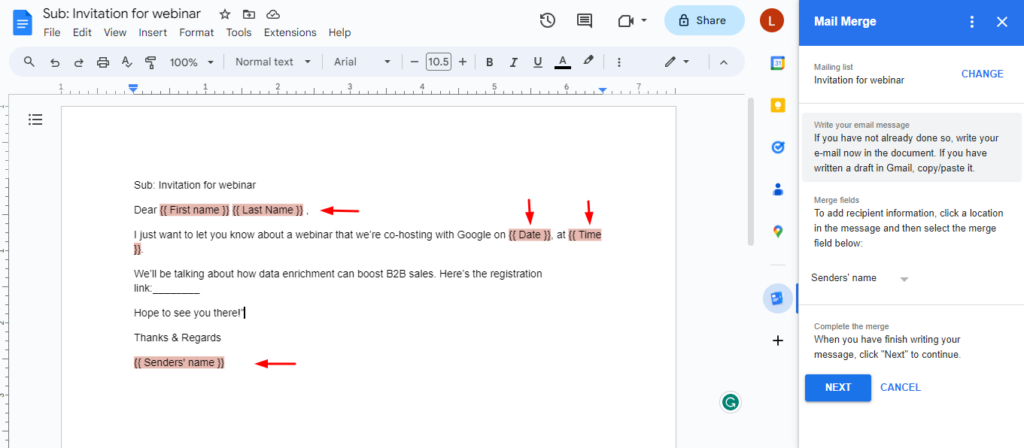 7. Click Start Mail Merge.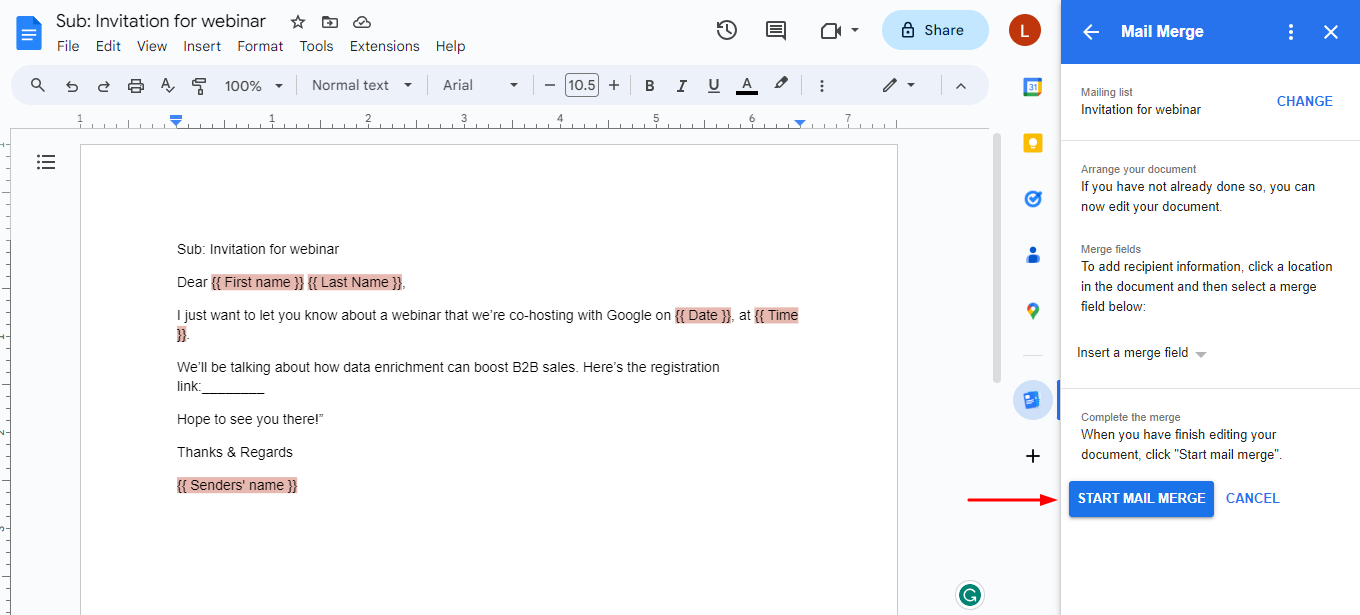 8. Open the document. Download it in any format – Docs, Word, or Pdf.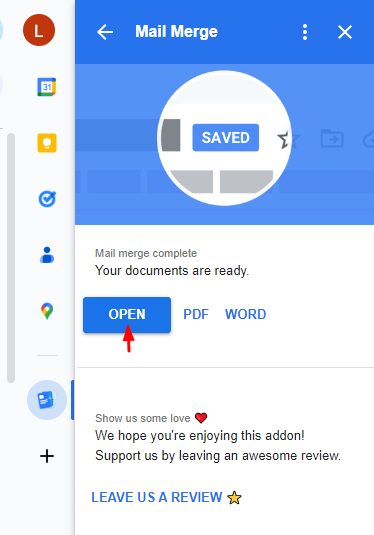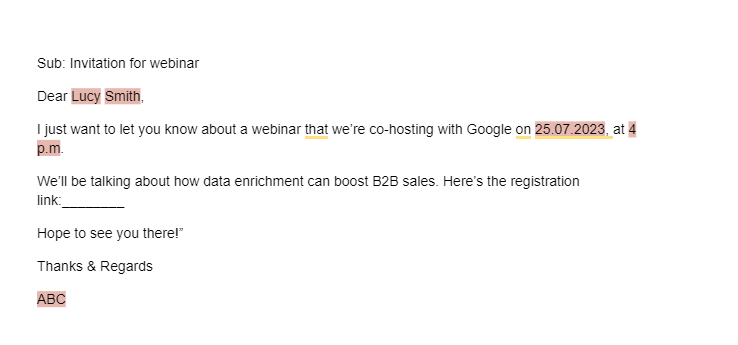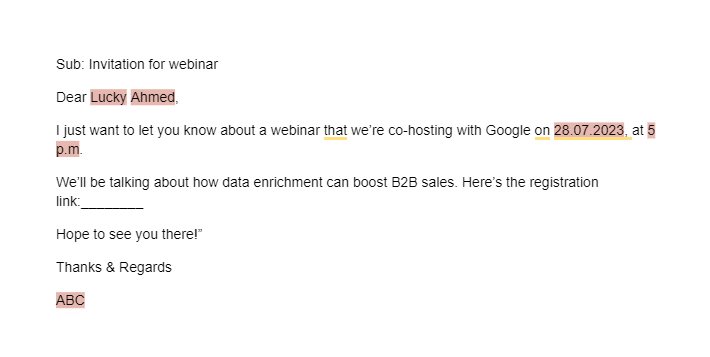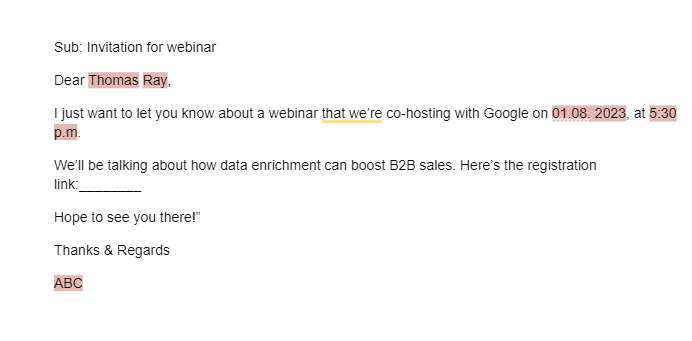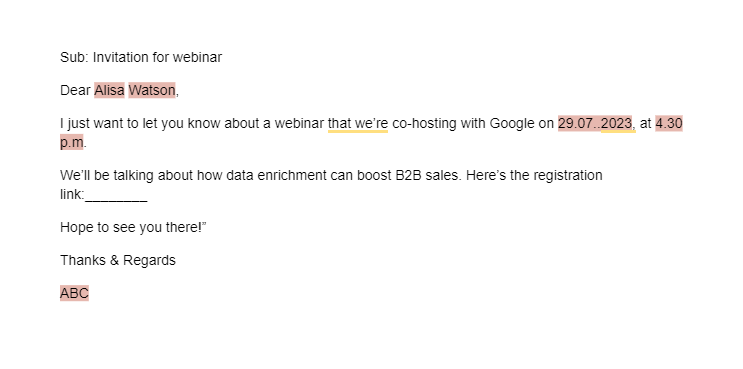 Why should you choose mail merge with Google Docs?
It's needless to say that mail merging with Google Docs saves your time from preparing hundreds of documents manually. But the most interesting fact is that the process of Docs mail merge becomes easier than the MS Word and Excel mail merge. You have to go through fewer steps when you come to Google Docs. Also, you don't need any additional computer expertise to perform these steps. Thus you can handle the mail merge in Google Docs efficiently.
How does Foresight help you in mail merge?
Foresight lets you automate complex business workflows without investing too much effort. You can continue the automation without writing any automation script. Thus you don't need any expertise in a programming language to operate automation with Foresight. Mainly it focuses on automating Google Workspace workflows and rectifying the disabilities of Google Admin.
Now you can create a mail merge easily with the help of Foresight. First, you should prepare a CSV file of your recipients' data. Then prepare a Foresight rule for mail merge with the Data uploaded trigger. Also, you have to select the If and Email action to complete the rule. Finally, you will get the result of the mail merge from Foresight. Learn the process in detail from the use case – How To Create Mail Merge Template and Customize Them. Also, you can learn – How To Merge Two Gmail Account.
Conclusion
Mail merging with Google Docs is a simple procedure. You can produce and send hundred of customized documents within a few times through this action. Foresight has an awesome use case for mail merge. So, learn how it helps in this process and generate bulk documents for your recipients. Try the 14-day free trial to explore this tool and find automated solutions for your business.