In this article we're going to discuss the top 3 online learning platforms in 2022.
Hi readers, if you are looking for which online platform is best and which to choose in 2022, then here is a solution for you then, you're in right webpage.
If I had to choose the best. I will consider the following points (Affordability, Course quality, Certification, Language, A/C for organizations). So, let's look at these perspectives. So let's dive and see what is best for you.
In the past few years, especially when the Covid-19 prevailed in the world. Online learning has considerably grown and changed the face of modern education. Students especially found these platforms as a career saver for them. Because they started their career online while locked down.
One important advantage of online learning is that it's cheaper, more effective, and requires less time than traditional education. In fact, individuals learn 40% faster on digital platforms compared to in-person learning. That explains why more and more people choose to study online.
What can be better than taking control of your academic life and learning at your own pace without feeling rushed all the time. And there is no better and easier way to do that than by taking online classes. Although online platforms provide live classes as well, most provide recorded lectures with live student support.
There are few perspectives that every e-learning platform has used according to the needs of the learner. Whether you're deciding to learn some new marketable skills or just want to explore a topic, online learning platforms are a great solution for learning on your own schedule. You can also complete courses quickly and save money choosing virtual classes over in-person ones.
So, let's discuss top 3 online learning platforms 2022. Before diving deep, please consider the below list that we are going to use as parameters while ranking them.
Affordability.
Course quality,
Certification,
Language,
Offline/Downloadable content
Business Account
SkillShare
Library: 41000+,
Free Courses: No.
Price: Starts from $14.
Price: For team of 2-19 starts from $ 159/user/year.
Trial: 14 days
Languages: French, German, Portuguese, and Spanish
Offline/Downloadable: One Mobile only (IOS, Android)
Assignment and Projects: Yes
Certification: Yes (but on some courses. Maybe from a third party.)
Degrees Programs: No
Some about pricing:-
According to a source like this article from Forbes about top online learning platforms, SkillShare charges $14 per month. To be honest when I logged in I was shown this $2/mon fee. See below screenshot.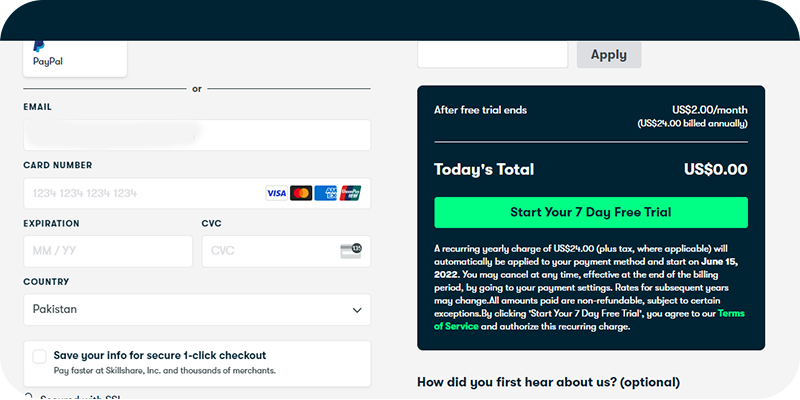 Anyhow with this fee SkillShare gives you unlimited access to thousands of hands-on courses and classes. The best part about the courses are their division.
SkillShare three categories of courses:-
Create (related to graphics designing, and programming),
Build (related to business, and marketing)
Thrive (related to soft skills, and lifestyle) that will help you round out your professional skill set and better prepare you for the fast-changing job market.
Whether you want to develop new skills, find a hobby for yourself, expand your existing passion or find new and interesting ways to spend your time, the classes offered by SkillShare are all produced and taught by experts and industry leaders.
SkillShare can be accessed from any mobile device, so, for example, from your tablet or mobile you can stream or download the necessary content and then learn from virtually anywhere. The class descriptions are detailed, so at a glance, you'll know exactly what will be covered, who will be teaching, what materials are needed and how long the class will take to complete.
SkillShare Business Account:-
Starts at $159 but other plans available
Team member: 2-19
Monitoring of team available only for Enterprise and Revive Plan and SkillShare also provides customized plans for teams depending upon the number of employees and their fee is affordable. See this link of SkillShare detailed pricing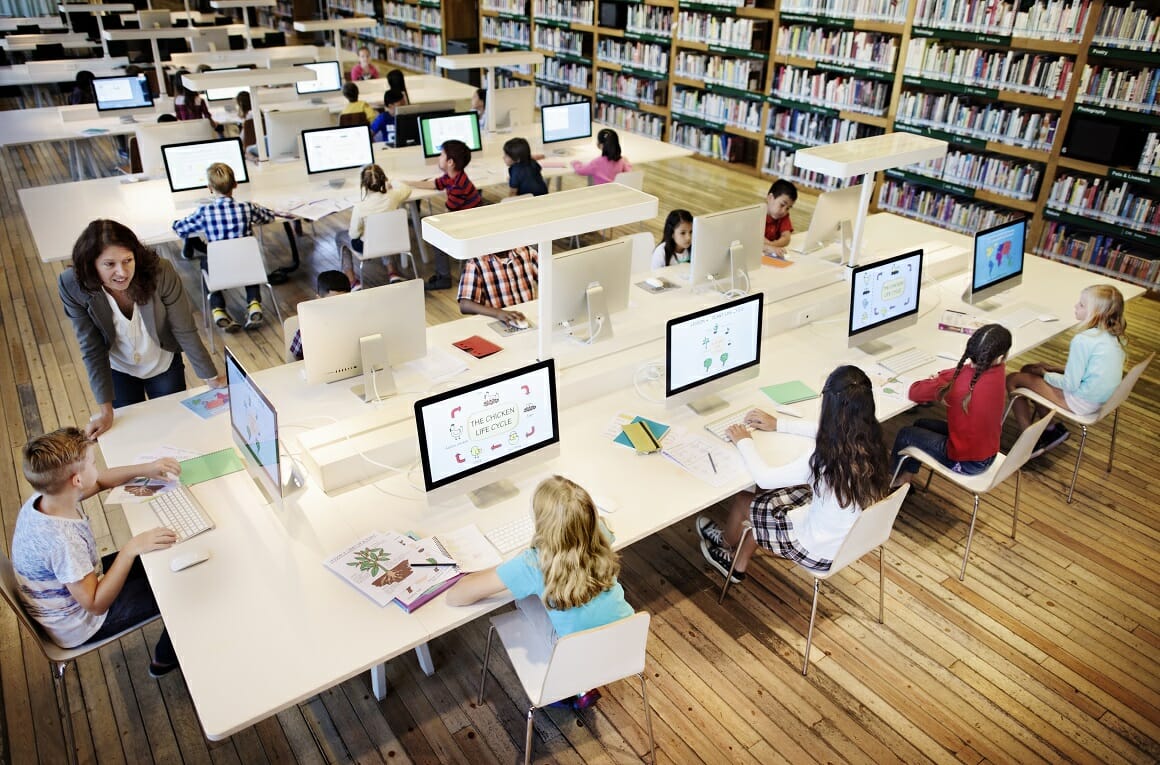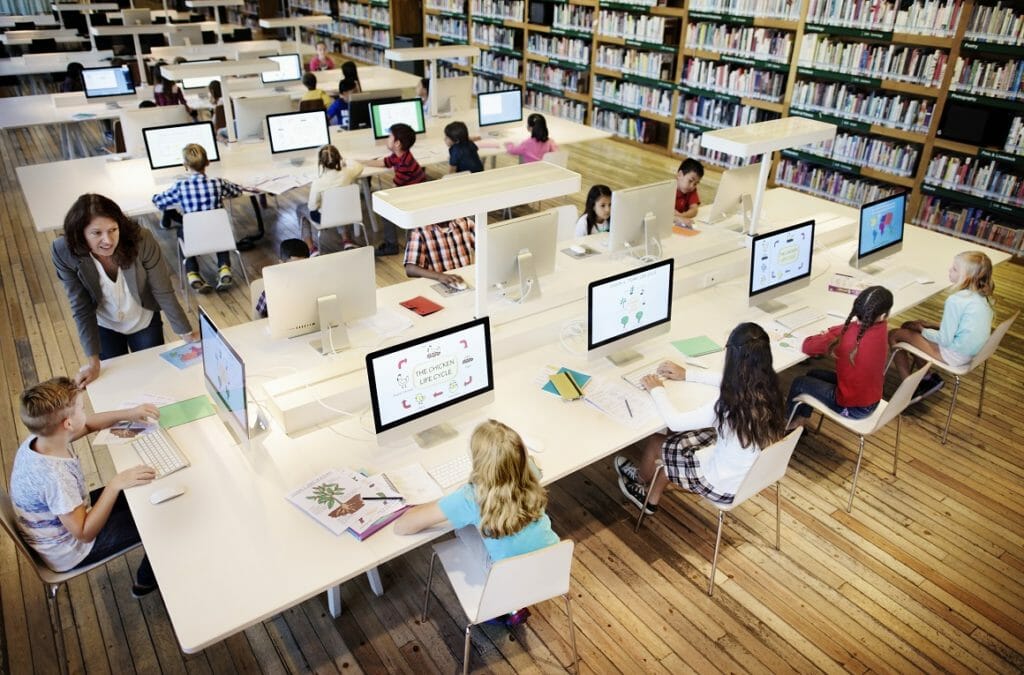 You may also like to read about the best Classroom Management platform / software for K-12 schools.
Coursera
Library: 5000
Free Courses: Yes (Via Audit options only for courses). Also you can filter free courses.
Individual course: $29-$99
Specialization: $39 -$79/mon
Professional certificates: $49 each
Degree Programs: $15-$25K
Trial: 7 days
Languages: French, Spanish, Chinese and Italian
Offline/Downloadable: Mobile and Desktop
Assignment and Projects: Yes
Certification: Yes
Degrees Programs: Yes
Another best among top 3 online learning platforms of 2022. The best thing is the price for individual courses that varies from $29 to $99. And also, there are thousands of courses that have the Audit Option. This Coursera Audit Option allows you to take it for FREE.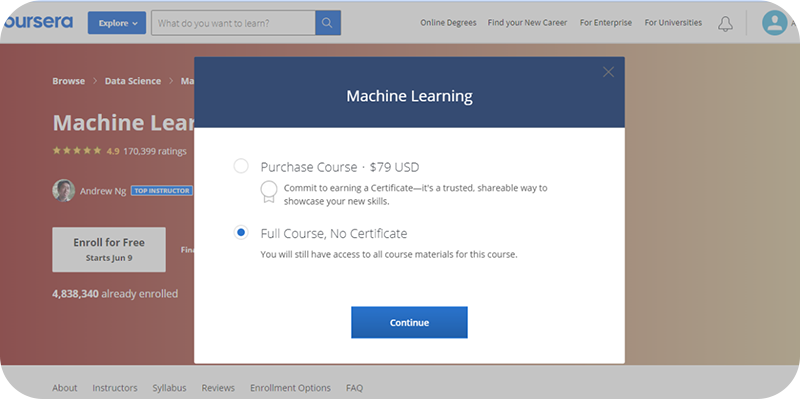 If you choose to audit the course, you won't receive graded assignments, a certificate, and bonus materials.
You may also find the following options along with Audit Option.
Paying for a Course Certificate
Subscribing to a Specialization
Subscribing to Coursera Plus
Financial Aid or Scholarship
Audit only
Full course, no certificate
Most courses consist of video lectures, assignments, reading materials, quizzes, projects, and group discussions.
Another best thing is that the courses just like SkillShare have two categories according to the need. If you want to expand your skills then go for courses. If you want to make your career then go for Certifications and Degrees.
Coursera Specialization:-
Coursera also provides a Specialization. If you want to get prominent in a specific skill, you can enroll in a Specialization. It's a series of online courses, each takes 4-6 months to complete. Once you complete the Specialization, you will earn a Certificate to add on your resume. You get a 7-day free trial to try a Specialization at no cost when you start your first subscription.
And if you are looking to change your current career or start a new one, then you can enroll in one of the Professional Certificates programs. Like Specializations, Professional Certificates are a series of courses, but the difference is that the Certificate of Completion will be issued by the company that developed the course.
Finally, there are online degree courses granted by world-class, accredited universities. The main advantage of getting your degree online is that it costs much less than on-campus programs. Also, you can study at your own pace and complete your degree faster.
If you plan to take many courses, The right way is to subscribe to Coursera Plus, which is an annual plan that grants unlimited access to over 90% of courses, Professional Certificates, and Specializations. You can take as many courses as you like and you will earn a Course Certificate for every course you complete.
Coursera Business Account:-
Coursera for Teams
Price: $399/user/year,
Members allowed: 5-125,
Coursera Team Monitoring:-
It's an online learning plan for a company or organization interested in purchasing for their team of 5-125 learners to master new skills. Coursera for Teams account holders will have unlimited access to the same library of 5,000+ courses, 400 Specializations.
You can curate courses for different levels of team and monitor their learning ROI via a Dashboard. See below screenshot. With the latest update to this dashboard, you can gain sharp insights into your program's performance by tracking 100+ critical skill areas—including business, data, and technology—across four proficiency levels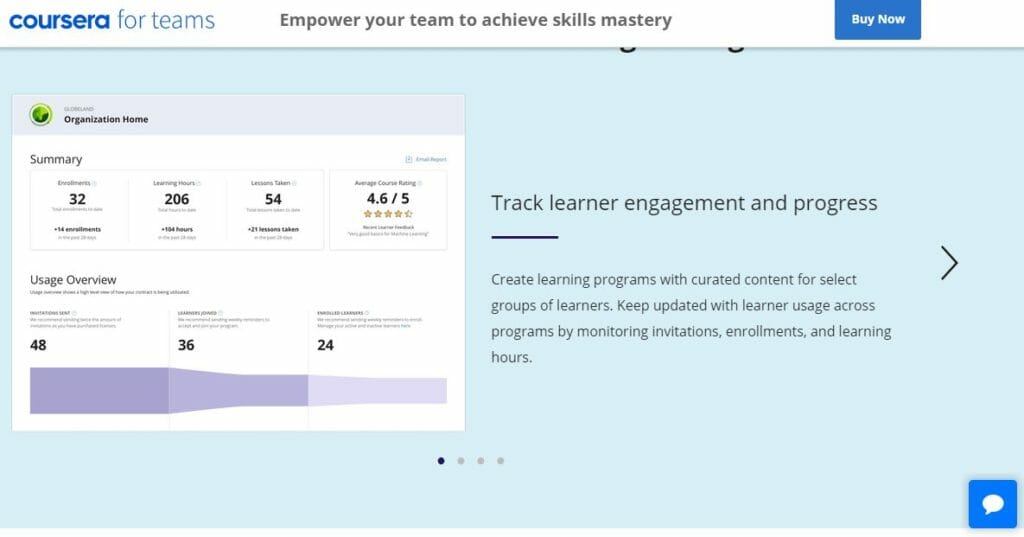 Dashboard for Team Learning ROI Reference Link
LinkedIn Learning (Lynda)
Library: 17000
Free Courses: No.
Price: Monthly: $39.33
Price: Annual: $29.49
Trial: 30 days
Languages: English, French, German, Japanese, Spanish, Mandarin, and Portuguese
Offline/Downloadable: Mobile and Desktop
Offline/Downloadable: Mobile and Desktop
Assignment and Projects: Yes
Certification: Yes
Degrees Programs: No
LinkedIn Learning which was formerly Lynda.com is an educational platform that offers professional courses in business, technology-related and creative fields in the format of video lessons. The platform merged In October 2017, Lynda.com was merged and renamed LinkedIn Learning. And now it comes as a service for LinkedIn users and offers courses.
LinkedIn is well known for B2B Lead Generation. Users get personalized course recommendations. Best platform for Job seekers, I also got the Job on xFanatical from this LinkedIn's feature. Now how this magic happens, It suggests small tests comprising 10-15 MCQs and assign badges on passing. And then companies recruit the applicants based on these badges. They filter the applicants like top 10% who passes their criteria.
But along with advantages there are obviously some disadvantages. Like the quality of the courses it offers is imprecise and you need to conduct some research before enrolling into them.
LinkedIn Team Account:-
As the above two LinkedIn also have a plan for team or organizations. Where an employer can get a customized plan for his team. Here is the link where you can get to that.
See LinkedIn Learning For Team.
Conclusion :-
So, in all this discussion of top 3 online learning platforms in 2022 what we've concluded that every platform has it's own pros and cons. Like SkillShare is best in price and number of courses but don't have degree programs.
Coursera is costly then SkillShare and LinkedIn but have degree programs. Moreover Coursera have a better Business Account. The Audit Options is best as it provide free courses. You can monitor your team very well.
LinkedIn offers good price, it's also a recruitment platform where companies can filter applicants by awards and certificates. I personally recommend Coursera.