In this article, we're going to see how to use private comments in Google Workspace For Education. In the current age, online education is an essential tool of learning for students all over the world. Utilizing digital learning facilities can open students up to a world of endless potential. As it happens, tools such as Google Workspace for Education (GWFE) can make everyone's lives easier by making learning more convenient than ever.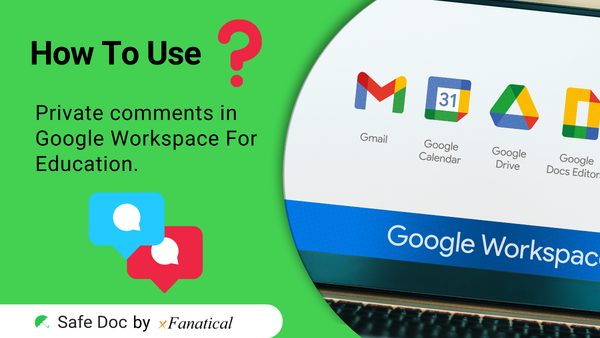 Interaction and feedback are two vital components of the education process. A student's ability to learn from a classroom is directly proportional to how engaging a class is. The private comments feature in Google Workspace for education is essential to ensuring engagement between the instructor and the student.
In this article, you will learn all the basics you need to know about Google Classroom comments, where students see private comments in Google Classroom, how private comments in Google Docs work and how one can turn off public comments in Google Classroom. So, without further ado, let's get right to it.
Private Comments on Google Classroom [Everything You Need To Know]
Private comments are a highly productive way of initiating a communication channel between the instructor and the student. But many students and teachers are not aware of the difference between making a public and private comment on Google Classroom. As a result, many users do not take advantage of the features available on GWFE to the fullest extent.
Private comments on Google Classroom do not show publicly in the stream. They are specially designated for one-on-one interaction between the teacher and the students. Therefore, it frees the students from the inhibition they feel when communicating with the teacher in front of everyone else.

In addition, private comments also allow the teachers to ask questions that can elicit honest feedback from the students individually. For example, teachers can ask specifically what the students liked about a particular task/homework. Also, the students can let the teachers know what part of the task they found to be the most challenging.
Importance Of Learning How To Make Private Comments in Google Workspace For Education
As we've just mentioned, private commenting in Google Workspace For Education is all about getting honest feedback and also allowing your students to learn and grow without any insecurities. Here are a few reasons that makes private commenting a must trick to learn when taking classes on Google Workspace for education:
Reduced Anxiety
As your students have no fear of being confronted about their performance publicly, and face embarrassment in front of their classmates, they will feel less anxious about attending your classes and submitting homework or projects.
Better Student-Teacher Relationship
Your students will surely appreciate the fact that you take the time to consider their privacy. And that will improve your relationship with your students. Making them more eager to attend your classes and care about your efforts to teach them.
Positive Attitude Towards Making Mistakes
Making mistakes is a natural part of the learning process. And students must be taught not to be discouraged by their shortcomings and simply take them as a part of learning. Unfortunately, being evaluated for their poor performance publicly can condition them to view failure as a negative thing which can greatly hamper their mental growth.
Private commenting can remove those situations of embarrassment and actually help them to have a changed positive perspective on the concept of failure.
Less Bullying
It's nothing new that the weakest bunch of the class are often bullied or ridiculed for their sub-average performance by other students. We've all been at the receiving, or at least observing side of that situation. And this is surely bullying.
Private commenting completely eradicates the chance of that ever happening. Creating a more secure and positive environment for learning.

Where do students see private comments in Google Classroom? How Can I Add a Private Comment?
You must open the assignment first if you are viewing the Google Classroom from the student's account. As it has already been mentioned before, private comments are only accessible by the commenting student and teacher. After opening the assignment, the student can see the private comments on Google Classroom on the right side of the tab, right below the submitted work.
In the Google Classroom student's account. Stream Tab. Student's see the assignments, and announcements here.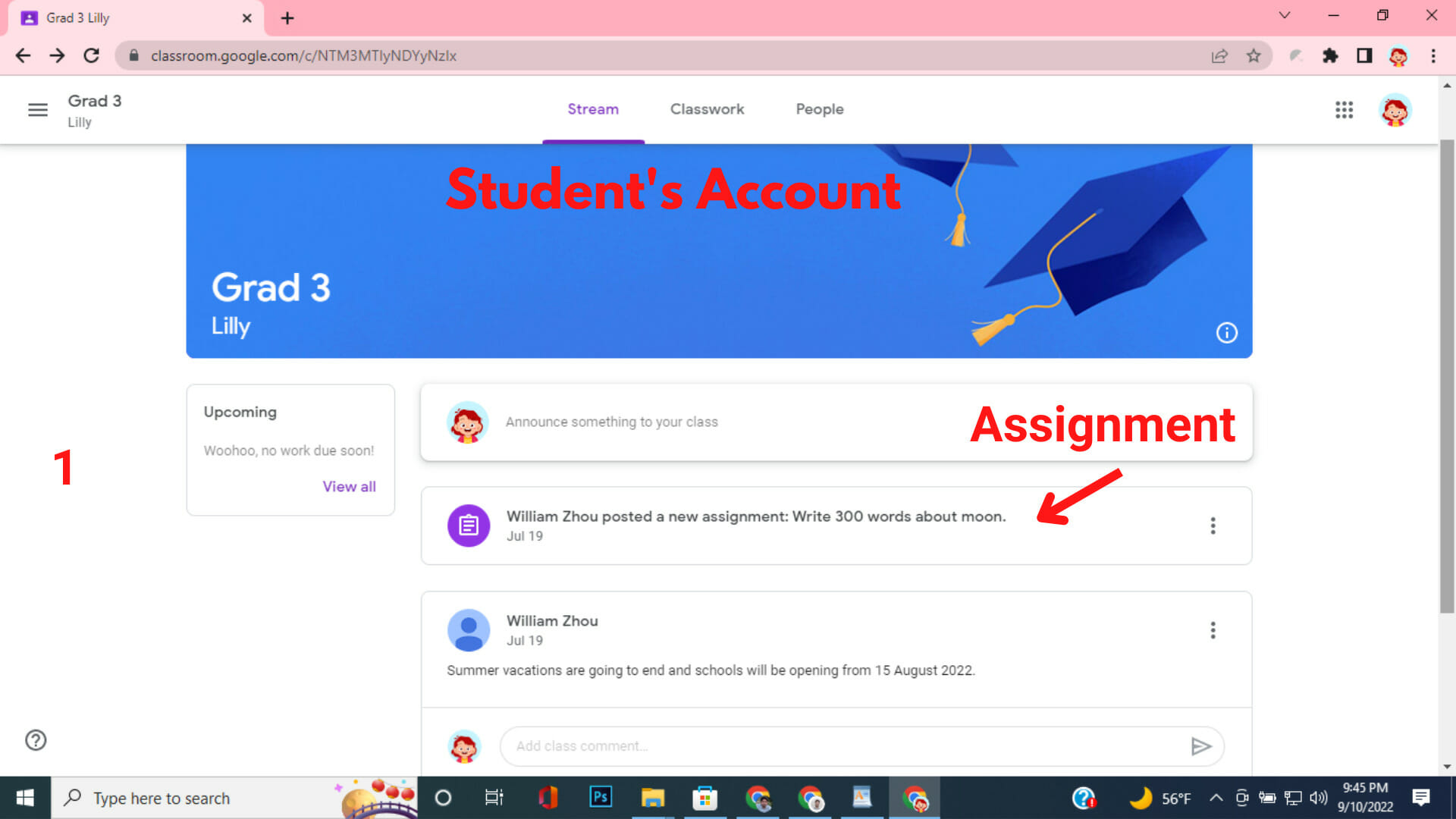 Google a Classroom student's account. Stream Tab. When student click on an assignment, that assignment page will open. Here on right side you can see the Private Comment panel.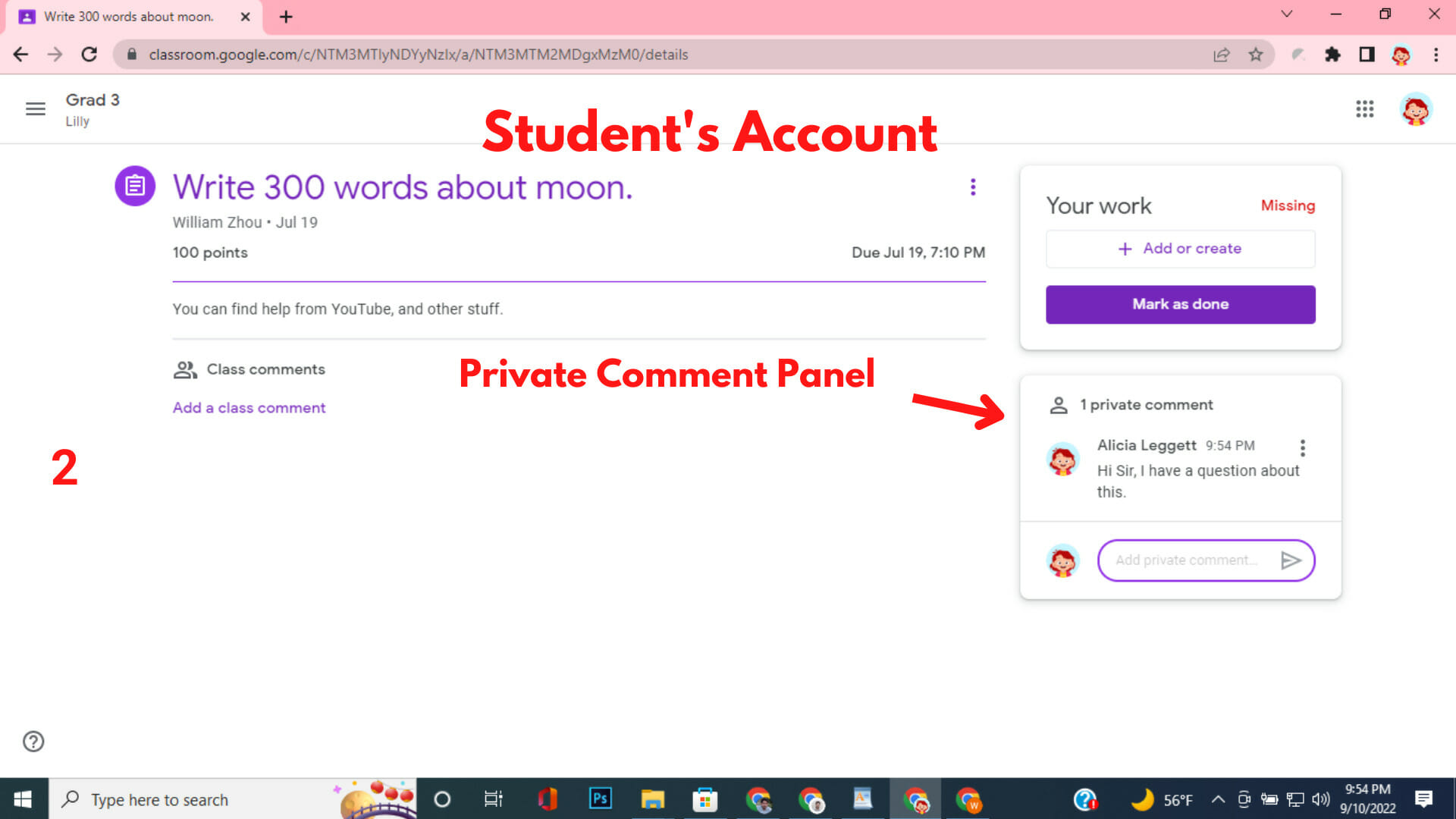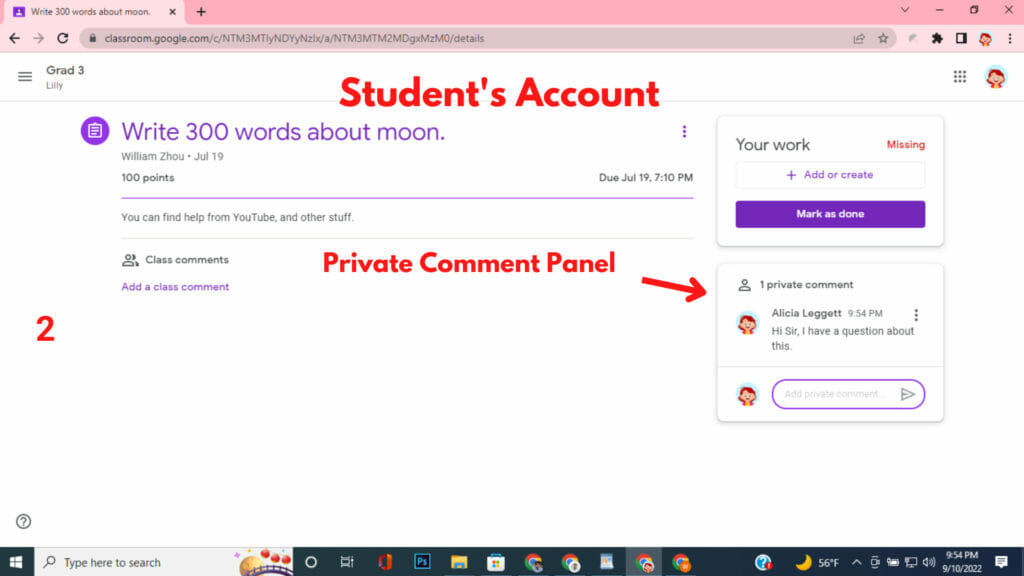 You must open the assignment first if you are viewing Google from the teacher's account. Afterward, browse the Student Work tab, where you can view each student's work. You can view the roster and a snapshot of the private comment to your left. These are the ways how private comments work on Google Docs.
Google Classroom teacher's account. When the teacher clicks on an assignment that the student has submitted. He will see this page. And in the right side, you can see the student's private comment.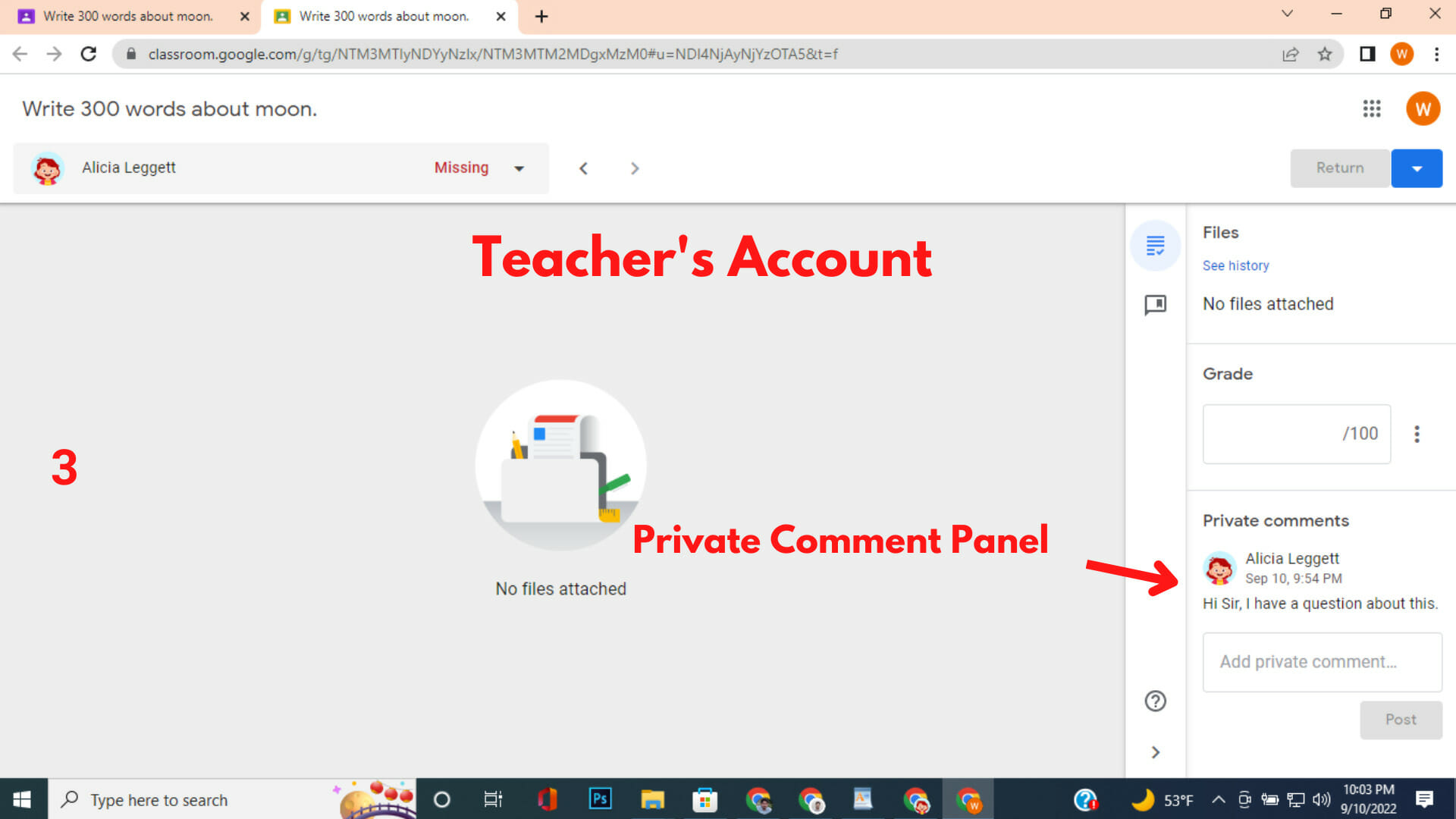 How Do I Enable or Disable Public Comments on Google Classroom?
If you are an instructor in Google Classroom, you reserve the right to decide how students can comment on the stream. There are different modes of permission settings available that can set the comment settings to your desire. The first option you will see is "Students can post and comment", allowing the students to post publicly and comment on all posts.
In the second option, you will see the "Students can only comment" option that allows the students to comment on the posts updated by the instructor. Lastly, "Only teachers can post or comment" prevents students from engaging in any post or comment whatsoever. You can use these settings in classroom settings, then Under the General section, then right next to the Stream option. See the below screenshot.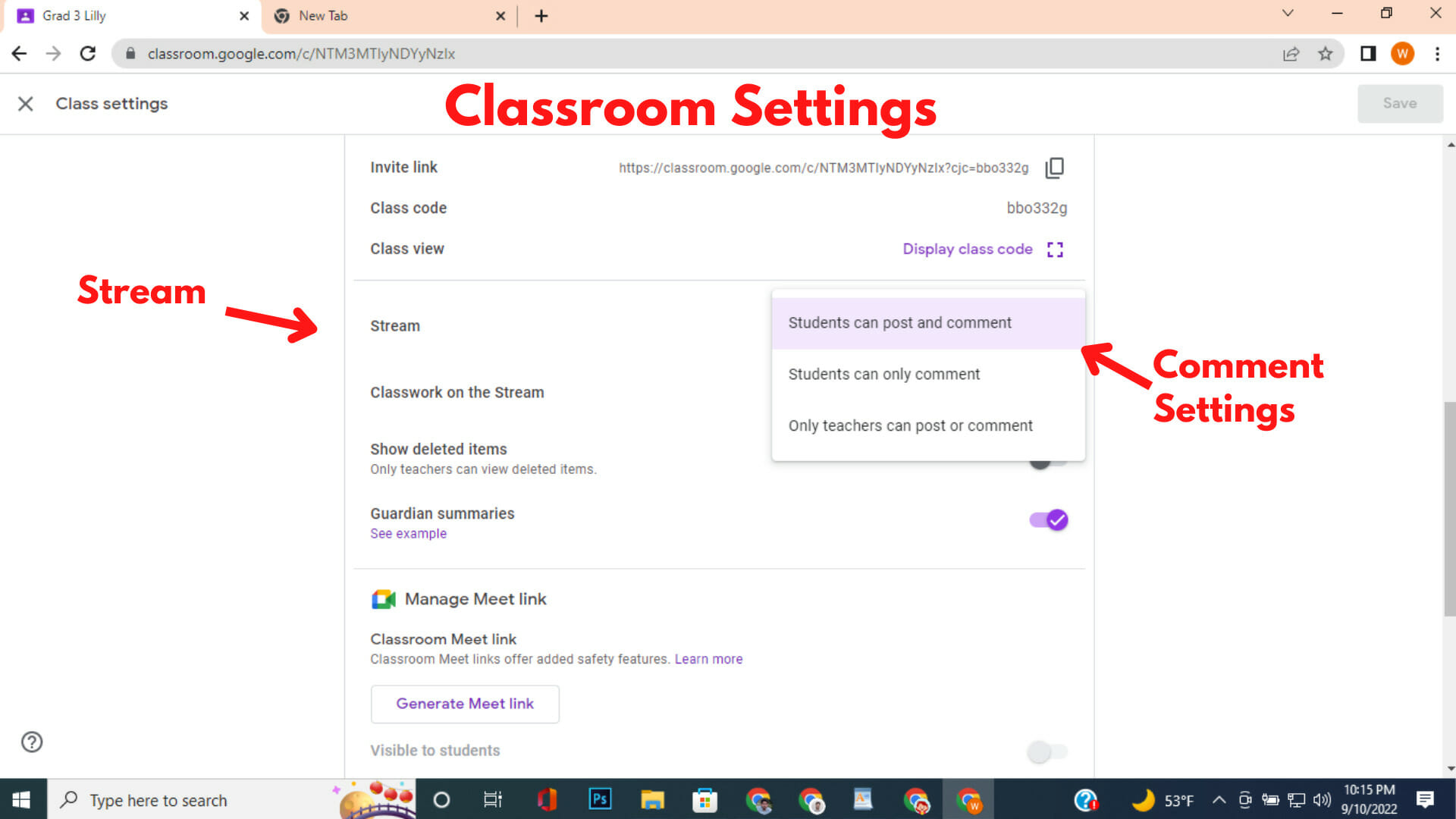 Give More Confidence To Your Students With Safe Doc
By now you probably understand how much your students can benefit from you having the power to comment privately. So, just imagine how much more you can do for your students with more control over your online classes. That's where Safe Doc comes in.
Safe Doc provides you with a wide variety of options to control almost every aspect of your Google Classroom. Deciding what your students can do while in class, how they interact between themselves and also you, all of that is possible when you use Safe Doc. 
Conclusion
Private comments in Google Classroom are certainly one of the most interactive communications between the student and the instructor. It is an excellent way for the students to overcome their inertia and reluctance when asking questions and clarifying specific topics. Teachers can easily customize their settings to make the interactions on GWFE as engaging as possible.
Not all students are loquacious and expressive; therefore, it makes the students bold and forthcoming about the troubles they might be facing with their studies. A private comment is a handy tool for all the instructors to help the students overcome their stage fright, as many are not confident to express their thoughts in front of a class full of students.
Safe Doc is a great solution
Although private commenting in Google Classroom is a great feature but